There is nothing quite like the Swedish summer. Long days, short nights. And contrary to what you might think, it can be really hot during such summer in Sweden. Even at the Arctic Circle it can reach 30°C. Just like in Belgium, the weather can sometimes be changeable, but that is usually only for a short time. Looking for a cool down? Stockholm's best outdoor swimming spots are never far away!
The water is also so pure that you can swim everywhere without any problems. You can choose between Lake Mälaren, the Baltic Sea or one of the hundreds of other lakes. If you are currently in Stockholm and you could use some cooling, you will find all the swimming spots in Stockholm here.
UPDATE: here you can check the water quality. Website is only in Swedish.
Hint! Bring water shoes if you plan to go swimming in the open air in Stockholm. The rocks can be slippery.
Blå Lagunen *
This former quarry with azure waters is located on Ekerö, a group of islands in Lake Mälaren, just outside Stockholm. I already wrote about it here.
Boobadet
Boobadet is a bit further from the center, in Saltsjö-boo, but offers rocks, lawn and a sandy beach. So something for everyone. Make sure you bring everything yourself because there are no shops or restaurants in the area.
Brunnsviksbadet
Brunnsviken are located in the north of Stockholm, near Hagapark. The swimming spot is completely surrounded by forests, so you don't have the idea that you are still in the Swedish capital. You can easily reach the beach by metro (stop: Universitetet). There are rocks, lawns and plain beach to choose from.
Be aware, there is a naturist beach just north.
Address: Frescati hagväg 18, Norra Djurgården
Nearest metro stop: Universitetet
Ekhagenbadet
This swimming spot is also called Lappis Beach. Ekhagenbadet is located near Lappkärrsberget.
Address: Lektorsstigen, Norra Djurgården
Nearest metro stop: Universitetet
Eriksdalsbadet
From the end of April to mid-September you can also swim outside in Eriksdalsbadet. There are no fewer than 3 outdoor and 5 indoor swimming pools. It is the largest and most modern swimming pool in Stockholm. There is also an indoor pool and a sauna. Don't forget to bring a small lock for your locker! Open daily from 7am to 8pm. Up to 20 years you pay 20 SEK for the outdoor pool. If you are older you pay 70 SEK. You will find Eriksdalsbadet south of Södermalm.
Address: Hammarby Slussväg 20, Södermalm (Stockholm)
Nearest metro stop: Skanstull
Fjäderholmarnas Bad *
Feel like swimming and would you like to take a boat trip? Then Fjäderholmarnas Bad provides the perfect combination. Take the boat to Fjäderholmarna with your bathing suit in your bag. There are several spots on the island that are ideal for sunbathers. If you also want to take a refreshing dive, look for the rocks below.
Flatenbadet
Flatenbadet at Skarpnäck has an utegym, petanque, tennis, mini golf, beach volley,… You can also rent canoes. In the summer months you will find some stalls with drinks, ice creams and snacks. You can also barbecue there yourself.
Address: Badplats Stora Flaten, Flatenvägen 200, Skarpnäck
By public transport: take bus 811 or 816 from Gullmarsplan or bus 401 from Slussen
Fredhäll klippbad
Take the metro to Kristineberg (Kungsholmen) and continue walking to Fredhällsbadet. Here you dive from the rocks into Lake Mälaren (check the depth before you really jump off the rocks, but the water is normally quite deep). Nearby are stalls selling ice creams, drinks and takeaways such as pizza so this is the place to be if you forgot your picnic.
Address: Kungsholms strandstig 602, Kungsholmen or Snoilskyvägen 34, Kungsholmen
Nearest metro stop: Kristineberg
Fågelöudde
If you come by car, Fågelöudde on Lidingö is a nice place. There is ample parking (although on busy days it is still recommended to find your spot early). If you opt for public transport, bus 204 to Elfvik will take you there. Fågelöudde offers all facilities for a fun day at the water: BBQ spot, sandy beach, mini golf, diving platform,…
Address: Fågelöuddevägen, Lidingö
By public transport: take the metro until Ropsten and then take bus 204 to Lidingö. Get off at Fågeloudde. After that it's about a 10-minute walk.
Hellasgården *
I already wrote about Hellasgården in winter but it's also a nice spot during the summer. In addition to the sauna, there is petanque, beach volley, SUP, mini golf,… The activities around Källtorpssjön will certainly provide the necessary refreshment. Also always special to visit places where you were in winter in a different season.
Hornsberg Strand *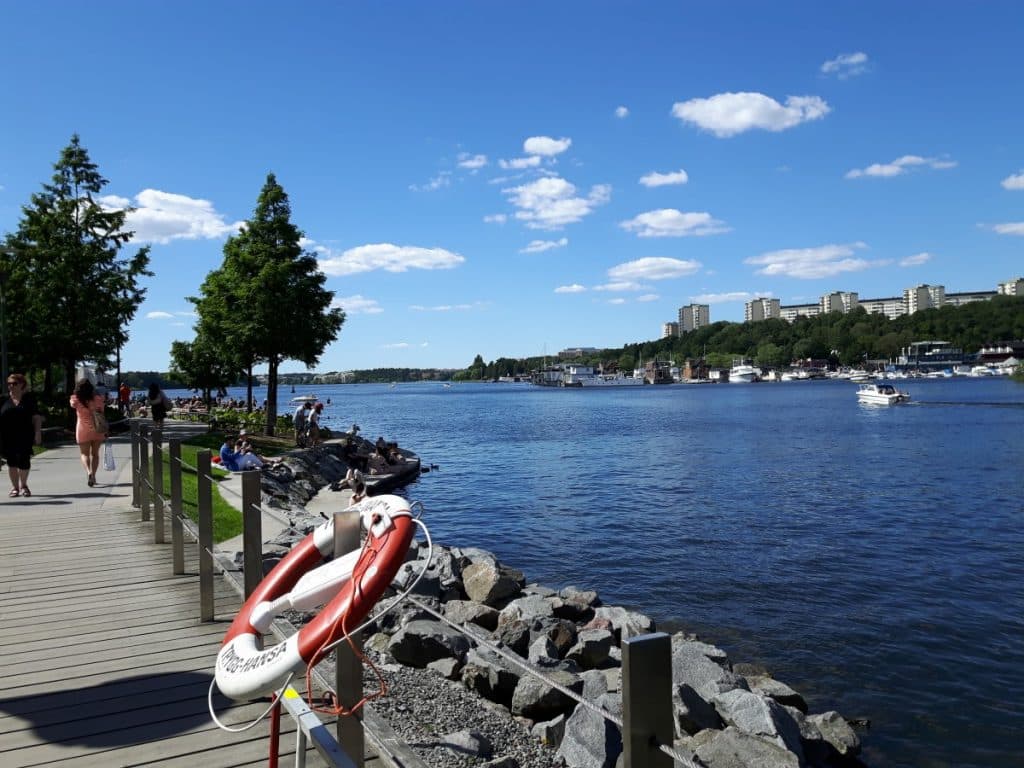 Hornsberg Strand is located on the north side of Kungsholmen. No beach here but pontoons and ladders to easily get in and out of Lake Mälaren.
Långholmsbadet
Långholmen is a green island just before Södermalm, near Västerbron. The beaches are rather narrow. Still, it is a popular swimming spot. Just be careful where you go in the water so you can get out too.
Address: Långholmsmuren 21, Södermalm
Metro stop: Hornstull
Oxhålsbadet
At Stora Essingen, you will find Oxhålsbadet. You can easily get there with bus 1 (stop: Flottbrovägen). There are toilets, a few restaurants, a large lawn, a BBQ and pontoons to easily get in and out of the water.
Rålambshovsbadet *
Saltsjöbadens Friluftsbad
Smedsuddsbadet
Smedsuddsbadet is next to Rålambshovsbadet but on the other side of Västerbron (on the Kungsholmen side). Here you will find a large lawn that leads to a sandy beach. One of the most popular places for families with children. Of course you will also find a hot dog and ice cream stand here. You can also barbecue there yourself. This swimming spot is wheelchair accessible. If you want to go on a sporty tour, you can rent kayaks and SUPs here.
Address: Smedsuddsvägen
Nearest metro stop: Fridhemsplan
Tantolunden *
At Tantolunden (Årstaviken, on Södermalm) you can choose between cliffs and a real sandy beach. There are also sports beaches, so ideal for those who like to be a bit more active. The wider sandy beaches make Tantobadet also a good swimming spot for families with children. You can easily get through with a buggy or wheelchair. On hot days it can quickly get crowded here. There are also toilets and even showers.
Address: Skarpskyttestigen 6, Södermalm
Nearest metro: Hornstull
Vanadisbadet
A secret swimming spot that Stockholmers prefer to keep to themselves is a rooftop pool in the middle of the city: Vanadisbadet. The pool opened in 1938 and has recently reopened after extensive renovations. The swimming pool is only open from the end of May to the end of August. You pay 70 SEK entrance.
Address: Sveavägen 142, Vasastaden
Vintervikens badplats
Is your favorite swimming spot not listed yet? Then feel free to give us a heads up! Do you want more information about a specific location? Let me know and I'll add to the article.
Pin for later
Save this article to Pinterest for easy reference later!