One of the best known addresses for a fika in Stockholm is Vetekatten. It is a fika hotspot with a long tradition (since 1928). You can buy both sweets and sandwiches to take away or sit down to enjoy a full fika experience.
This konditorie was on my 'must visit'-list for a long time and after my first visit, Vetekatten got a spot on my 'must-return'-list.
The grandeur of Vete-Katten
Upon entering the konditori I was surprised by the size of the establishment. It is very spacious. Something you might not expect from the outside. The interior of Vete-Katten has a certain grandeur. I love those modern minimalist coffee bars but the authentic interior of Vetekatten is a lovely change to all those similar looking trendy interiors.
It was Esther Nordhammar who started the konditori. At that time it was quite uncommon for a woman to start a business. Ester consciously chose for high quality. They say that, when she was asked for the name of the konditori she replies: Ja, det vete katten. Or: the cat knows.
Savory and sweet
I went straight to the counter where a tough choice was waiting for me. I had to choose from dozens of different pastries that all looked equally nice! Eventually I chose to take a kanelbulle for later that day, and I ate an 'ivoire dome' with white chocolate mousse and a raspberry on top.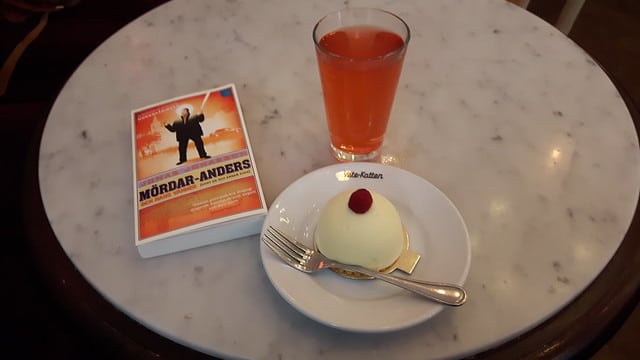 I chose a quiet spot in one of the armchairs at the side and installed me with my book, the homemade lemonade and my pastry. The 'ivoire dome' didn't only look very appetizing, it really was. I admit, it was not cheap, not even by Scandinavian standards but I enjoyed it intensely. Every bite was an intense experience for my taste buds. I guess I haven't often enjoyed a pastry so consiously.
Besides the tasty fika you can also enjoy their homemade lemonade and light lunch dishes. Also for breakfast Vete-Katten is a must. On Tuesday, they serve their famous afternoon tea, from 15:00. For only 175 SEK (prices 2016) you can feast on a sumptuous buffet with sweets, coffee and tea included. Making a reservations is not necessary.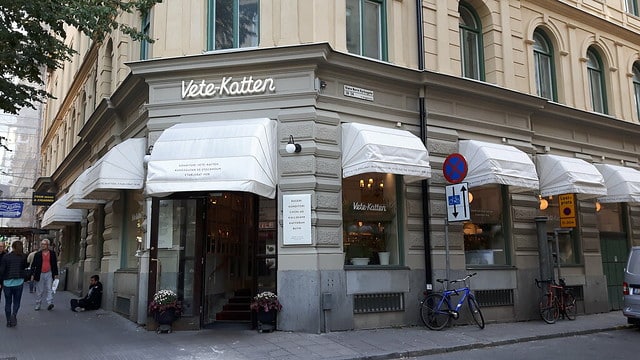 Practical information Vete-Katten
How do you reach Vete-Katten?
Vete-Katten is in Norrmalm, along Kungsgatan on the corner with Klara norra Kyrkogata. In addition to the main entrance in Kungsgatan, you can also go enter via Klara Norra Kyrkogata 26 and Gamla Brogatan 30 (wheelchair accessible).
You can walk there from Stockholm Central Station in about 5 minutes. Nearest metro station is T-Centralen or Hötorget. Bus 1 also stops nearby (Hötorget or Vasagatan stop).
Address: Kungsgatan 55, Stockholm
Besides the shop in Kungsgatan, they also have 'backfickor'. These are smaller branches where you can also buy the Vete-Katten delicacies.
Torget Åhlens city, Metro plan
Continental, Vasagatan 22
Centrals, Centralplan 1
Karolinska, Eugeniavägen 9
Opening hours
The shop at Kungsgatan is open on weekdays from 7.30am to 8pm. On weekends and public holidays, Vete-Katten is open from 9.30am to 7pm.
Check their website for different opening hours.
Nearby
What is your favorite fika-spot in Stockholm? Or what pastry can you advise me for my next visit to Vete-Katten?
Pin for later