Hellasgården is a popular spot in the Nacka Nature Reserve, just outside of Stockholm. There is a lot going on in Hellasgården all year round. I went there in the winter to go ice skating and have a sauna. After the sauna I jumped into a hole in the ice to cool down. How Swedish can it get?
How to reach Hellasgården?
Hellasgården is only 20 minutes away from the center of Stockholm. Take bus 401, direction Älta, to Slussen. (They are still working on Slussen. when I was there, bus 401 stopped on platform 'X') Get off at the stop 'Hellasgården'. This bus runs very regularly. Check the SJ app for the correct timetable. You can also buy your bus ticket via this app. No tickets are available on the bus. From the bus stop you just follow the crowd. You will see the building of the local sports club.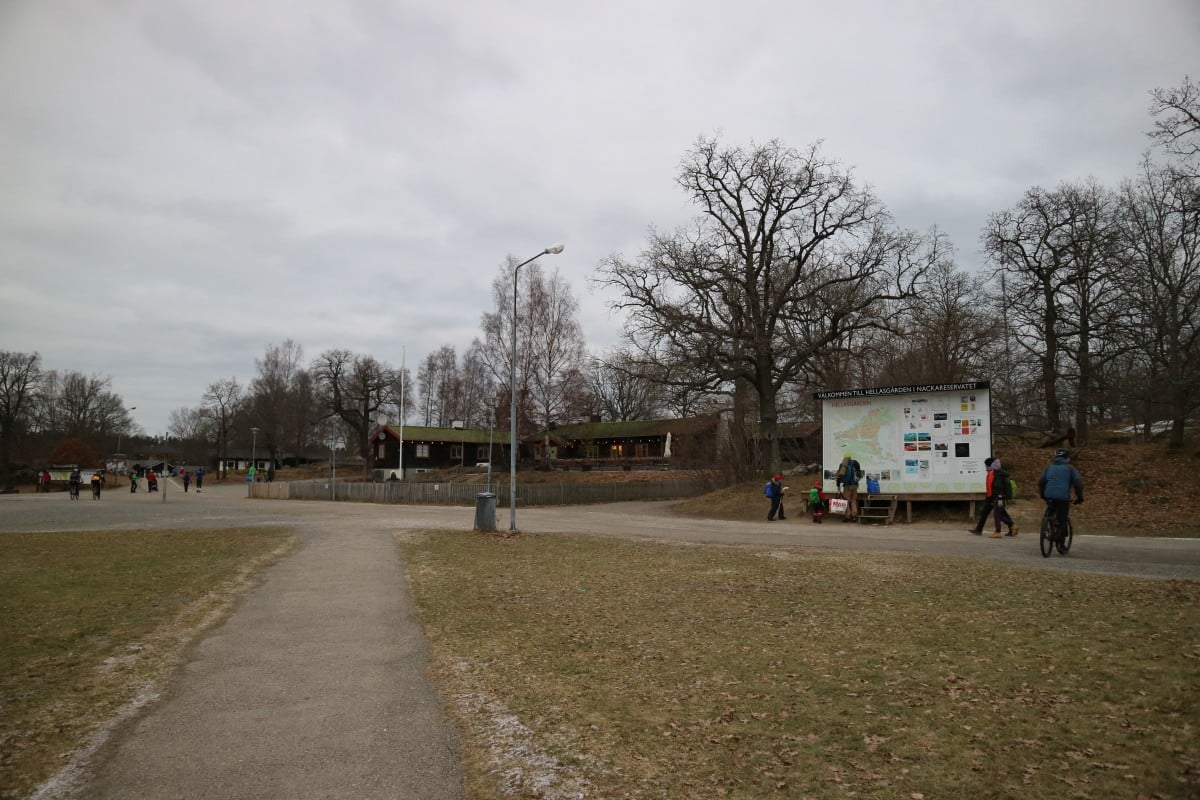 You can also walk to the nature reserve. I returned to the city centre on foot and Google Maps gave me a pleasant route via a walking path along the water. From Hellasgården to Södermalm it is about 5 km. It is a hilly walk but just being in nature, gives a lot of energy too. There are many nice cafes on Södermalm where you can replenish your energy level. I myself stopped at Älskade Traditioner for a milkshake or a freak shake like they call it!
What can you do in Hellasgården in winter?
As mentioned, you can relax all year round in Hellasgården. There are activities that go on throughout the year, others are mainly for the summer and while I was there on a cold January day, I'd like to tell you a bit more about Hellasgården in the winter.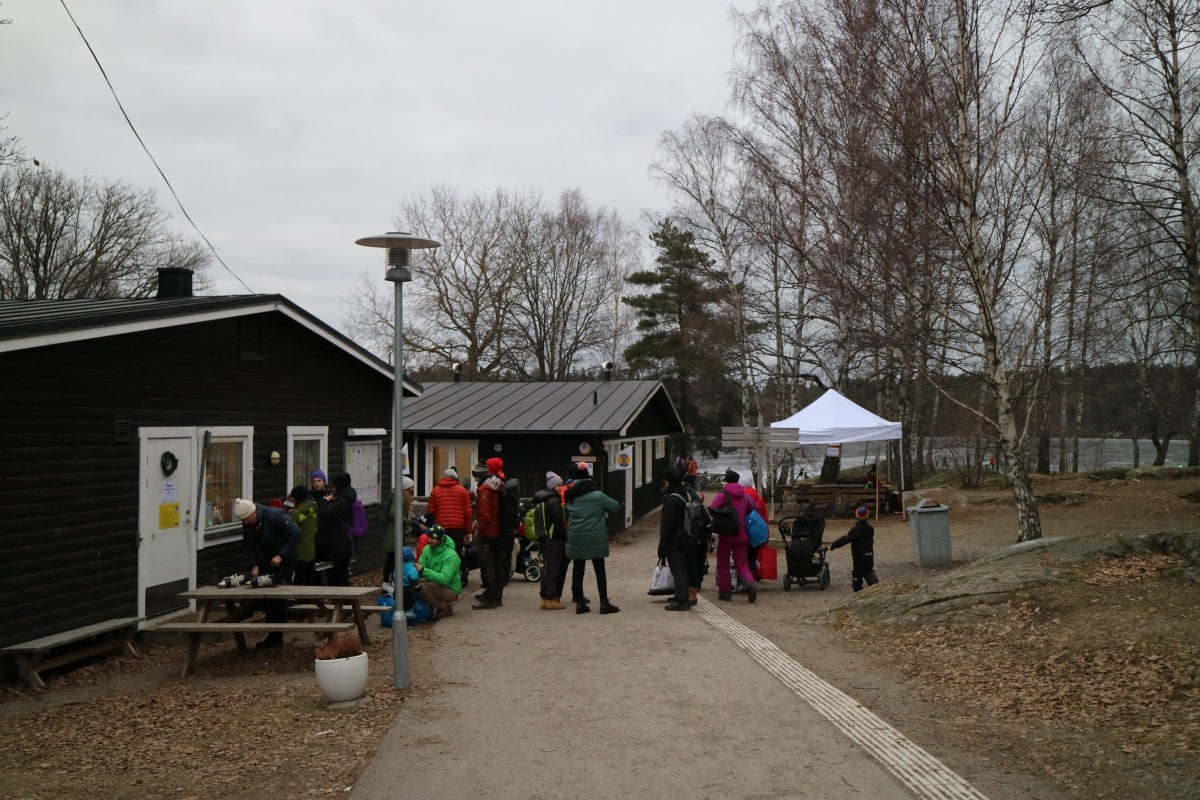 Tip: Especially on weekends it can get very busy. It's best to arrive pretty early. In the winter months, dusk starts at 2:30 pm. Something to take into account if you plan to skate, walk, … for a long distance.
Ice skating

Almost everyone on the bus got off at the stop of the nature reserve. Most of them came to skate on the lake, Källtorpsjön. There was a long queue at the house where they rent ice skates. It was quite busy on the frozen lake. Whole family's tied up the skates. Others had more adventurous plans and planned for a real skating tour along the different parts of the lake.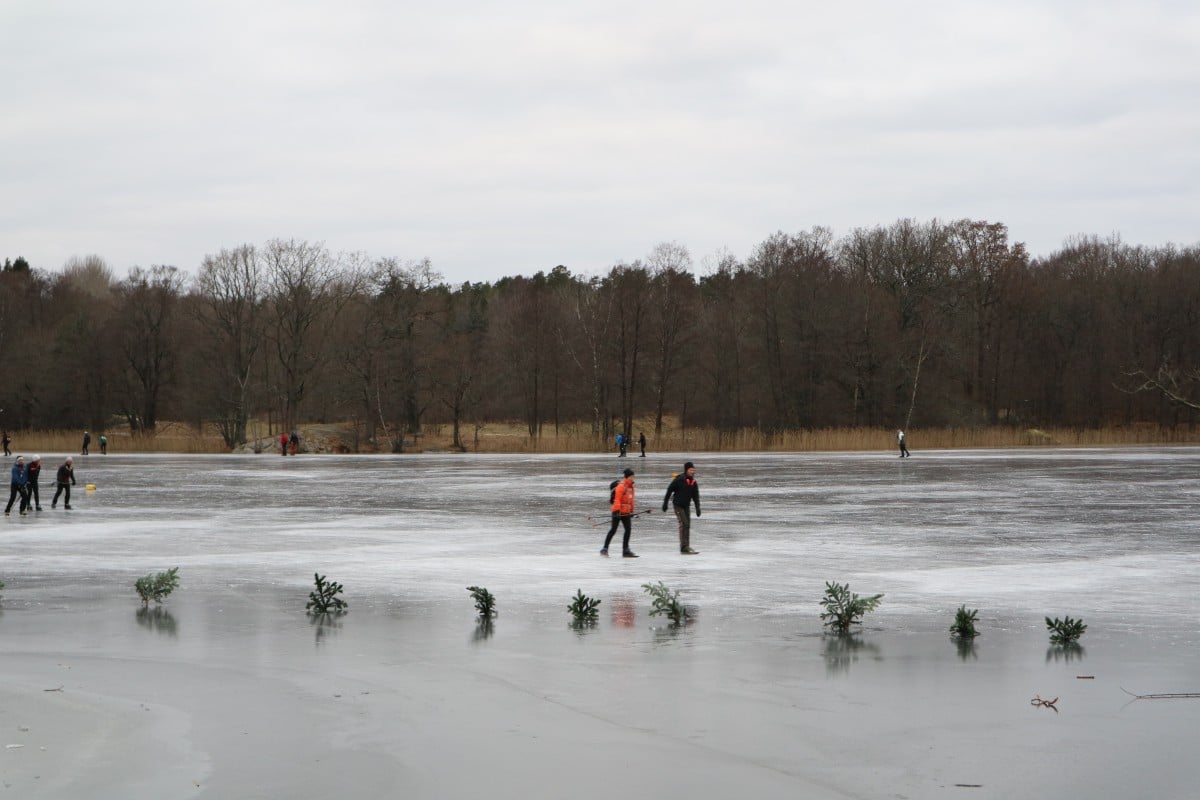 Ice skating on natural ice is not without danger. Inform yourself and check with locals who have experience with skating on natural ice where to go and how to do it safely. Don't forget your safety equipment. A demonstration of how to use that safety material is available in this video.
Cross-country skiing and sledding
When it snows, Hellasgården also offers cross-country skiing. They have a beautiful and varied track. Children love the place for sledding. In the absence of snow, they just go on the ice with their sled.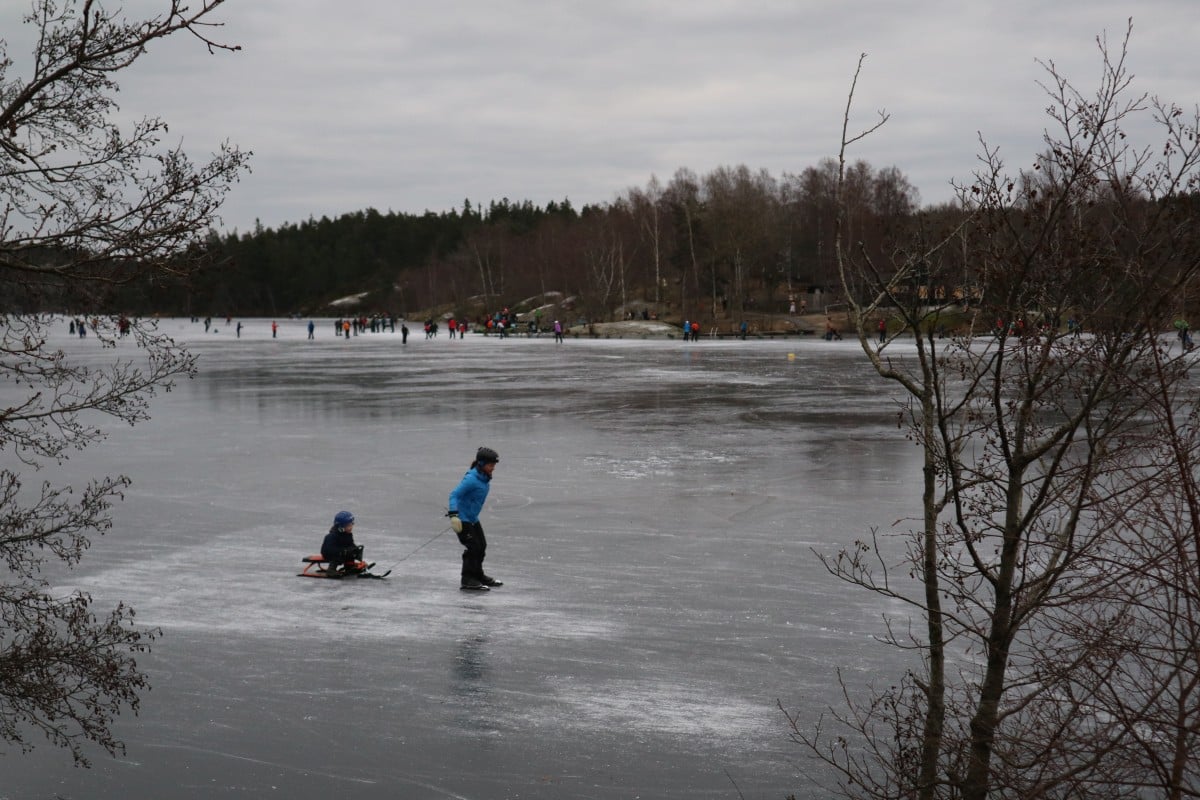 Bastu
You can also come here for an authentic Swedish sauna experience. For only 65 SEK you can enjoy the sauna (in Swedish they call this 'bastu'). After the sauna, you can dive into Lake Källtorpsjön for some refreshment. Yes, even if it is freezing cold. When the lake is frozen, they make a hole in the ice. I can testify: it is a wonderful feeling to immerse yourself in the ice-cold water after the bastu. A unique sensation that you simply have to experience when you are in Sweden!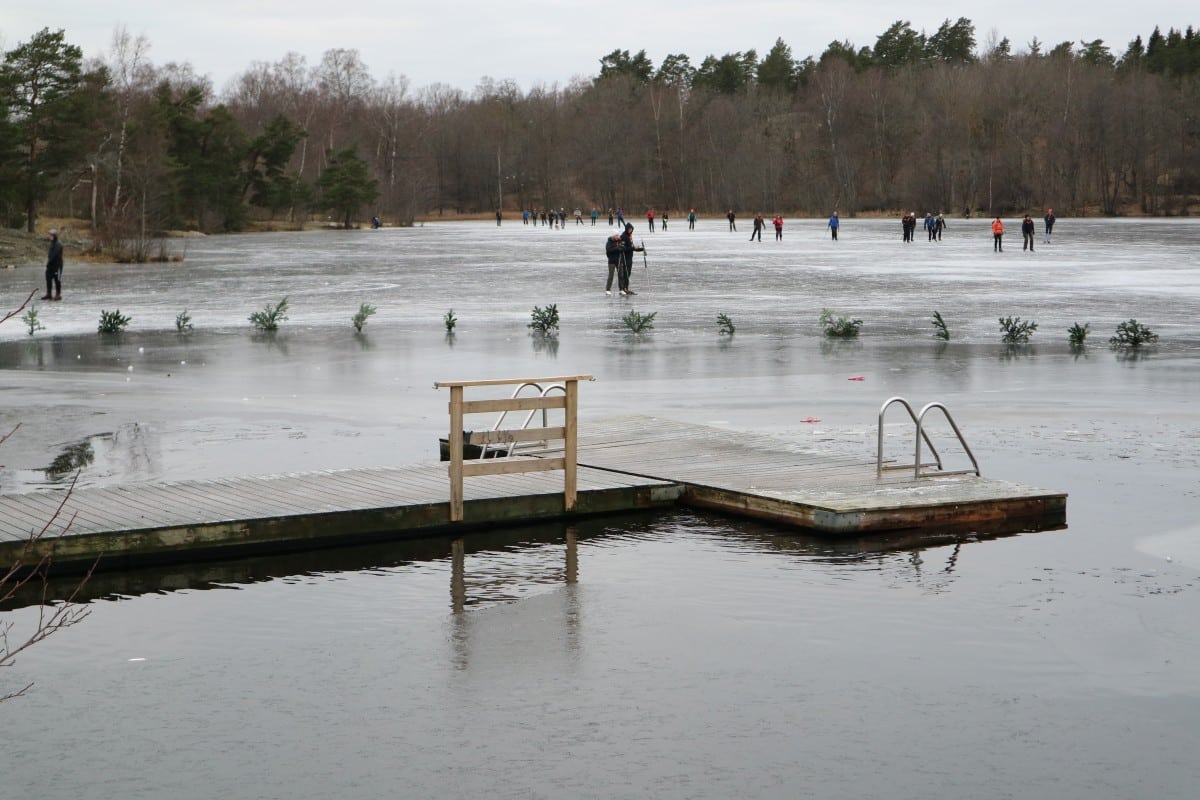 Please note that bathing clothes are prohibited in this sauna. That's also the reason why there are no pictures of me ice-dipping, haha.
Other popular activities in Hellasgården in the winter are the utegyms (outdoor gyms), mountain biking, jogging or powerwalking , … You can warm up again around the barbecue where the Swedes grilled their sausages or (prins)korv or in Storstugan where they have sandwiches and fika bread to serve.
Do you dare to jump into the ice-cold water after the sauna? Or do you prefer to use ice skates?
Pin for later