The nice thing about great places in Stockholm is that, no matter how touristy they are, you will still find locals. The number of tourist traps is quite limited, even in the touristic Gamla Stan. Chokladkoppen on Stortorget is one of those places I always avoided because just about every tourist who goes to Stockholm stops here. Yes, I had my prejudices! However, after my first visit to Chokladkoppen, I have to admit that I had misjudged this. The hot chocolate milk is delicious!
In addition to delicious chocolate milk and fika, Chokladkoppen also serves light lunch dishes such as soup, quiche and sandwiches. They also have an extensive range of coffee.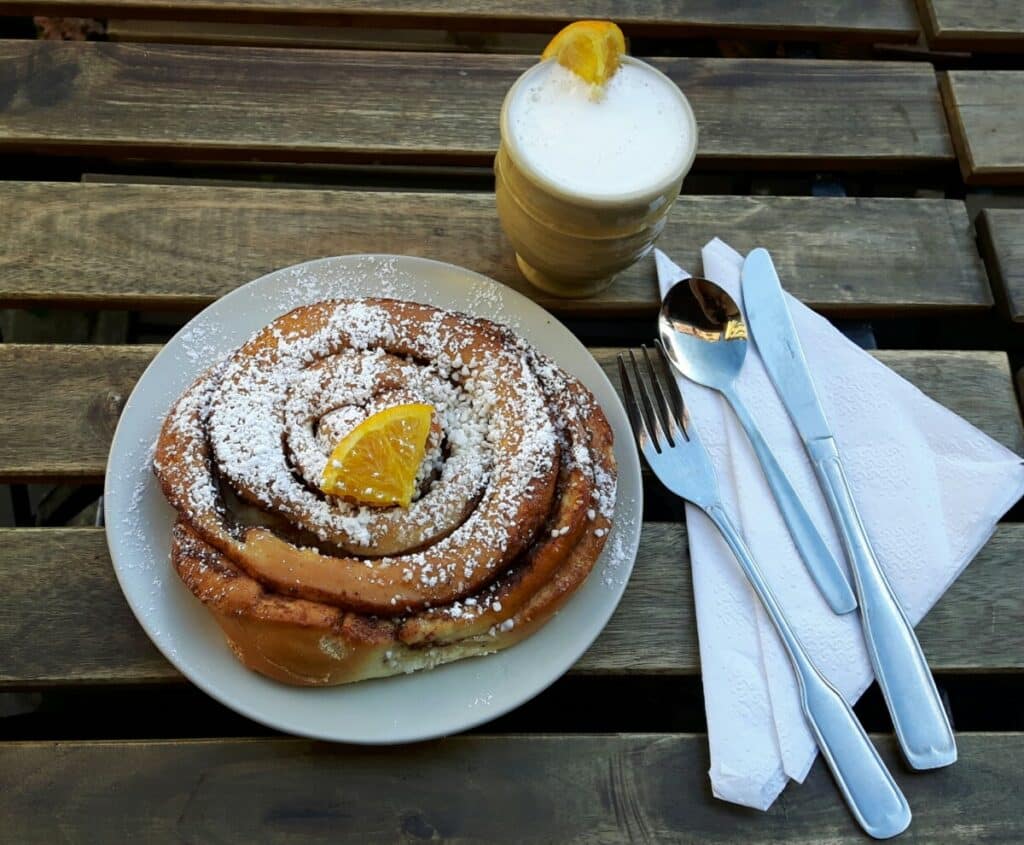 Large 'bullar'
One of the things they are so famous for at Chokladkoppen is the big 'bullar' or cinnamon rolls which they serve. Really as big as your plate! I also found them very tasty and not at all dry, which you can sometimes have with other large bullar. But I just don't get what they have with oranges. There was a piece on my kanelbulle and there was a piece on the cup of my hot white chocolate.
I chose a spot on the small terrace. It does have something: chairs that are a bit shaky and old wooden tables. And in the meanwhile, you can enjoy watching people. The colorful houses on Stortorget of Chokladkoppen and the neighbors Kaffekoppen are probably the most photographed houses in Stockholm!
Tip: Be sure to take a look inside too. It's very mini but oh so charming!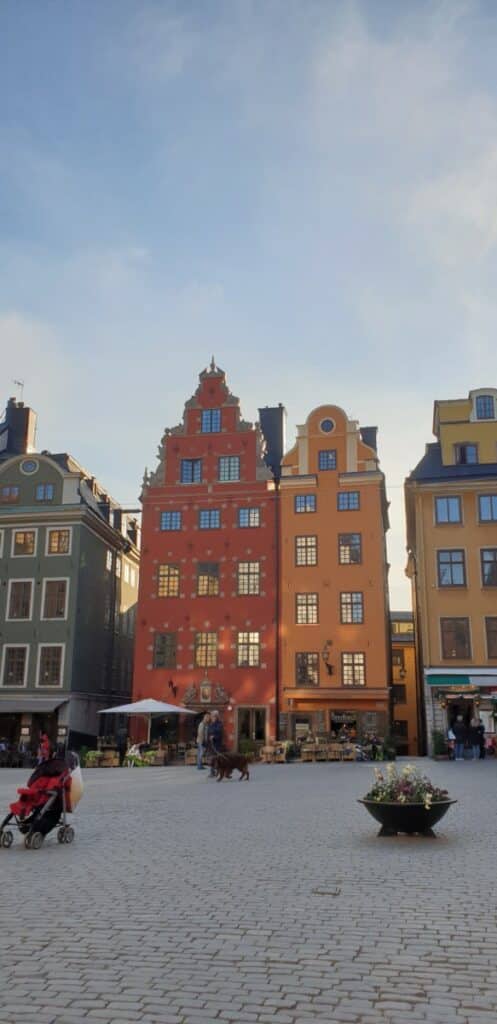 Practical
How do you reach Chokladkoppen?
Follow the tourist crowds. No, seriously – Stortorget is at the back of the Royal Palace. In addition to Chokladkoppen, Stortorget also houses the Nobel Museum. So you can hardly miss it. If you see one of the small streets in Gamla Stan that go a bit uphill and where many people walk, you can almost be sure that they are heading towards Stortorget.
Address: Stortorget 18, Stockholm
Opening hours
In the summer months, Chokladkoppen is open every day from 9 am to 11 pm. During the winter you can visit it from Monday to Thursday from 10 am to 10 pm. On Fridays, they stay open an hour longer, until 11 p.m. During the weekend they open as early as 9am. On Saturday they are open until 11 pm and on Sunday until 10 pm. Ideal if you want to eat something small late at night.
Nearby
Kaffekoppen (located next to Kaffekoppen)
Grillska Huset
Storkyrkan
Pin for later