One of the nice things in Sweden is fika. Although I am not a coffee drinker (don't even try to explain that to a Swede), I do love fika. Taking the time for a break, to socialize and to enjoy something sweet: I'm in!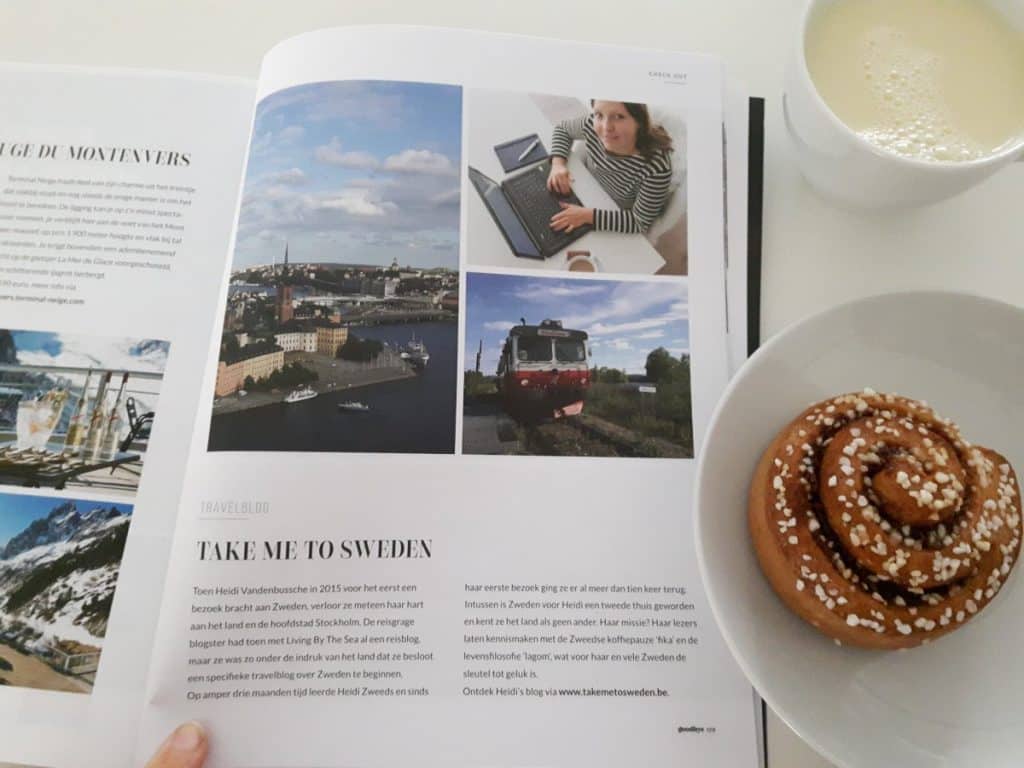 When I am in Sweden I eat those kanelbullar or cinnamon rolls all the time. Even at home I sometimes really carve for a kanelbulle… Not to mention kardemummabullar!
Since 1999, October the 4th has been declared Kanelbullens dag or Cinnamon bun day. Yes, Sweden has a lot of festive days for food. 
When I have to catch my flight back home, I usually buy a few kanelbullar so I have my Swedish breakfast the next day. It softens the Sweden-blues instantly. When the going gets tough, I sometimes stop by at Ikea, just to eat a kanelbulle in their coffee shop. Guess you could call it an addiction. Although I think it is more like a Swedish melancholy. If Sweden or Ikea are no an option, I bake them myself!
Baking kanelbullar is definitely not difficult. I've baked kanelbullar several times already and tried different recipes to end up with my own recipe which I am happy to share with you!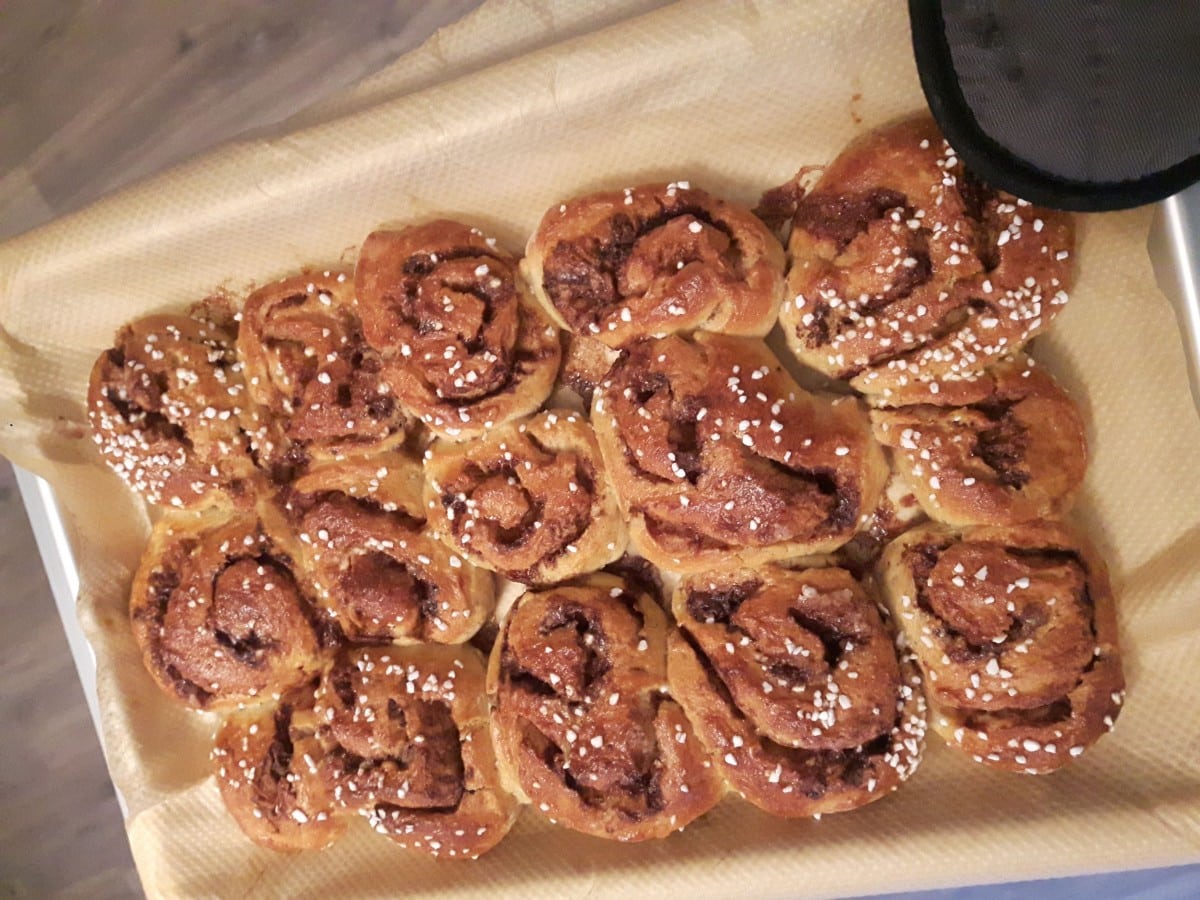 Ingredients for 25 kanelbullar
Ingredients for the dough
After experimenting with different recipes, I always use the same basic dough. It's a recipe from the Swedish classic Sju Sorters Kakor.
500 ml milk
150 gram butter
100 gram sugar
50 gram yeast
840 gram flour
A pinch of salt
Spoon of cardemom
Ingredients for the cinnamon paste
2 tablespoons of cinnamon
70 grams of sugar
100 gram of butter
Ingredients for the finish touch
Preparation
Baking kanelbullar takes a while. It is not a lot of work, but the dough has to rise a few times which takes time. Begin by heating up the milk and let the butter melt in it. The milk shouldn't boil! You still have to be able to put your finger in the milk without burning your finger 😉 If you're a professional and use a thermometer you have to warm it up to 37 C°.
Meanwhile, mix the flour with the yeast, sugar and salt. Add the warmed milk and knead until you have a smooth batter. Let this rise (covered under a kitchen towel) for 1 hour.
With the rolling pin, roll the dough into a long rectangle. Mix the ingredients for the cinnamon pasta and spread it out on your dough. Then roll the dough until you have a long sausage.
Cut slices of about one and a half centimeter. Press the rolls a little and let it rise for another half an hour. Pre-heat the oven to 220 degrees and bake the buns for 12-15 minutes.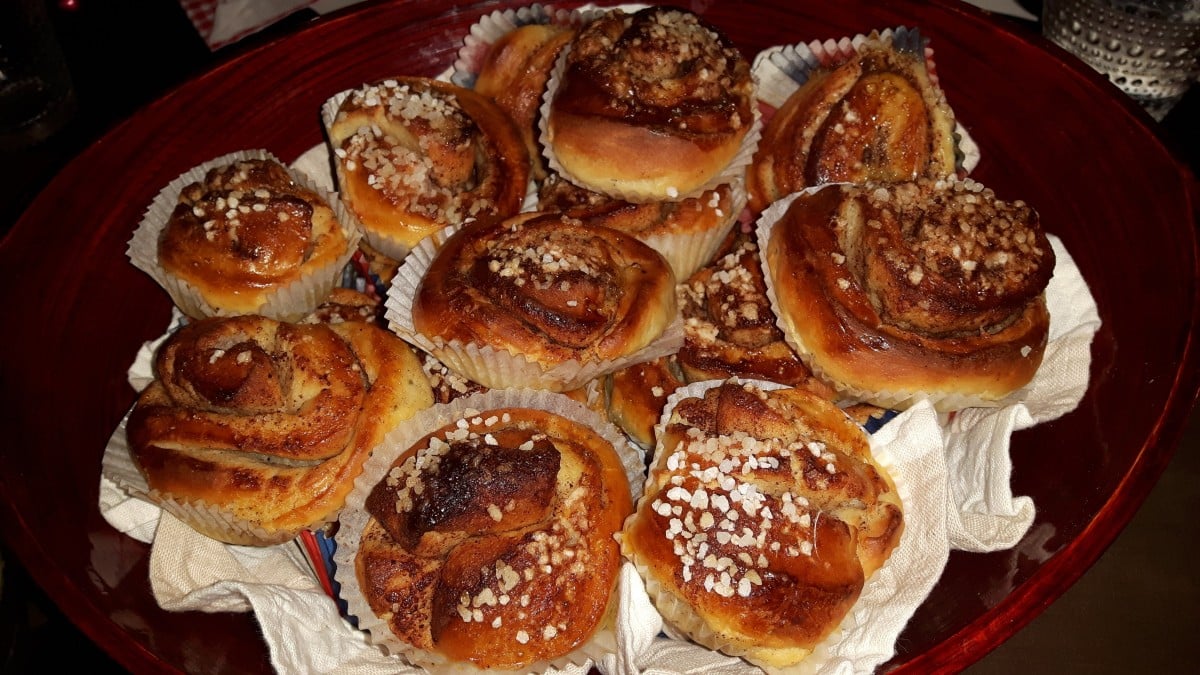 If you want to save some for later, you can put them in the freezer. But mine usually don't last that long 😉