Stockholm is a beautiful city trip destination in winter too. Below you will find my tips for a visit to Stockholm in winter.
Looking for information on Christmas in Stockholm? This way!
The Christmas decorations in Sweden disappear on Tjugondag Knut (the twentieth day after Christmas). Still, you can enjoy wintry Stockholm until March. Are you going on a city trip to Stockholm this winter? Please read on!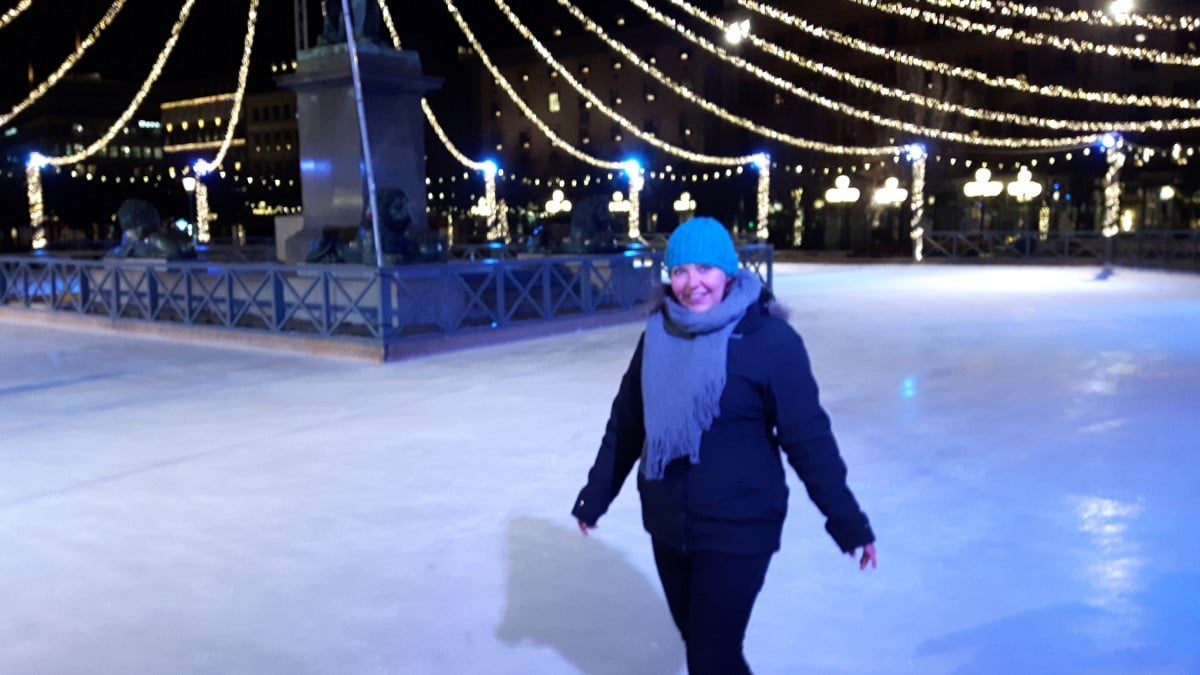 Tips for Stockholm in winter
Ice skating
There is an ice skate rink at Kungsträdgården from the beginning of November til the beginning of March. If you bring your own skates the rink is free to use. Skate rental is also possible (70 kronor for adults, 30 kronor for children). The ice rink is open from 9am to 9pm, in the weekends from 10h to 21h. The skate rental closes one hour earlier.
At various other places in the city you can also skate if you bring your own skates. There is an ice rink at Medborgarplatsen in Södermalm and you can also find one in Vasaparken. This site shows you the other rinks in Stockholm.
Do you like skating on natural ice? With some luck (and cold temperatures) you might be able to. You will need to be careful about where to go but it can be possible. For safety reasons, it's best to go with a guide.
Museums
My tip: try to maximize your outdoor time when there is daylight and plan your museum visits in the late afternoon or on rainy days. On sunny days, you might want to head to one of the awesome sunset spots in the late afternoon to enjoy the beautiful sunset! Ok, we often have beautiful sunsets in Belgium as well but in Sweden they just seem to be more colorful and intense.
Is it your first time in Stockholm? Then you should definitely visit the Vasa museum! Take your time and spend a few hours at this museum. Other attractions not to miss on Djurgården are the Nordiska Museet and ABBA – The Museum. I think also Moderna Museet on Skeppsholmen is a must. This museum on modern art has free entrance! So no worries if you just want to go for a quick visit.
Fika
Although the temperature is usually not too bad in Stockholm, it can be very cold. If you are walking around and are dressed well, the cold will not be a problem. If you want to heat up or take a rest, pop in a coffee bar for fika. I can definitely recommend Gildas Rum, Älskade Traditioner… on Södermalm, Vetekatten in Norrmalm, Sturekatten in Östermalm, Chokladkoppen in Gamla Stan,… Some coffee bar brands that you find all over Stockholm: Fabrique, Urban Deli, Espresso House, …
Shopping
OK, not the cheapest pastime in Scandinavia but so worth it. Every time I wear or use something that I bought in Sweden, a smile appears on my face. I did some serious shopping here over the past years. Actually, most of my wardrobe already comes from Sweden.
The big chains can be found in and around Drottninggatan and Hötorget. Also on Kungsgatan and Sveavägen, there are many stores. If you are looking for the more exclusive brands then head to Stureplan and Biblioteksgatan. If you are looking for hipster things, go to Södermalm.
Shopping centers like Åhléns, NK, Mood, Mall of Scandinavia (not in the city center) offer all weather shopping. Read more about shopping in Stockholm here.
What to pack for Stockholm in winter?
The winters in Stockholm can be quite unpredictable. The snow usually does not stay for a long time. Did you know that they also have some heated sidewalks? The Swedes are fairly well prepared for snow. They don't sprinkle salt but use sand and small stones.
It is truly a privilege to be able to see the city covered in snow. It is only when the snow melts it can be a hussle. The sidewalks are not really a problem but it is often at crossings where the 'slask' or slush can be a pain in the ass.
What clothing to take?
Layers! Layering is the code word. So you can pull something off if you're feeling too warm and put on an extra layer if you're getting cold. I always take my merino wool (or similar) thermal underwear with me. A water-resistant and windproof jacket is definitely a must. In terms of shoes you should pick something that is resistant to water and preferably slip proof as well. But a lot depends of course on the weather forecast. Sneakers will be fine as long as there is no snow involved.
Did you plan a city trip to Stockholm in the winter? Do you have tips or additions to this article? Please let me know in the comments!
Pin for later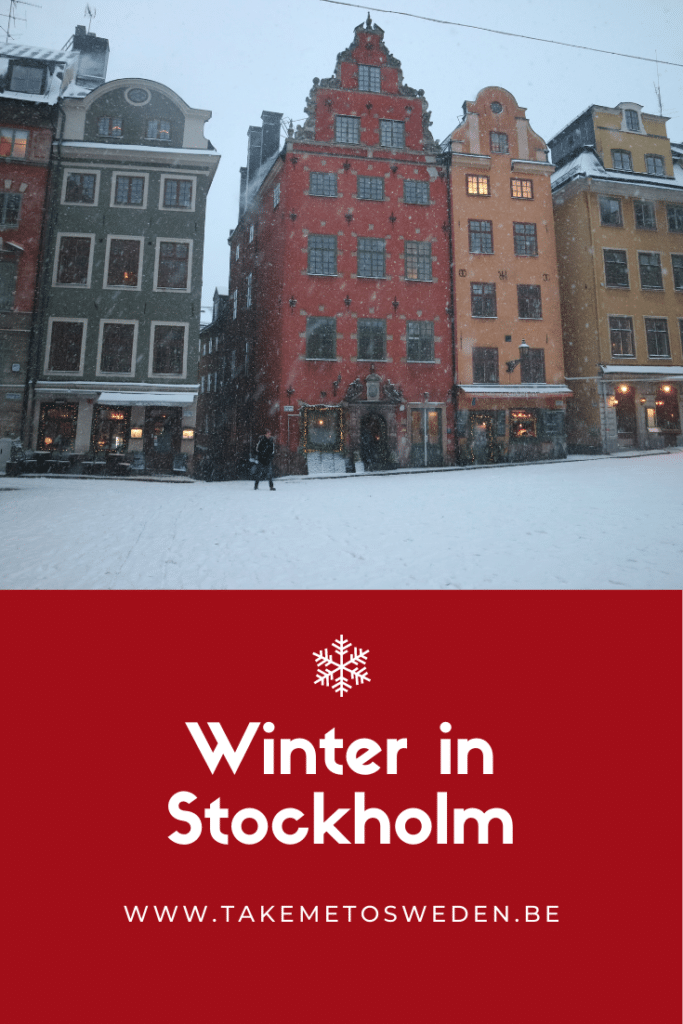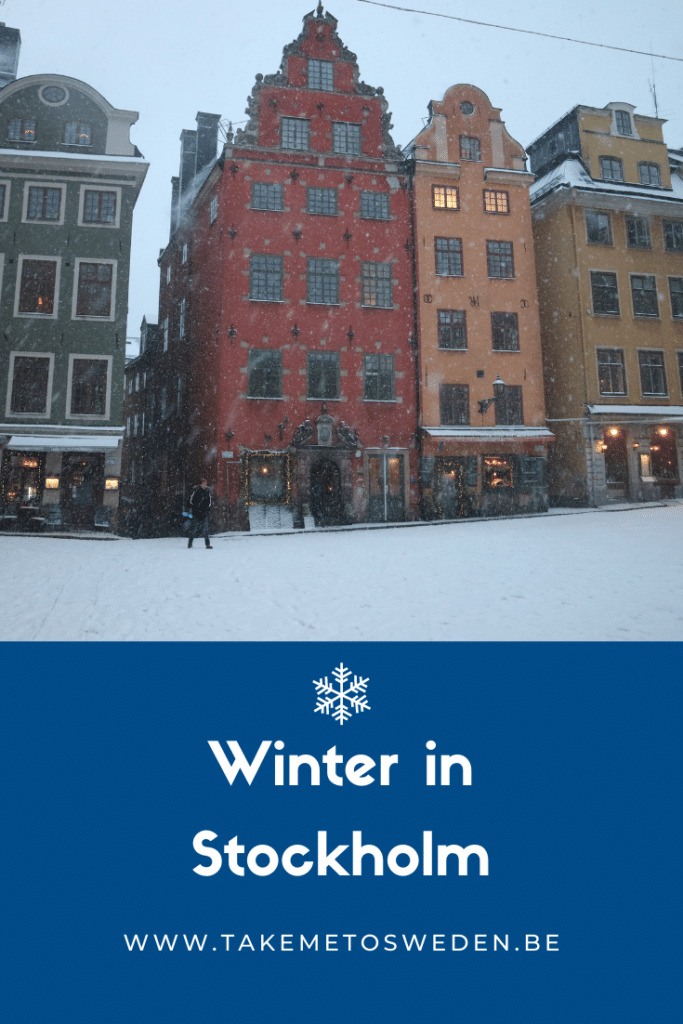 Original post: January 15, 2017 – last update: October 7, 2020