It is a public secret that can only be found in few travel guides: Järnpojken. I searched for the boy during several visits until I took the search more seriously and looked for the precise location of the statue. Only then I found it. Since then I have always given it as a tip to all friends who visited Stockholm. They all enthusiastically sent me photos of the little guy. It was about time to write something more about Järnpojken or the Iron Boy here as well!
Where can you find Järnpojken?
Järnpojken is located in Gamla Stan, near the Royal Palace. Yet the smallest statue of Sweden (the statue is only 15 cm in size) is well hidden and only well-informed tourists find their way to this attraction. The Iron Man stands in the garden of the Finnish Church at Slottsbacken. It is one of Sweden's most visited public works of art.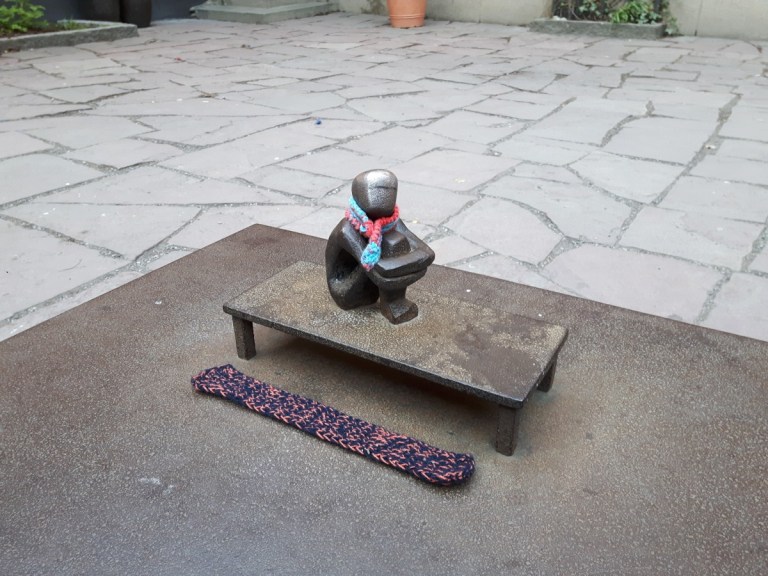 Pojken som tittar på månen
The name of the image is officially 'The boy who looks at the moon' or 'Pojken som tittar på månen' in Swedish. Sometimes the image is also referred to as 'Olle'. It is a work of art by the Swede Liss Eriksson. He designed the statue in 1954. It then got a first place in Kobjer just outside Lund. It was not until 1967 that the statue got its place at the Finnish Church in Stockholm.
The artist himself created the work, one night when he could not sleep and sat on the windowsill of his mother's kitchen.
A scarf, a hat
Just like Manneken Pis in Brussels Järnpojken regularly gets different outfits. Every time I visited the little boy, he was wearing another suit. A hat and a scarf to protect him from the cold, something to protect him from the rain, flowers, … It is not known who takes care of those costume changes. It only makes the statue more mysterious to me.
Lucky charm
The story goes that anyone who rubs Järnpojken's head will certainly return to Stockholm. Others believe that rubbing his head and leaving a penny or other gift, will bring happiness and prosperity. Whoever removes the presents at night is a big secret too.
Pin for later