ABBA lovers will certainly visit Djurgården during their city trip to Stockholm. The ABBA-museum was the ultimate push for me to finally book that city trip to Stockholm. The rest is history… 😉 Besides the ABBA museum there are more places of interest for the ABBA-fans on the island. For example, Stig Anderson, the manager of ABBA, lived in Villa Ekarne on Djurgården.
Villa Ekarne or Laurinska villa as the building is also called, was designed by the Swedish architect Ragnar Östberg. The building dates from 1907. The first owner was the publisher and art collector Torsten Laurin. He had one of the largest art collections in Sweden at the time! A large painting by artist Carl Larsson is said to still be in the hall: De Mina.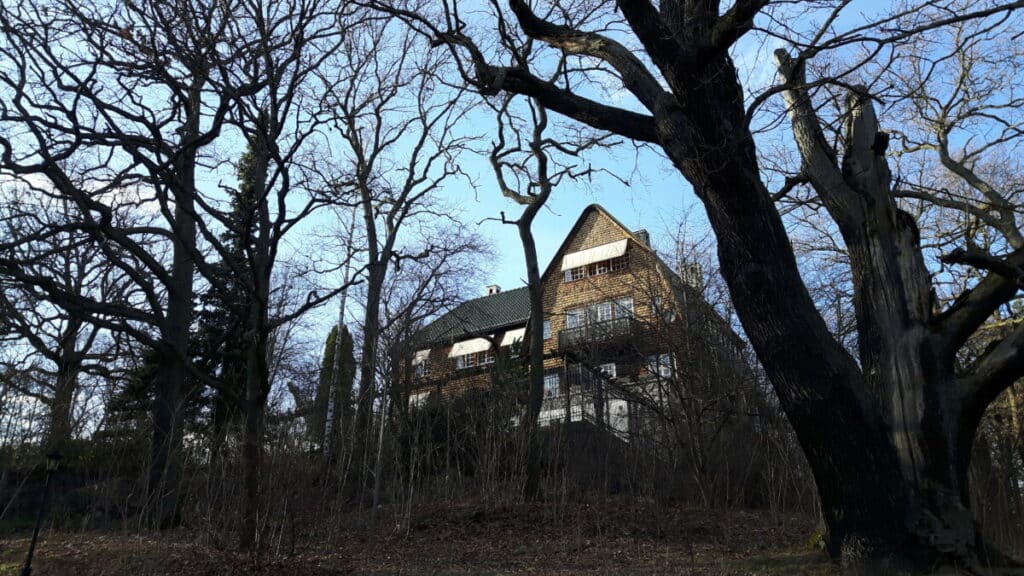 More recently, the German embassy was located in Villa Ekarne. You can't do much more than glance through the fence, but you see that this house has a specific architecture. On the Swedish wikipedia they say the following (free translation):
The style of the house is characterized by National Romanticism and also has clear Anglo-Saxon characteristics from the Arts and Crafts movement. Villa Ekarne has been designed in such a way that it merges inextricably with nature on the high and mountainous plot. The villa, like Östberg's later Villa Mullberget, is clad in dark brown wood shavings and was originally glazed with colored vitriol to achieve a grayish tint. The plinth and the terrace are made of granite, while the roof is covered with glazed green roof tiles.
Practical information
How to reach Villa Ekarne?
If you walk from Skansen or ABBA – The Museum via Djurgårdsvägen towards Rosendals Trädgård, you will pass the villa on your left.
Address: Singelbacken 21, Djurgården (Stockholm)
Nearby
Pin for later