When you walk along Strandvägen in Östermalm (Stockholm) you definitely have to visit Svenskt Tenn. This interior store is a real phenomenon. The flagship store is the walhalla for lovers of design and beautiful interior decorations. In addition to the typical colorful designs of Josef Frank you will find many other younger designers. On the first floor there is a tea room where you can go for a quick, healthy lunch or have a cozy fika. On the ground floor there is also an exhibition space which offers a variety of exhibitions that are freely accessible.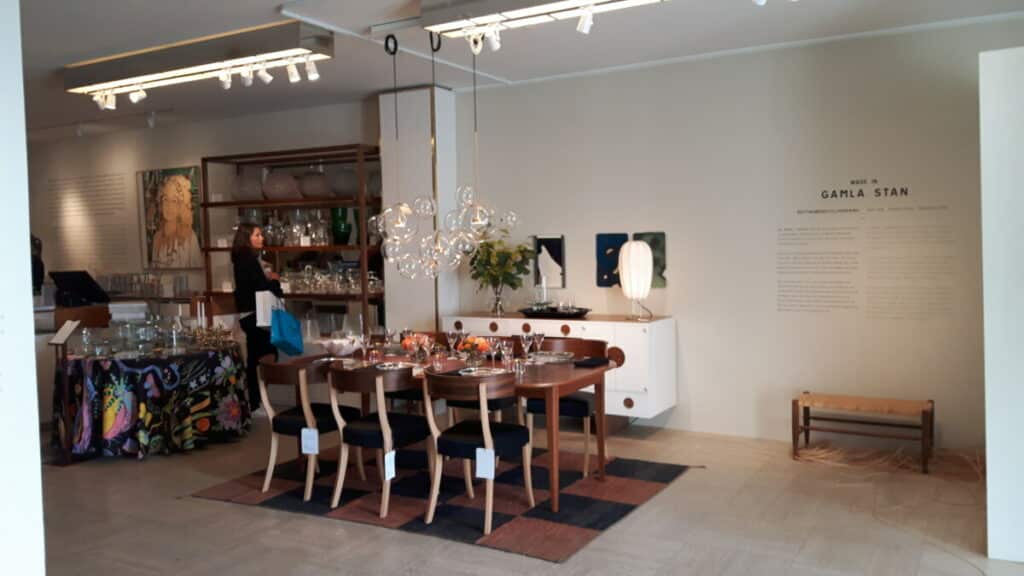 I had walked past it a few times already but had no idea what was hidden behind the windows. It was only when a Swedish friend would like to meet up there I entered for the first time. I was surprised by the wide range of Svenskt Tenn and have been in there a few times since. Sometimes just to look at the designer stuff, sometimes for fika or lunch.
Estrid Ericsson & Josef Frank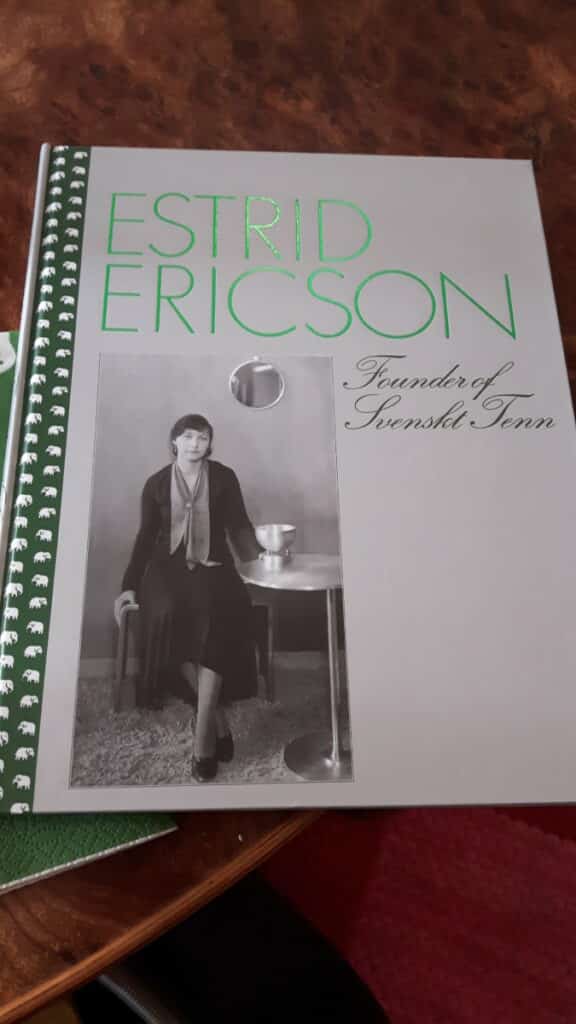 The Swedish styliste and businesswoman Estrid Ericsson started Svenskt Tenn. She combined forces with the Swedish-Austrian Joseph Frank and together they built this successful Swedish brand.
Estrid Ericsson founded the Svenskt Tenn AB in 1924 with a small sum of money she had inherited from her father. She did this together with tin artist Nils Fougstedt. They focused mainly on tin items but almost 3 years later, Estrid's interest in interior design took over and other objects began to find their way to Svenskt Tenn. In 1927, they moved to the current location on Strandvägen in Stockholm, where Estrid also had her apartment.
The designer and architect Josef Frank joined in 1934. He was one of the pioneers of functionalism. His father was a textile wholesaler and his mother was an artist. He designed the furniture and the designs for the fabrics.By the time of his death, he had made about 2000 sketches for furniture and about 160 designs for textile.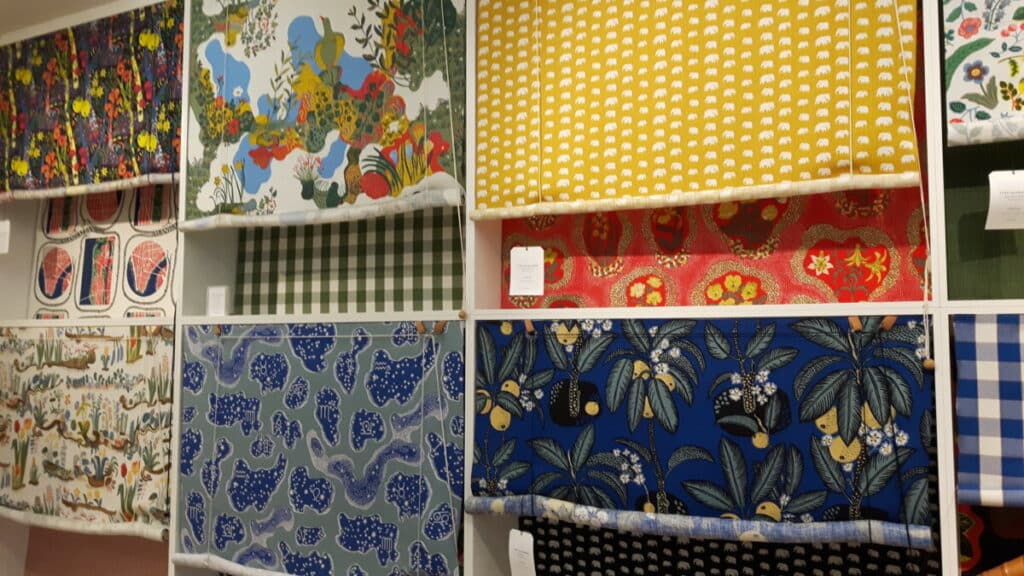 Made in Sweden
Svenskt Tenn guarantees that almost everything they sell is made in Sweden. Many items are still real hand crafts. Last year, they held an exhibition on the ground floor that showed how the objects came into being and handicraft had a prominent place.
Today the interior store still gets visitors from all over the world. If the design pieces are not immediately suitable for your wallet, you should at least have a tea in the tea room!
Christmas at Svenskt Tenn
Svenskt Tenn's Christmas collections are a feast for the eyes. If you are in Stockholm in November or December, I can recommend a visit to Svenskt Tenn even more! Sometimes people are even queuing up to get in.
Practical info
How do you reach Svenskt Tenn?
Svenskt Tenn is located along Strandvägen, the popular walking route to Djurgården. You will find the design store near Dramaten.
Address: Strandvägen 5, Stockholm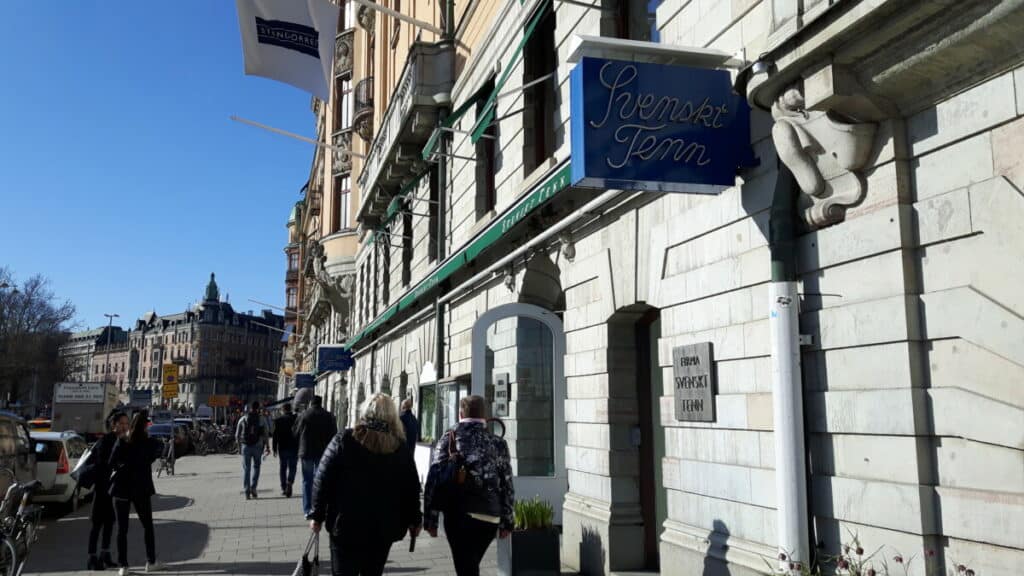 Opening hours
The shop is open Monday to Friday from 10am to 6pm. On Saturdays they close an hour earlier, at 5 pm. On Sundays they are open from 12 noon to 4 pm (during summer they are closed on Sundays). It is possible to book private shopping outside opening hours.
Nearby
Grand Hotel
Hotel Diplomat
Pin for later
Save this article to Pinterest for easy reference later!