Even though I have some favorite hotels in Stockholm I like to go back to, I try to spend at least one night in a hotel I haven't stayed at before. This way I can tell you all about the nicest and best hotels in Sweden. There have been a lot of new hotels opening in Stockholm lately and a few new once are still on their way. One of the latest new (2017) hotspots is Hobo, a boutique hotel near Sergels Torg.
Hobo Boutique Hotel
At the end of March (2017), I stayed at Hobo, the new Boutique Hotel in Stockholm. This was the first hotel that opened in the new neighborhood Urban Escape. The hotel is located very central and would like to be a meeting place for both tourists and Stockholmers. I can highly recommend the hotel as you get a good hotel for a decent price.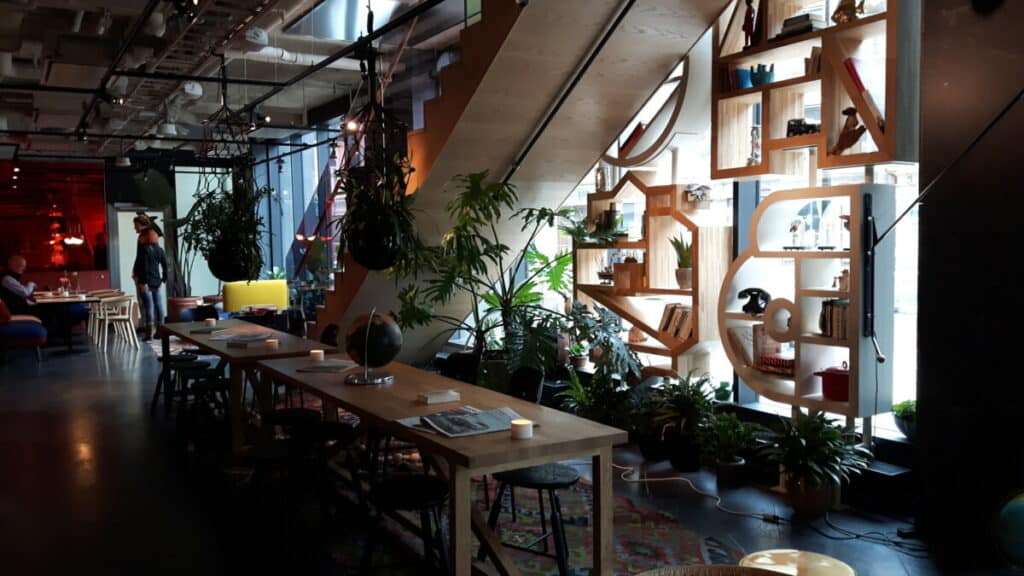 Checking in
The staff were all very friendly. They have carefully picked a young and enthusiastic team. The atmosphere is very spontaneous and you get a personal service. Anyone who arrives before checkin time can leave their bags at the hotel desk (the same goes for check-out). This is always useful so you can make the most of your time in the city.
The room
You could still smell the paint in the elevator and hallway, but once in the room I didn't notice these odours. I did occasionally smell the drain in the bathroom. I hope that's just a small startup problem. The room was spacious and had a view over the 'courtyard'. You can choose to have a view on the city or a room without a window. There is always a lot of construction work going on in Stockholm. I counted up to 7 cranes when I looked out of the window. A bit further down the street they were also working at night. Fortunately, the rooms are quite soundproof and I did not really bothered.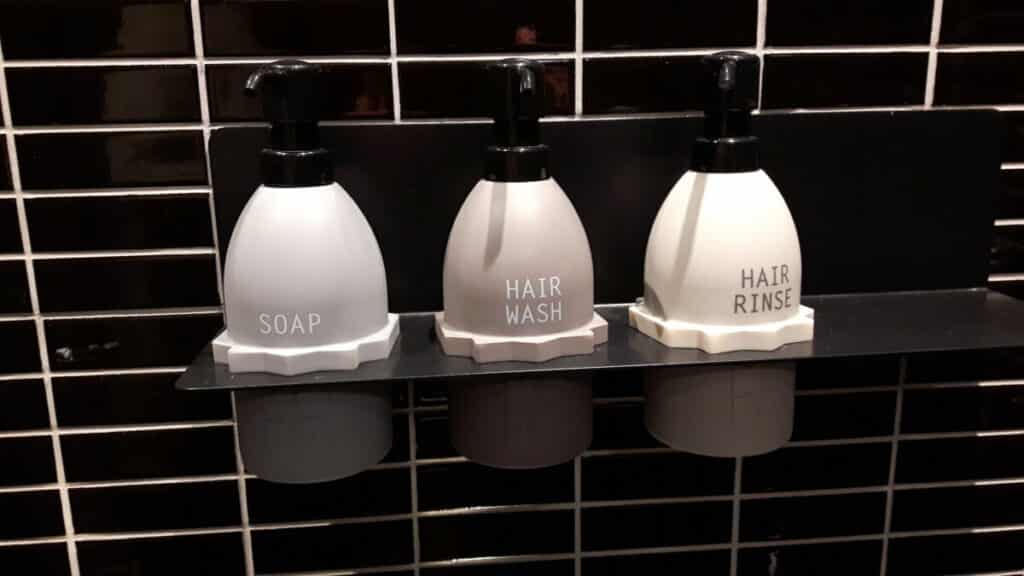 I found the layout of the room very successful. All I missed was a place to put and open my suitcase. I liked the 'peg board' where you could find cool and useful stuff that you can use during your stay. There was an umbrella, a backpack, a handy city plan with a few nice addresses and even a calculator (don't know who would use it and certainly not on a city trip, if you want to calculate the currency, you take your cellphone, right?).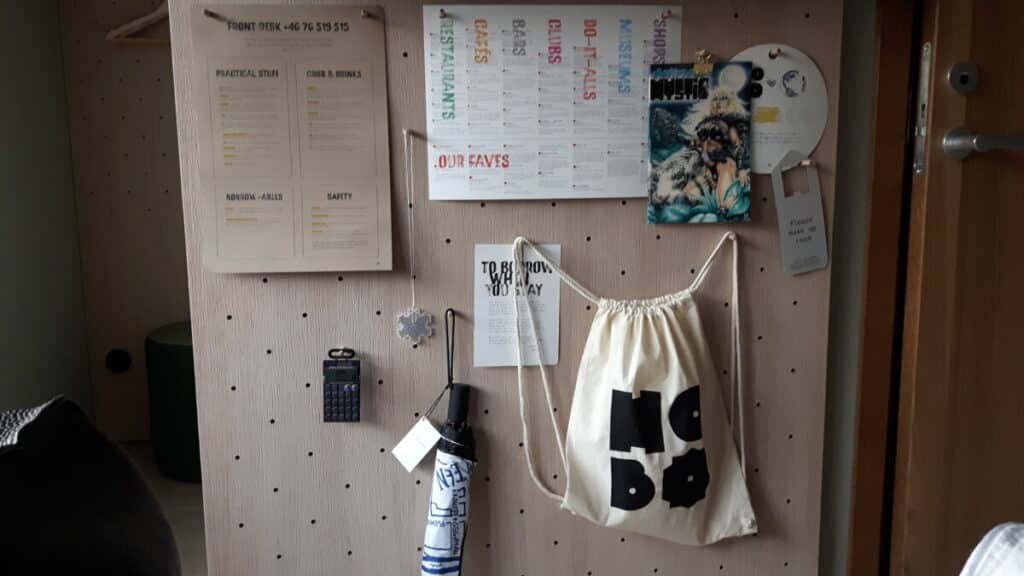 Nice detail: a water gun in the bathroom. That one object really sums up the entire concept of the hotel.
Breakfast
Breakfast is not included. That's fine, certainly in a city like Stockholm where there are so many nice breakfast places. If you want to have breakfast at the hotel, you can book it in advance or decide on the spot. Here you will not find a typical hotel breakfast buffet.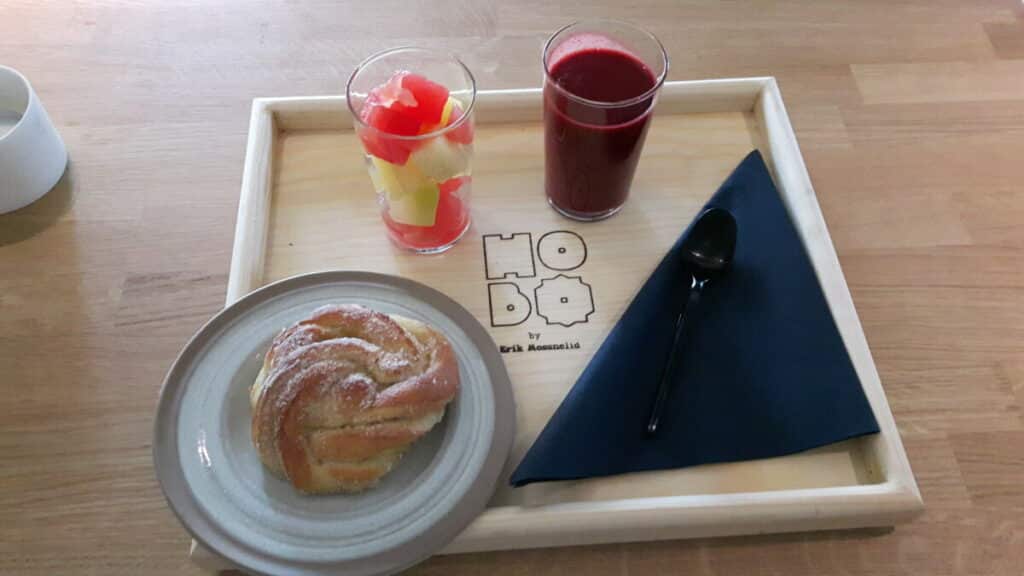 There are many different choices available. Coffee and tea is always included and you can add 3 pieces of your choice to it. This ranges from smoothies and fruit salads to chiapudding and cinnamon buns or croissants. I found this very original! You can sit both downstairs and upstairs. These spaces are also ideal as a nomad work place!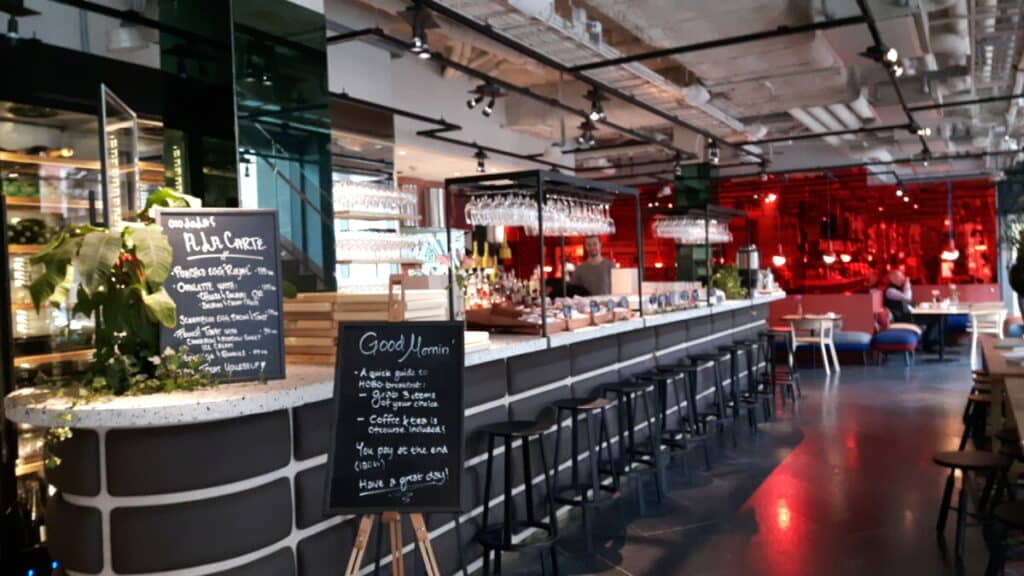 Urban Escape
Hobo is located in the new neighborhood Urban Escape. Hotel at Six and the new place to be TAK (Asian restaurant / rooftop bar) are located on the same square and even in the same building. Furthermore, office spaces and shopping center Gallerian are part of Urban Escape.
Urban Escape and thus also Hobo is very central in Stockholm at Brunkebergstorg, a five minute walk from Central Station. When you are on Sergels Torg you can go under the building next to Kulturhuset and you will immediately reach the square. In the coming years, new hotspots will be added to Urban Escape.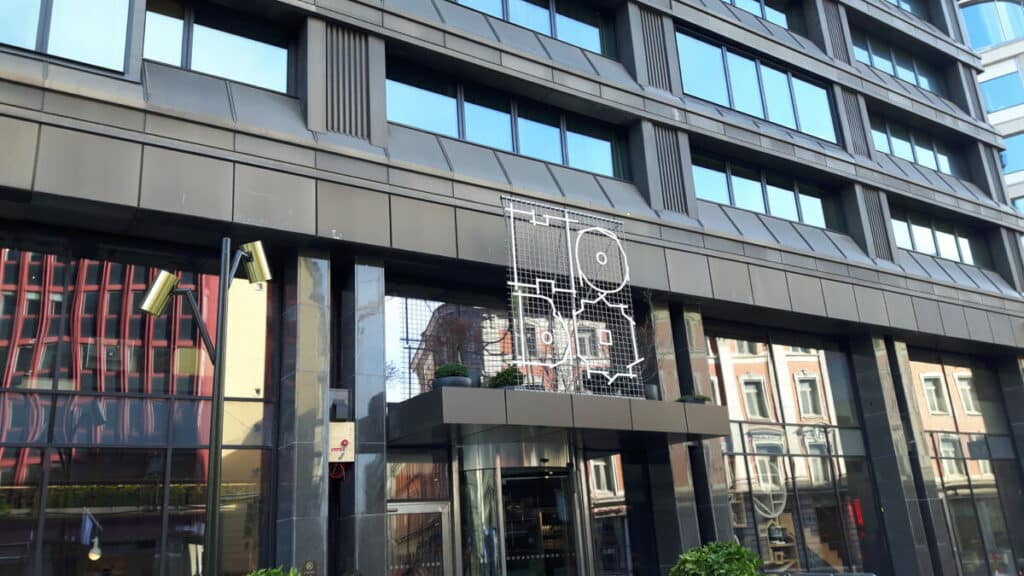 Practical information
How to reach Hotel Hobo?
Hotel Hobo is located less than a kilometer from Stockholm Central Station. So you can perfectly go on foot. If you want to get a little closer, you can take the metro to metro stop 'Kungsträdgården'. Then it is a 350 meter walk.
Address: Brunkebergstorg 4, Stockholm
Book your room
You can choose from a Hobo Sleeper (a basic room without windows), a Hobo Room (with twin or king size bed), a Hobo Superior (with a view over Brunkebergstorg) or a Hobo Suite (just under 40m² in size with a lounge space).
Book your room at Hobo.
Other hotels nearby
In the neigborhood
Hotel At Six
Hotel Downtown Camper by Scandic
Pin for later
Save this article to Pinterest for easy reference later!