Stockholm has (another) a new hotel: Blique by Nobis. The hotel is located in Vasastaden (on the border with the Haga district) and is located in a former Philips warehouse. After a thorough renovation, it is now a modern boutique hotel with 249 rooms, a rooftop terrace and a courtyard with a resident food truck.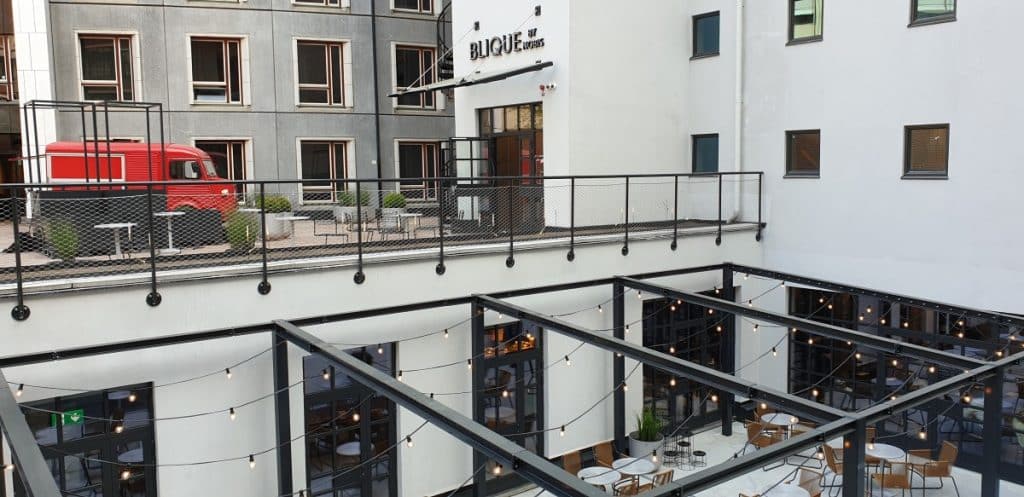 Design
The hotel's designer is the renowned Swedish architect Gert Wingårdh. For those who sometimes watch Husdrömmar on SVT, Gert is the male half of the presenters' duo.
There are different types of rooms, from budget-friendly single rooms to luxurious suites and rooms with kitchenettes. Some of the rooms got the 'sleep tight' or 'sleep deeper' label. There are no windows in these rooms. I had not really paid attention when booking, so I had a room without windows. Although I usually prefer a nice view, it doesn't really bother me if there are no windows. Especially in the summer months when the nights never really get dark, a dark room can be a plus. In the end you are only in your hotel room to sleep. The money that you save is a nice extra for some more shopping or to spend on fika.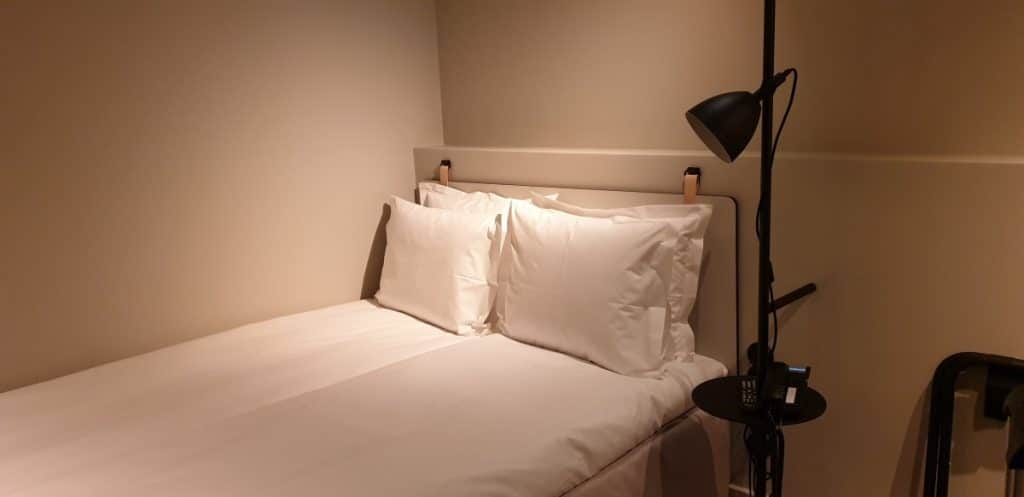 In the bathroom you're spoiled with products from the Swedish brand Byredo. A special mention for the breakfast and especially for the extensive choice of smoothies. Talking about a colorful start of the day! In the basement there is a mini cinema for private screenings (max. 20 people) and a sauna. The hotel regularly organizes parties and events.
Rooftop
There is a rooftop bar / restaurant with a view over the city. The restaurant has already become very popular in a short time, so it is best to reserve your table in advance. On the menu you will find cocktails and Scandinavian-Asian inspired dishes.
Blique by Nobis, practical information
How do you reach Blique by Nobis?
The hotel is located in the north of Stockholm. The immediate vicinity of the hotel is less touristy, but with the metro (T-bana or Tunnelbana) you can easily reach the heart of the city. Download the SL app to view the local and fastest timetables on site. Personally, I found the stop at Torsplan the easiest.
Address: Gävlegatan 18, Stockholm
Book your room at Blique by Nobis
Book your overnight stay at the Blique by Nobis design hotel.
In the neighborhood
Karolinska Institutet
Lilla Ego
Haga Park