Shared mobility conquers Stockholm. Just like in all major and cool cities, you can find electric steps in Stockholm. In addition to the electric steps that are offered by various providers (Lime, Glyde, …), you can also find regular bikes from EU-Bike. The system always works almost the same. You download the app, see where the nearest bikes or steps are, scan the QR code on the bike or scooter and you can take off.
There are of course supporters and opponents. I am a fan myself. It is even more convenient than the bikes that you used to find on fixed spots. A lot of course depends on the users. If everyone were to park their part step neatly on the side, the number of opponents would fall drastically. In my hometown the electric shared scooters have also turned up and I like to use them regularly.
Electric step in Stockholm
The concept is the same: you download the app, create an account (and link your credit card to your account). If you want to use a step, check the app to see where the nearest step is. In most apps you can also see the status of the battery. You scan the QR code on the step and you can go. Just like with a normal scooter, you first do 3 kicks and the scooter starts moving. Check before you leave how to accelerate and how the brake works. That can to be different per scooter. When you have arrived at your destination, park the scooter neatly on the side and end your ride in the app. Wearing a helmet is mandatory. Adjust your speed. And of course you should not endanger the safety of other road users.
I saw a lot of steps from Lime and Voi, so I first downloaded these 2 apps but then I only saw steps from the other providers. Finally I downloaded all apps: Lime (also active in Belgium and other Swedish cities such as Gothenburg, Malmö and Uppsala), Voi , Glyde , Moow, UFO & Tier (also in Lund, Malmö and Gothenburg). If you don't want to download all the different apps, it may be good to have a look at this app (article in Swedish) that collects all providers.
EU Bike in Stockholm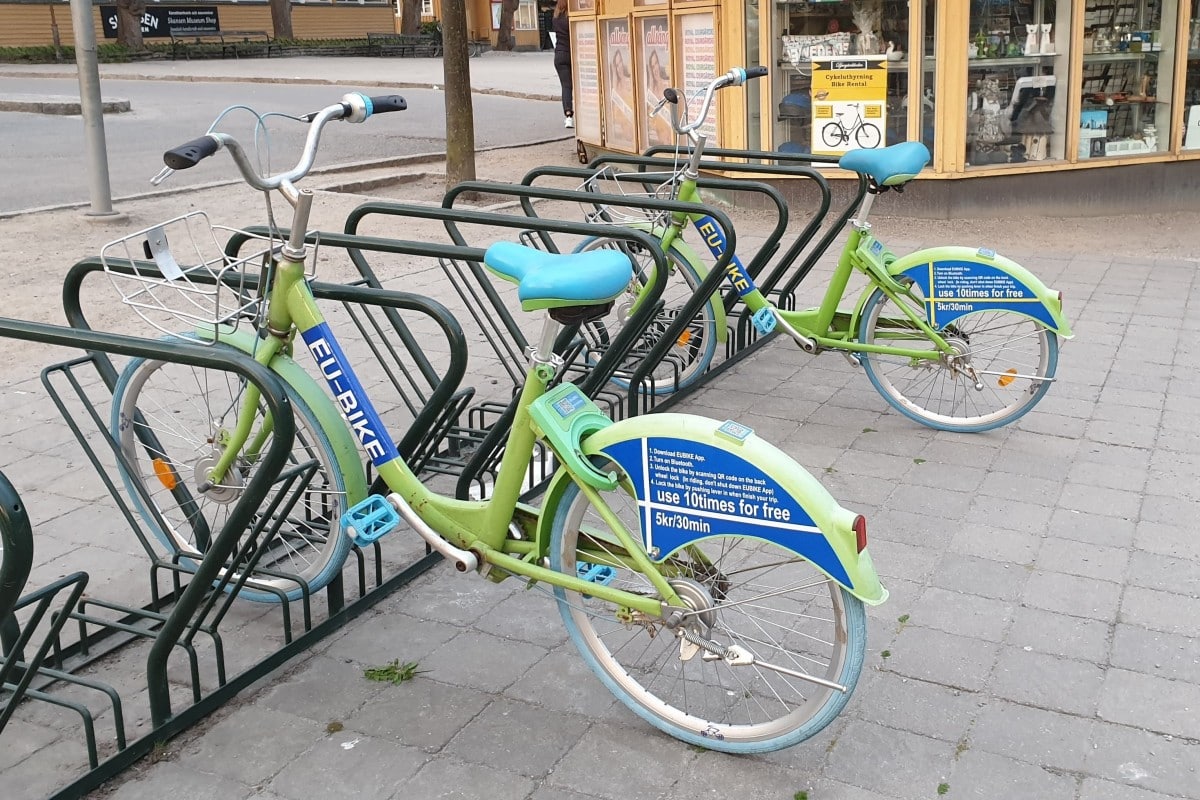 Ok, perhaps even easier than the steps are the regular bikes from EU-Bike that you see everywhere in Stockholm. There are around 1500 bikes scattered around the city. If you have never used an electric step before, renting an EU-BIKE will probably be a lot easier and comfortable. To use an EU-Bike you pay 5 SEK per 30 minutes. If you advertise them on social media you also get 10 times for free (I didn't succeed to use it – maybe because I don't have the Facebook app).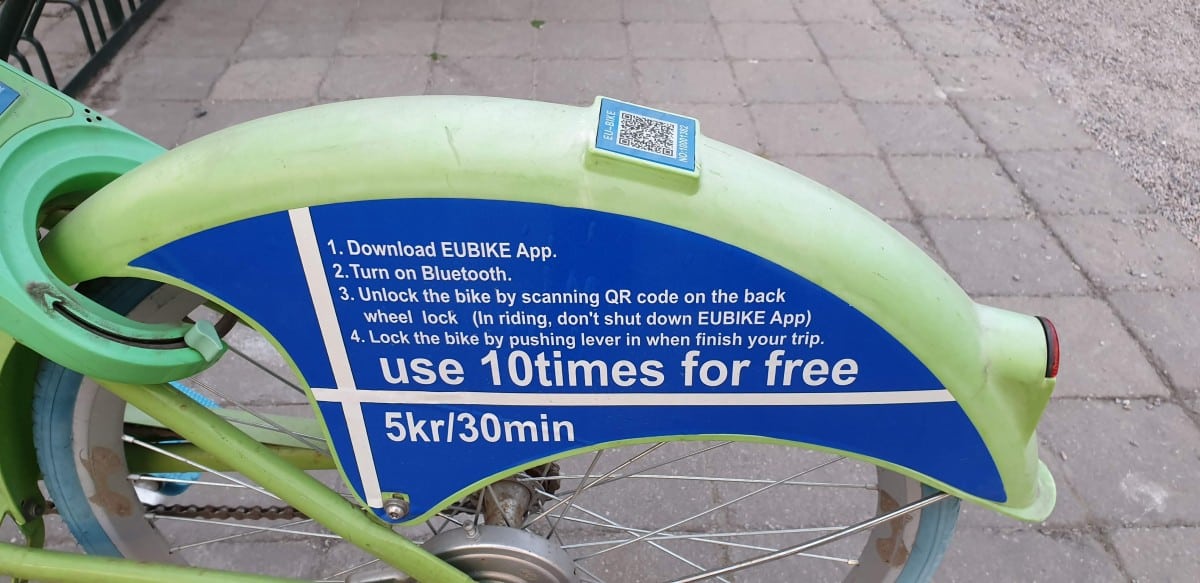 Overview costs per trip
I am making an overview of all prices. Whoever has additions can certainly let me know!
| | | |
| --- | --- | --- |
| Provider | Start-up cost per ride | Price |
| EU-Bike | | 5 SEK / 30 min. |
| VOI | 10 SEK | |
| Glyde | 5 SEK | 2.8 SEK / min |
| Lime | | variable |
| TIER | 10 SEK | 1.5 SEK / min |
| UFO | 10 SEK | |