For some magical reason, I mainly have sunny days in Stockholm. I've travelled to the Swedish capital several times so far, even for longer periods but the days with (a little) rain can be counted on one hand! I hope that I haven't turned my luck, by writing this down… But it is because of all those sunny days I only a few weeks ago, visited Moderna Museet for the first time. I usuallly just skip musea if the weather is nice. The museum surprised me and it is now one of the tips I give to anyone who asks me what they should definitely visit in Stockholm!
Moderna Museet first opened in 1958. The current Moderna Museet opened its doors in 2009. It was the Spanish architect Rafael Moneo who designed the building. The collection of Moderna Museet contains about 5,000 works of art, 25,000 drawings, 400 videos and 100,000 photos. The collection includes a complete apartment on Östermalm too. This apartment can only be visited by appointment and costs about 200 euros (max. 10 persons).
Skeppsholmbron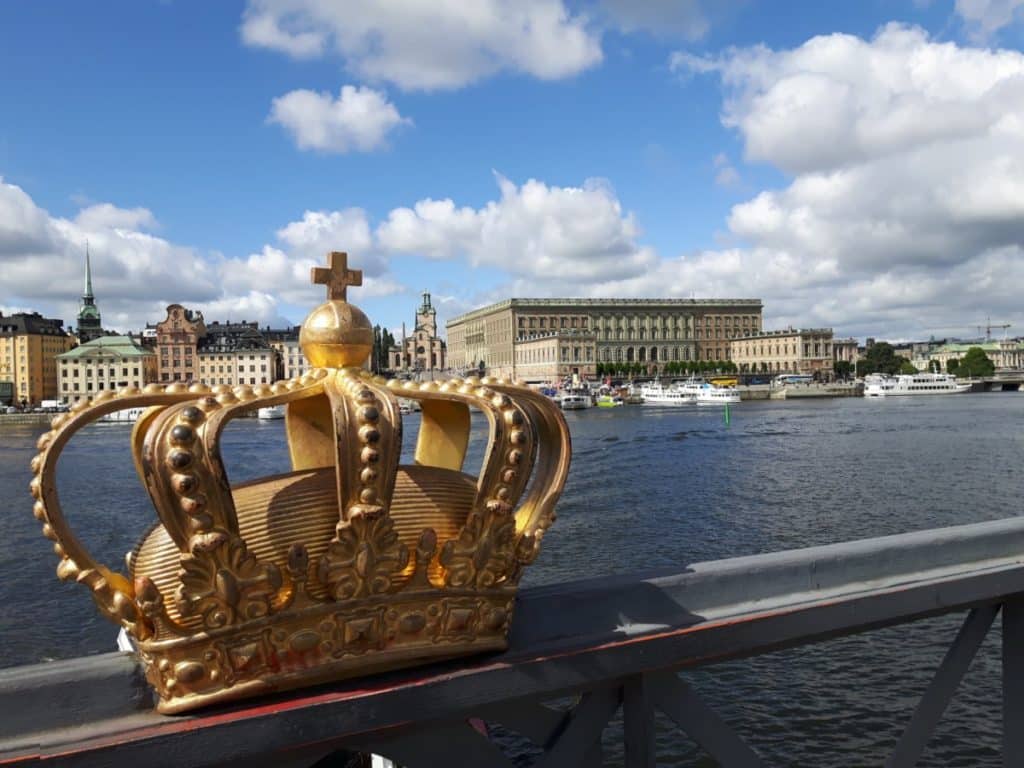 Moderna Museet is located on Skeppsholmen, a small island that is connected via Skeppsholmbron with Blasieholmen. The bridge alone is worth a visit. You have a beautiful panoramic view over the city. As soon as you are on the bridge you will find arrows pointing in the direction to Moderna Museet. You really can't miss. You just walk straight to the road that goes a little uphill and you'll soon see some outdoor works that are part of the garden sculpture collection of Moderna Museet.
Art in Moderna Museet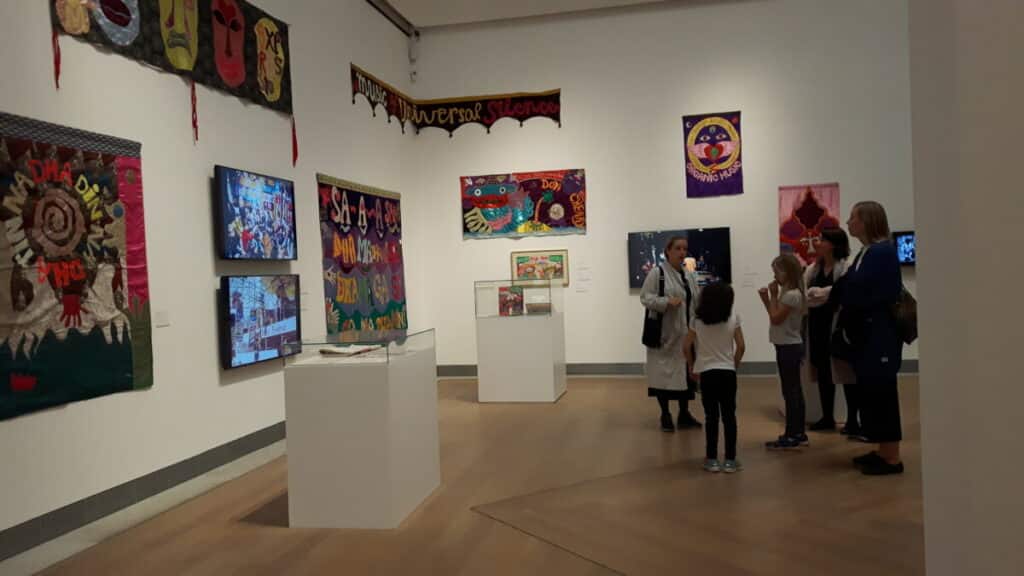 Moderna Museet is one of the 18 free museums in Stockholm. It is the Swedish museum for modern and contemporary art with works of art from all over the world and it comprises one of the most impressive collections in the world.
You'll find works by Picasso, Dali, Miro, … and much, much more. Apart from some permanent collections, there are also temporary exhibitions. It's definitely worth it to occasionally jump in and discover something new.
Tip: Don't forget to visit the museum's art shop
Occasionally there are also installations and performances. When I was there in late September, there was a dance installation outside.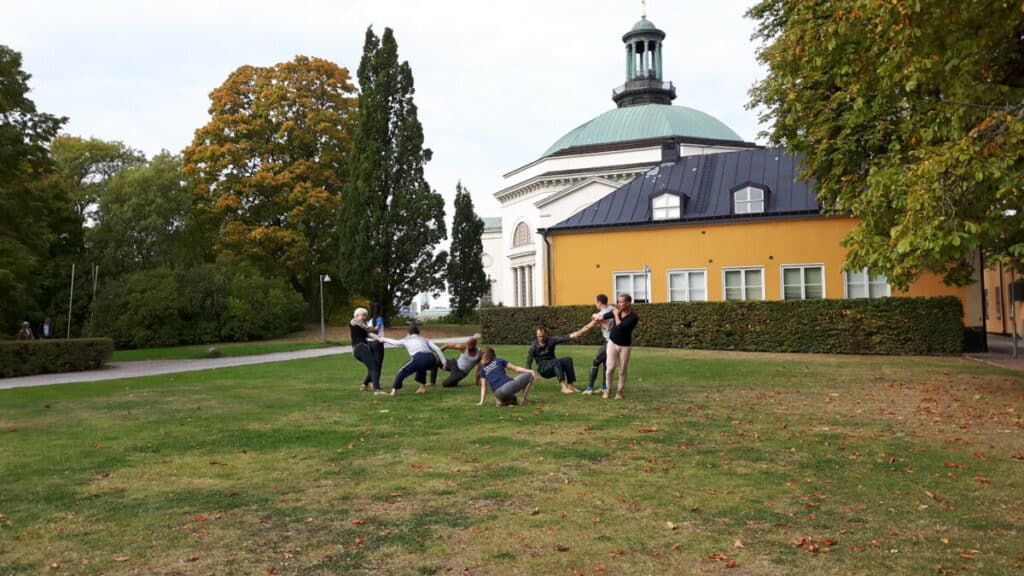 Lunch at Moderna Museet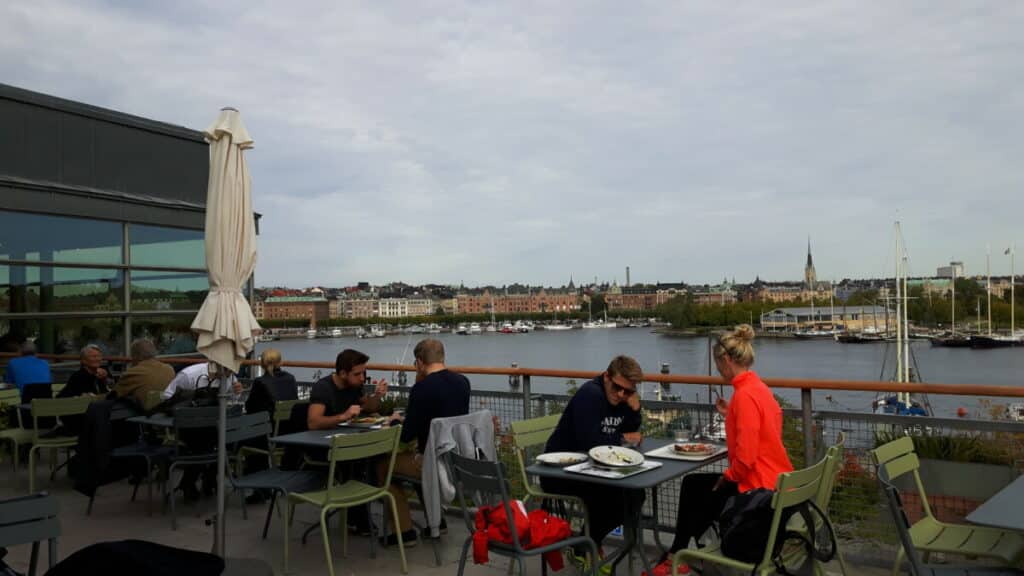 The museum itself is well worth a visit but even for those not that much into (modern) art, Moderna Museet is a must visit. Just like at Vasamuseet and Fotografiska, Moderna Museet has a restaurant with really good food. Moreover, you get a fantastic view over Strandvägen and Djurgården on top! It is a nice lunch spot or fika spot where locals go too.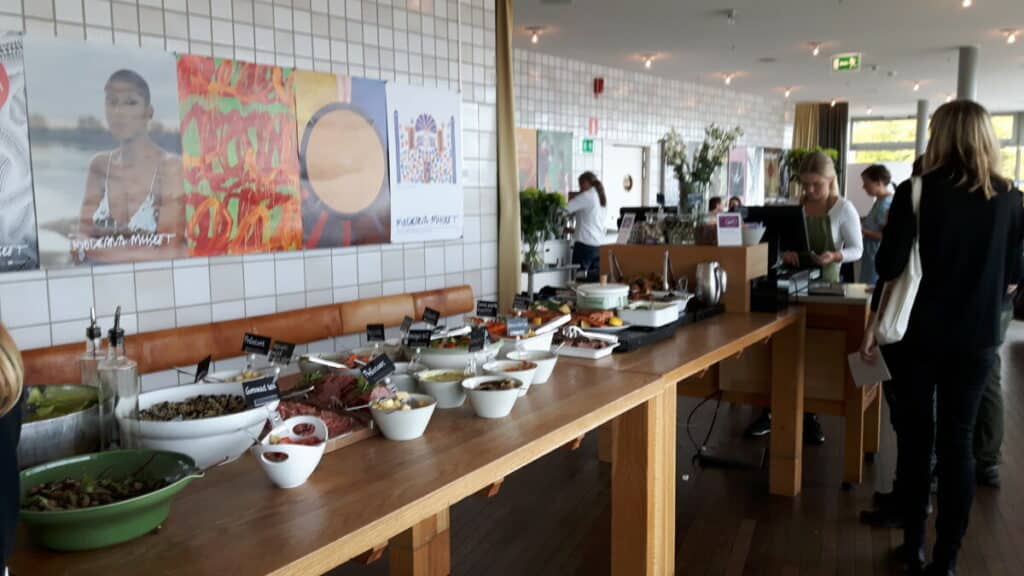 At lunch there is a buffet. They mainly work with organic and local products. The gravlax was really delicious! Take all you want and feel free to go for refills. There is also a coffee + dessert buffet. Water is, as usually in Sweden, included. Other drinks are paid separately. The lunch buffet costs about 20 euros per person which is in terms of price/quality certainly worth it.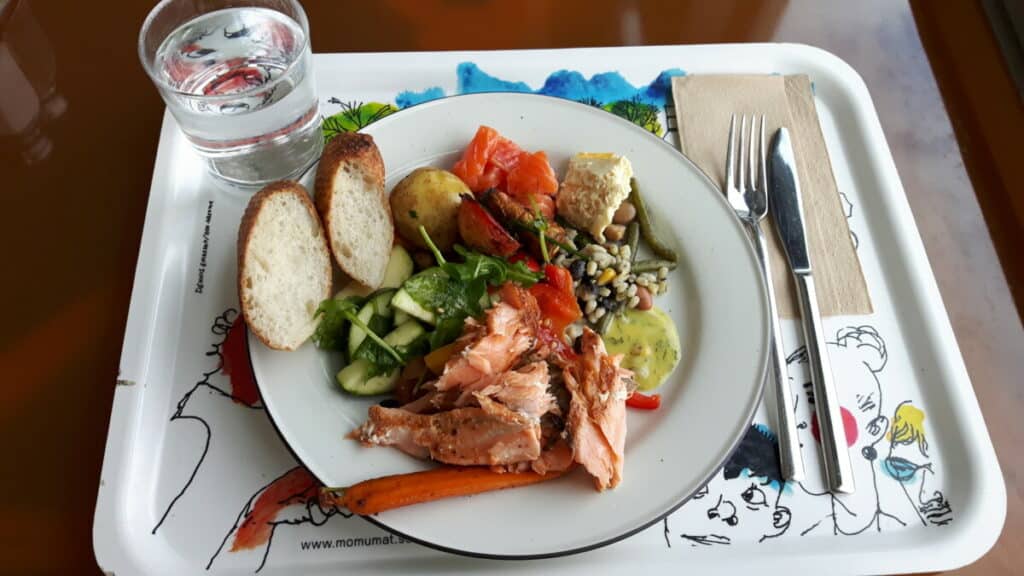 Practical information
Entrance to the main part of the museum is free. There is free wifi, toilets and you can use the lockers for five kronor (converted into euros that is about 50 cents).
How to reach Moderna Museet?
Moderna Museet is located on Skeppsholmen and is easily accessible on foot via Skeppsholmsbron. There also subway, bus and even boat stops nearby.
Address: Exercisplan 4, Stockholm
Opening hours
For opening times (they are closed on Mondays) and a list of temporary exhibitions, I kindly refer to their website.
Visiting with children?
Moderna Museet has regularly special programs for children (usually in Swedish, sometimes in English as well).
Tip: download the audio guide (available in the App store and Google Play) before your visit.
Can't get enough of Moderna Museet? In Malmö you can visit another part of the collection.
Pin for later