Today I take you to Vinterviken, a bay in the south of Stockholm. The original reason for my visit to Vinterviken was my curiosity about the factory and 'spränggropar' – the bunkers – of Alfred Nobel. On the spot I discovered a natural area with a garden café, a swimming spot and beautiful walks along Lake Mälaren.
Alfred Nobel's factory
When Alfred Nobel was looking for a site for his research and explosives testing, he bought a farm with land in Vinterviken in 1865. The area was surrounded by cliffs. That made it safer and more convenient than the populated area of ​​Stockholm where his research lab and factory (Nitroglycerin Aktiebolaget) used to be. The factory, designed by the Belgian engineer Gustaf Delaplace, was completed in 1891. It is now the only remaining factory building in the area.
In addition to the bunkers and the factory, Nobel also built a railway, a small harbor and houses for the factory workers in Vinterviken. Until 1921, dynamite was produced here. The production then moved to Gyttorp in Västmanland. Vinterviken stayed as storage and distribution centre. They sometimes conducted test explosions and other experiments at this site until 1988.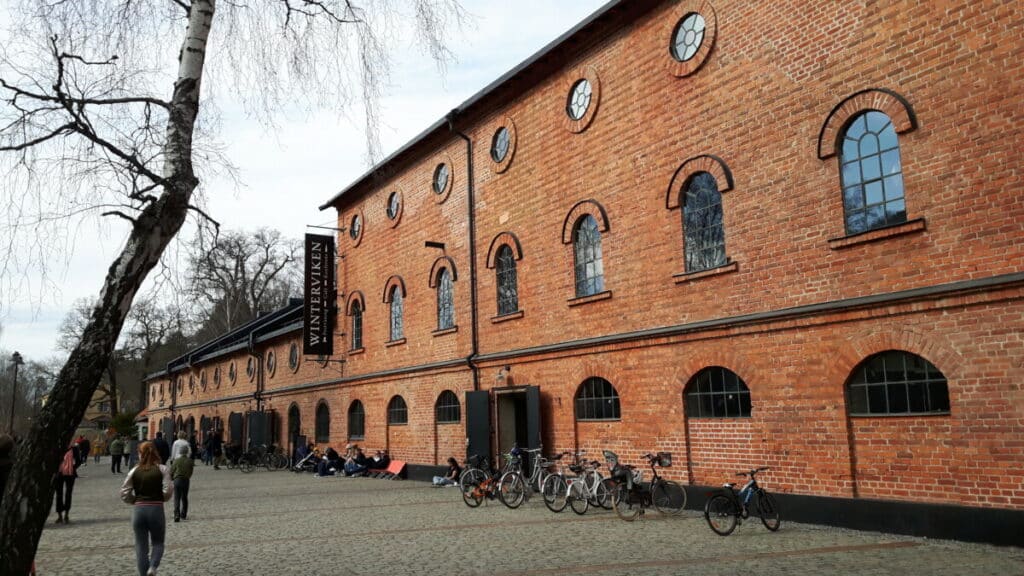 Over time Vinterviken transformed from an industrial area to a recreational area. Severe soil contamination (lead and arsenic) and high levels of uranium have been found in the bottom sediment of the bay. However, the radioactivity is low enough that they don't consider it a health risk. There are warning signs on site not to let small children and dogs play in the soil. The remediations are in full swing.
Winterviken
The remaining building of the former Nobel factory is now home to a café/restaurant/banquet hall, Winterviken (yes, with a W). You can go there for fika or lunch. There is a spacious terrace. You order your drinks and food at the bar. The menu changes regularly.
Practical information
How do you reach Vinterviken?
Vinterviken is a 15-20 minute walk from the Aspudden metro station (red line).
Address: Vinterviksvägen 60, Stockholm
Opening hours
Winterviken is open all year round from 11am. More info on their website.
Nearby
Vintervikens trädgård
Nobels spränggropar (bunkers)
Pin for later
Save this article to Pinterest for easy reference later!