Usually when I'm in Stockholm my (freelance) work is just continuing. That means I spend a lot of hours behind my laptop when I'm in the Swedish capital. Of course you can work in your hotel room but there are nicer initiatives. These past years, I discovered a lot of cool workplaces for freelancers and digital nomads. Co-working in Stockholm.
What is a good workplace for digital nomads in Stockholm?
Of course, you need a good wifi connection. Furthermore, acoustics are important. In a noisy environment, few people can work. You often see freelancers sitting in a bar in Stockholm with their noise cancelling headphones to filter external noise. I prefer a quiet place. Preferably somewhere where you can also have fika or take a quick lunch. Bonus points if there are sockets that you can use as well.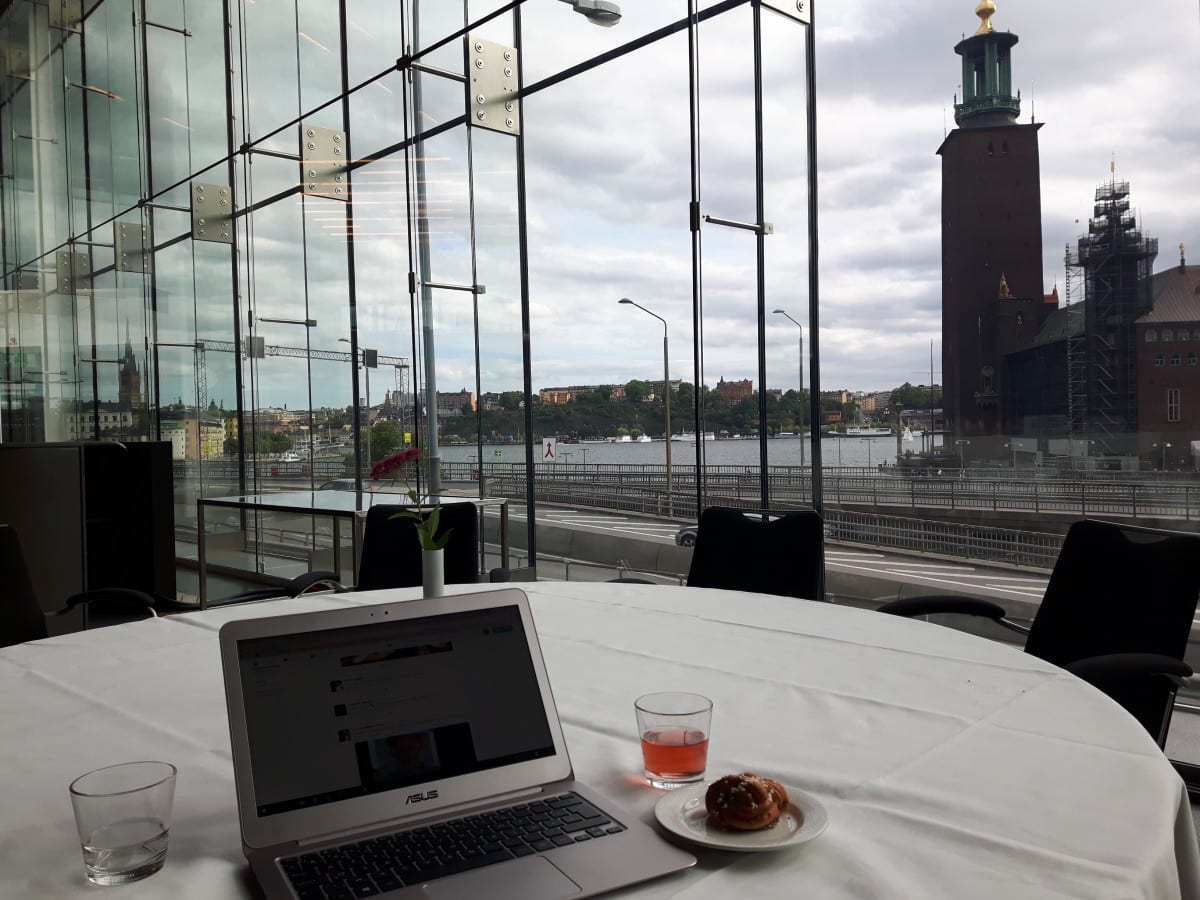 Co-working in Stockholm
Coffice
Coffice was the first place in Stockholm I went to to spent a few hours behind my laptop. Their location on Södermalm even has 2 meeting rooms that can be rented. You can just sit and work at the coffee shop, or you can become a member, and get all kinds of extras such as free coffee, water and fruit, discount on the lunches, use the printer and many other useful features for a digital nomad.
Impact HUB Offices
The Stockholm location of Impact HUB Offices is part of a global network. Definitely consider this one if you are travelling a lot and still want a well-equipped office. They have different meeting rooms that can be hired. You can take different types of memberships and there is also a day pass (costs about 20 euros). In addition to office facilities, coffee, tea and fruit are also included.
Café & Co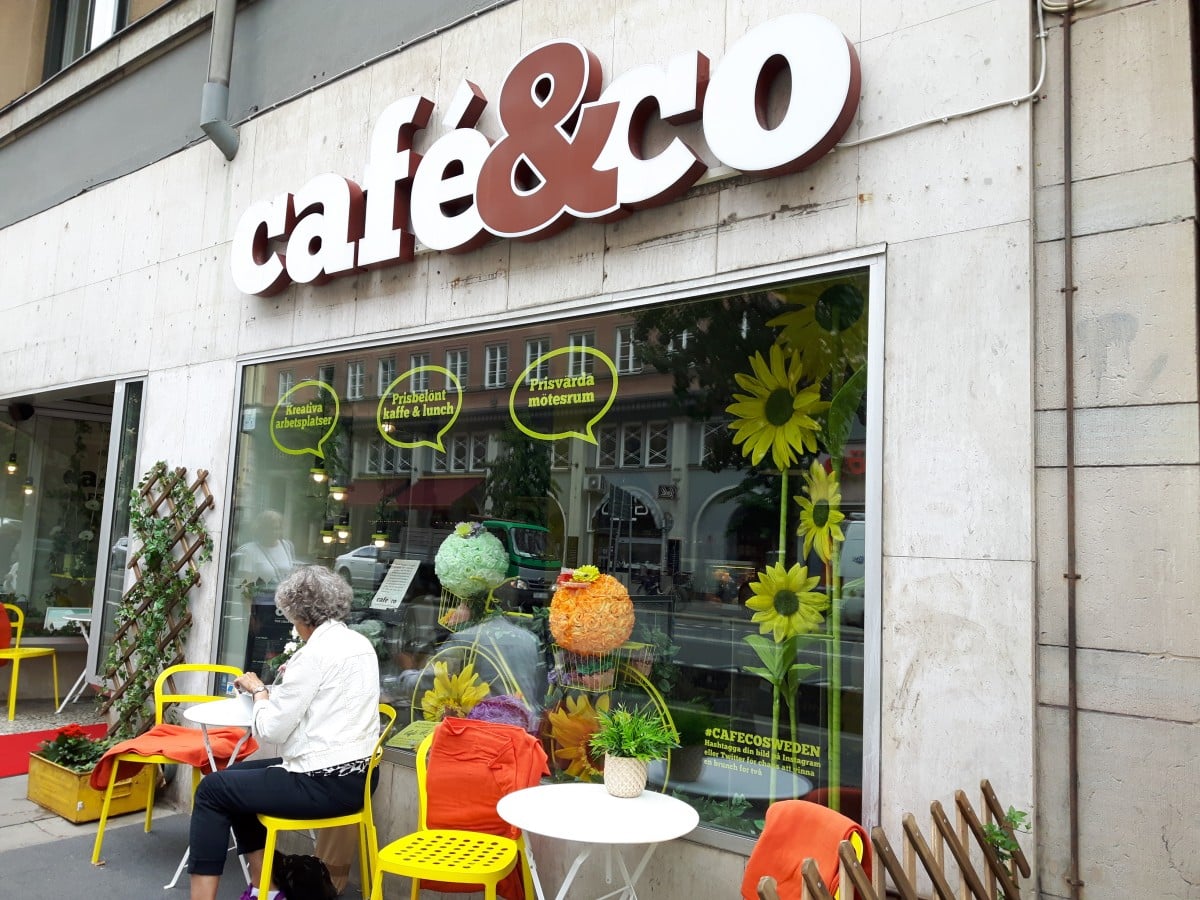 In the meanwhile there are already two sites of Café & Co. You can go there for breakfast, lunch and fika and to work of course. Café & Co in Hornsgatan is also open on Saturday and even on Sunday. They work with different memberships and you can also book half a day.
Startup Café at SUP46
SUP 46 is part of StartUp People of Sweden. They are open from 8:30 to 17:00 during weekdays. Members have unlimited 24/7 access. You can also just go here to buy fika or lunch. In addition, they work with different subscription formulas tailored to your needs. As the name suggests, they mostly are startups but everyone is welcome.
The Castle
This location, The Castle, is extraordinary and breathtaking at the same time. They even have an inhouse gym with sauna. They work with 2 subscription formulas: one for a fixed desk and one for a flexible place. In addition, you can choose between full time or 2 days a week. The only disadvantage in my eyes is that you can only book per month. So if you stay in Stockholm for a long time, this location in Gamla Stan is definitely worth considering but for a shorter stay you will have to look for an alternative.
Coffee bar chains
A lot of coffee chains offer both delicious coffee and good wifi. Often you can also have a quick lunch. I think of Starbucks, Espresso House (they have a wall outlet at almost every table), Café Fåtöljen (personally I am not really a fan of the lunch dishes they serve but they have different branches and are quite popular amongst flexworkers). This Swedish website keeps track of where you can work in Stockholm, thanks to the free wifi.
Other options for digital nomads
Library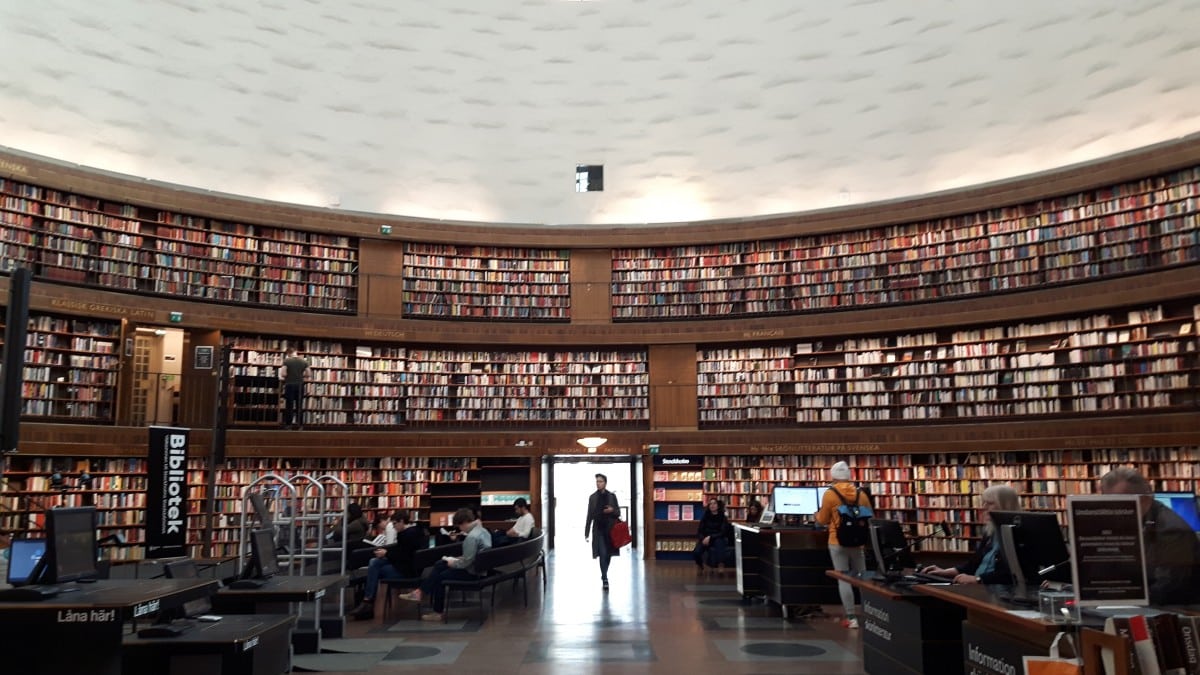 Libraries are also a popular place to work. The city library in Stockholm really is an architectural gem. Silence is guaranteed. If you have planned a Skype call, you will have to look for a different location, though. You can print and copy, browse the newspapers and, of course, borrow books too.
Hotel lobby
If you have a meeting or would like to get some work done on your computer, a hotel lobby is also a good choice. Choose a hotel near the station if your appointment also comes by train. There are several hotels near Centralen, with a quiet lobby. Hobo likes to lend out their lobby to locals and freelancers. An inspiring environment! Also at Scandic Malmen at Södermalm you see a lot of business people sitting down for meetings or working.
Hoffice
The Hoffice community is quite strong in Stockholm. There is regularly someone who opens his/her house, apartment or office to work with others. Hoffice is literally Home + Office. In addition to its unique location, there is also a whole concept developed by a Swedish psychologist behind. Read more about Hoffice.