Sweden is the ideal destination for a family holiday. I don't have children myself but I do have 3 godchildren and I want to make a trip to Sweden with my family soon. I'm looking at different options: a city trip to Stockholm, a winter holiday so that we hopefully have snow or maybe even a trip to Lapland. In the meantime, I'm already doing some research on traveling to Sweden with kids. If you have any tips about traveling to Sweden with children, let me know!
The route to Sweden, with children
Whether you want to fly, drive by car, take the train or bus or make the crossing by boat, all options and all kinds of combinations are possible, depending from where you are travelling.
By plane
Find the cheapest tickets to Sweden on momondo.be.
By boat
Child-friendly accommodation in Sweden
Whether you go (wild) camping, rent a house or go to a hotel in Sweden, the children will feel at home everywhere. In general, there are always facilities for children to be arranged. Below I link to the accommodations in Sweden where I have already stayed and where I would be happy to take my godchildren with me: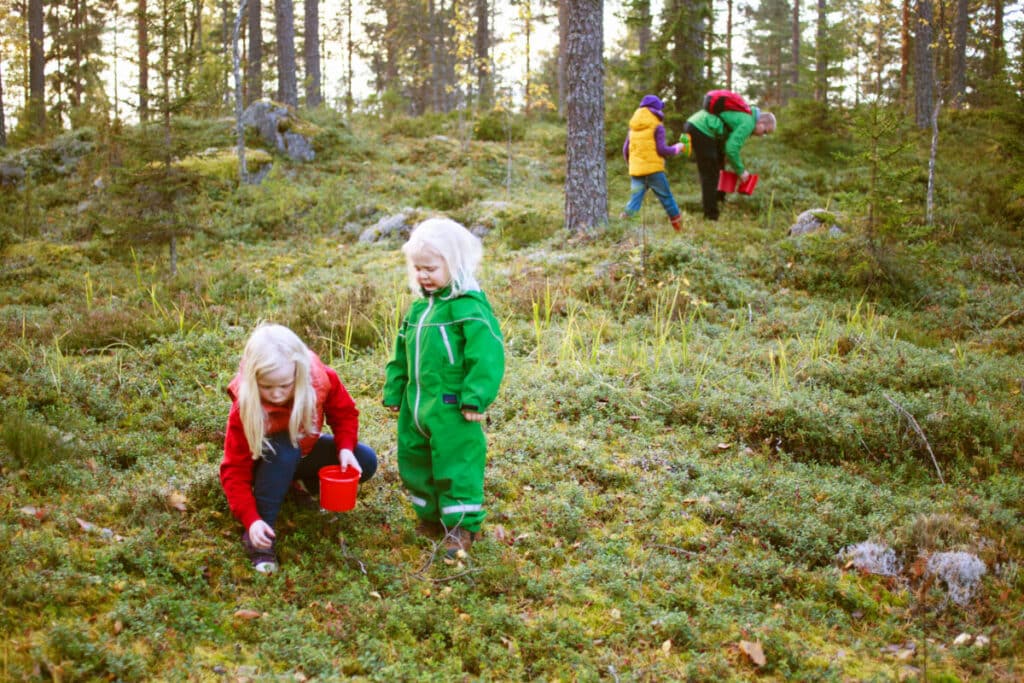 See & do with children
Nature in Sweden is a great playground for young and old. Actually, there is no real age limit for the activities below. Learned young is done old, right? Below I list some things to visit and do in Sweden with kids that I would have loved as a child. Of course, a lot also depends on how you present it as a parent/guardian. Think about your memories as a child. It doesn't always have to be great to leave incredible memories.
Wild camping: I think it is even possible with very young children, especially if you as a parent have experience with camping.
Canoe trip: for older children – it doesn't have to be a multi-day trek, a round on the lake can also be impressive. Always remember to wear a life jacket!
Watching moose and reindeer.
Baking bread and sausages over a fire.
Stockholm: Skansen, Junibacken, Gröna Lund, Tom Tit's Experiment but also the Vasa museum
Gothenburg: Slottskogen, Liseberg, Volvo Museum, Universeum
Skara Sommarland Amusement Park, the largest water park in Scandinavia (24 km from Skövde and 135 km from Gothenburg)
The mine of Falun
The candy canes of Gränna (in Stockholm you can go to a mini version of it)
Astrid Lindgrens Värld at Vimmerby
The longest zip line in Northern Europe: Little Rock Lake in Småland (2.5 km long and 52 meters high!)
Ales Stenar: the Swedish Stonehenge near Ystad
Playgrounds
And don't forget the playgrounds (in Sweden they are often a bit more special than with us, check e.g. Ivar Los Park on Södermalm or this playground in Lund's city park), a swimming pool or a boule bar.
In general, all museums and libraries in Sweden also offer activities for children. Always good to keep in mind on rainy days (even though rain is no excuse for the Swedes to stay indoors).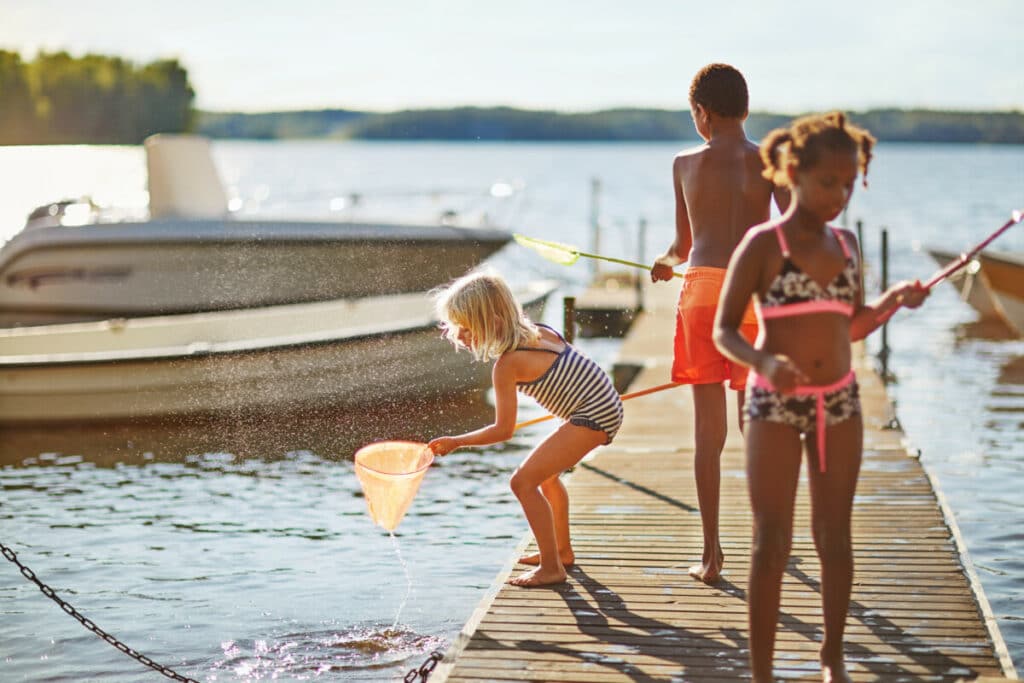 With children at a restaurant in Sweden
In Sweden they are not surprised if you take your children to a restaurant. They are often well equipped!
The tip I give to anyone traveling to Sweden is the concept of dagens rätt or the Swedish version of a daily special. In the afternoon you can sit down in almost every restaurant for the dish (often even a real buffet) of the day. You pay about 10 euros p.p. and usually there also a salad bar, bread & butter, water and even the coffee afterwards is included. If you want to keep your budget within limits but still want to eat out, opt for lunch.
Swedes love hot dogs (korv). You can get these at a stall just about anywhere for a few euros. Or roast your sausages, on a stick, over a fire, like the Swedes do.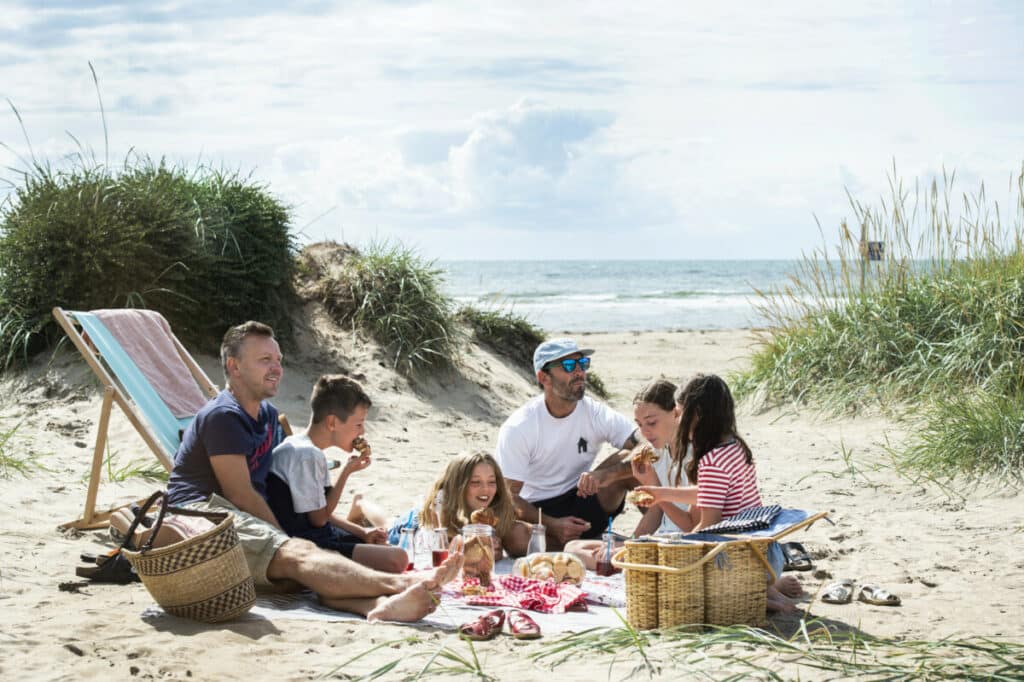 Practical
Lekplats is Swedish for playground. A handy term to google for the nearest playground as a parent.
Barn-
Barn means child or children. When traveling in Sweden you may see words like barnvagn or pram. You will see such a sign at the place where you can place your pram, eg in an amusement park or in the library.
Another handy word: blöjor (diapers).
(Free) public toilets – the public toilets in Sweden are very well maintained. Often you can also use it for free. I only remember 1 time when I had to pay to use the toilet and I could then just pay with the card.
Pin for later