Did you know Sweden has its own Stonehenge? Ale's Stones (or Ales Stenar in Swedish) are located near the old fishing village Kåseberga (not far from Ystad) in southern Sweden, Skåne. It is the largest preserved stone ship in Sweden and is 67 meters long and 19 meters wide. The megalith consists of 59 stone blocks, each just under 2 tons.
Ale's Stones is quite impressive to see. The stone ship still carries many secrets. It is also a nice picnic spot with lovely views over the sea. Bring your picnic with you as there is nothing available in the neighbourhood. Also bring a picnic plaid if you don't want to sit on the goose poo.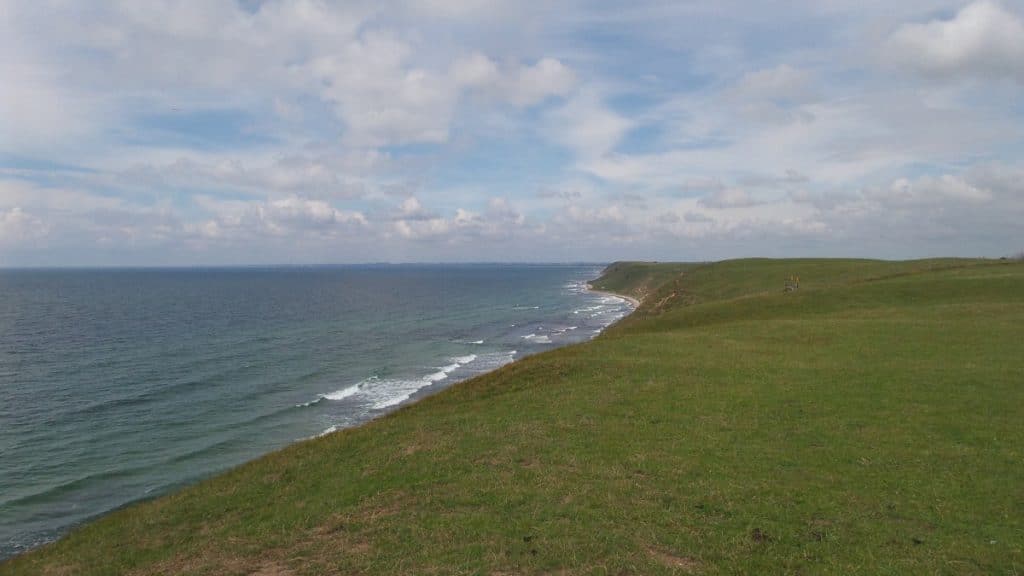 The mystery of Ale's Stones
Ale's Stones are dating back to 500-1000 AD, perhaps 900 AD. In 1956 they 'restored' this landmark and probably a lot of valuable information was lost this way. They put some stones up again and even used some bulldozers.
In the 80s there was more thorough archaeological research at Ale's Stones, and also in the area around it. The blocks on the sides consist of granite stones, while the middle blocks are sandstones. The place was probably also as a burial ground, even before Ale's Stones were there. Presumably several such monuments were to be found in the area. Archaeologists also discovered that there were dolmen to be found underground, perhaps 5,500 years old! Ale's Stones still has so many secrets!
Practical information
Those traveling by public transport can take the train to Ystad and from there take the bus to Kåseberga. With the app Skånetraffiken you can not only see the timetable but also buy your ticket. Arrows at the bus stop show you the way but you can, especially on summer days, simply follow the crowd. Check the bus timetable carefully because there are only a few trips per day.
Of course you can also to go there by bike or car.
More information about Ale's Stones is to be found here.
In the neighborhood
Hotels near Ale's Stones
See & do
Did you like this article? Don't forget to share it on Facebook!
Pin for later
Affiliate