If you walk from the Royal Palace to Kungsträdgården you will pass by a statue. This is the statue of Karl XII. Just behind it you will find a tea house (Tehuset Kungsträdgården), that is open in the warmer half of the year.
A terrace in the King's garden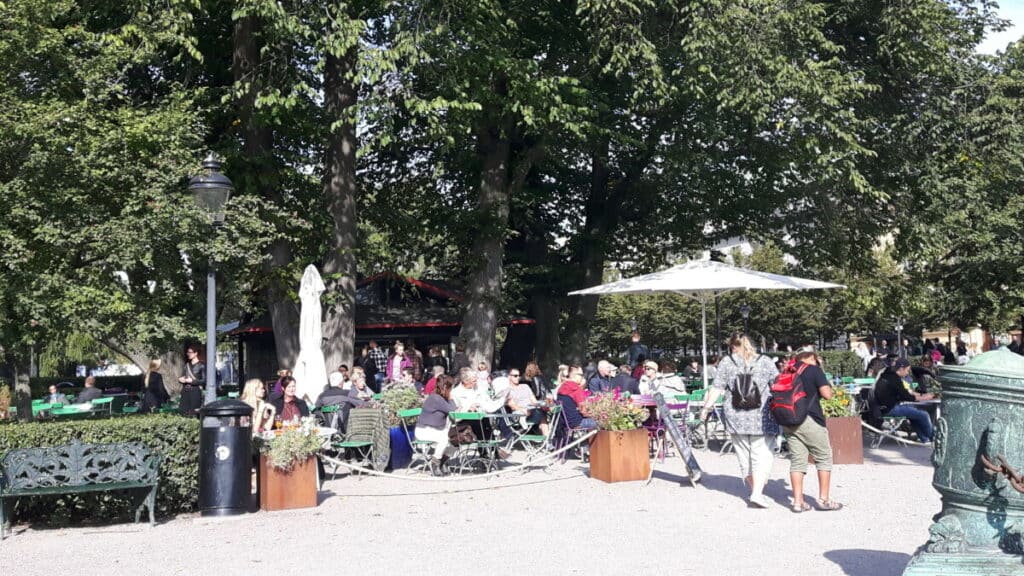 The tea house in Kungsträdgården is a popular place for many locals. As soon as the sun shines, they come together on the terrace of this tea house. Tehuset Kungsträdgården offers an extensive tea and coffee selection, serve fika and small snacks. I had fika several times here. Their ice tea and homemade lemonade is very tasty.
In the 1970s, a politician wanted to remove the trees to make a metro entrance here. Fortunately, the Stockholmers protested and the trees were allowed to remain.
Like a local
You can order at the kiosk of Tehuset Kungsträdgården. You do will need a bit of patience. Not only because it's often very busy but because they really take their time for each customer. So, act just like the Swedes, stand in line and wait patiently. You can use the waiting time to make your choice (if needed, Google Translate can help you because I can not remember that the menu was available in English as well). As almost everywhere in Sweden, you can pay by card.
Practical information
How do you get to Tehuset Kungsträdgården?
Tehuset Kungsträdgården is located in, as the name suggests, Kungsträdgården (the King's Garden). You will find it on the south side of this city park. It is opposite the Royal Palace.
Nearest metro stop: Kungsträdgården or walking distance from Centralen.
Address: Karl XII:s Torg 9, Stockholm
Opening hours
During the hottest months, Tehuset Kungsträdgården is open on weekdays from 10am to 10pm. During the weekend the tea house is open from 10 am to 12 pm.
Pin for later