Speaking of tasty fika hotspots in Stockholm, Tössebageriet certainly can not be missed. This authentic bakery in Östermalm is a real m'as-tu vu place along Karlavägen. It is one of Stockholm's oldest and most authentic konditori.
Semmelwrap
If you've ever heard of semmelwrappen, the wrap variant of the tasty semla pastries, you may already know Tössebageriet. It was this bakery that began with the hyped alternative version of semlor (in 2015). Tössebageriet can best be described as a classic Swedish bakery with tea-room that likes to remake a modern version of classics. The semmelwrap was a huge success: at last there was a semla that you could eat without fuss!
Since 1920
Tössebageriet is one of Stockholm's oldest bakeries. They have been at the same address since 1920. Helga Södermark began the bakery. She named the bakery after the village in Dalsland where she grew up.
You can go to Tössebageriet for breakfast, lunch and tasty treats for the fika hour. The sandwiches are fresh and with a lot of ingredients. The choice of fig bread is gigantic! I already tried their world-famous semla, their cardemum buns and the popular prinsesstårta.
Practical information
It's a fairly small establishment so you need a little luck to score a free spot. As soon as the sun comes out, you can also enjoy their outdoor terrace.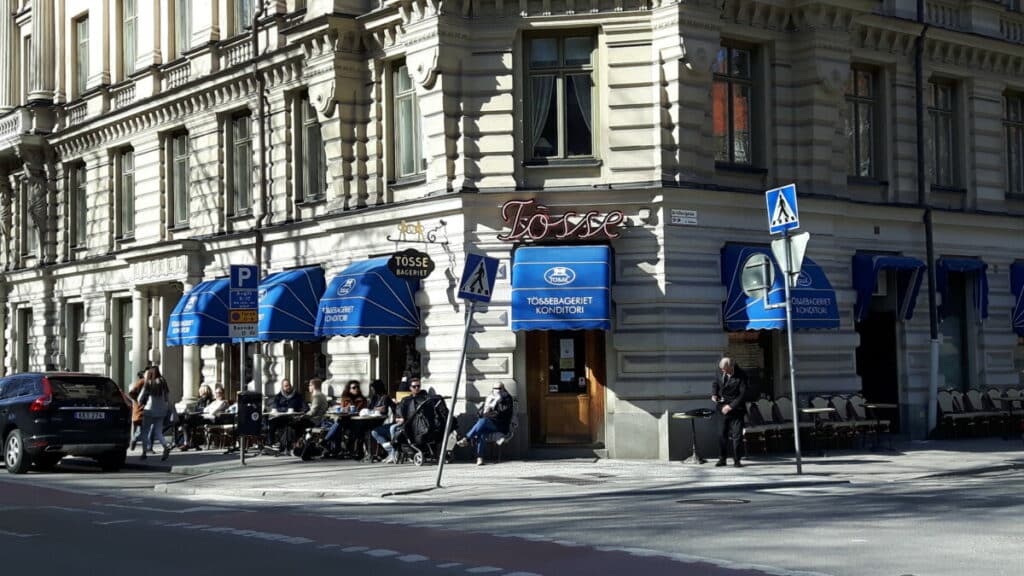 How to reach Tössebageriet?
Tösse is within walking distance of Strandvägen. Karlavägen is a beautiful wide avenue where it is pleasant to walk. In the neighborhood you will find many chic boutiques and design shops. Nearest metro stop is Karlaplan.
Address: Karlavägen 77, Östermalm – Stockholm
Opening hours
The store is open every day of the week. Monday to Friday from 7am to 6pm. On Saturday from 9 am to 5 pm and on Sunday from 9 am to 4 pm.
If you are in Stockholm during the summer months, check the opening hours on their website because, like many other Swedish companies, they close for a month during the summer holidays (often just after midsummer).
In the neighborhood
Broms
Nyko
Cassi
Karlaplan
Pin for later