I keep a list of places I still want to visit in Stockholm and Grodan was already on top for a while. This restaurant, near Stureplan, with a French-Swedish cuisine gets good reviews everywhere. So it was a restaurant I wanted to keep for a special occasion. When I went to Stockholm with my mum, for Mother's Day, this seemed the perfect time to book a table at Grodan.
Le Grenouille
It is highly recommended to make a reservation instead of just showing up and hope for a free spot. Although the restaurant has several rooms, all the tables were taken. We got a table in the bakfickan, a cozy little room near the kitchen. The restaurant was formerly known as Le Grenouille, but apparently it was not easy to pronounce or remember for the Swedish clientele. So the owners decided to go for "the frog" in Swedish. The restaurant also has also a wine bar and during the summer months you can also sit on the terrace.
On the menu of Grodan
The menu includes both meat and fish dishes. Vegetarians can also choose from a variety of dishes. The seafood dishes proved very popular. I went for a pasta salad with prawns, cream, lime and chili. My mom choosed the Fish Casserole which was actually a delicious fish soup based on lobster soup and with large pieces of different kinds of fish and mussels. This was served with extra croutons and aioli. I was excited about my surprising pasta but I think I would go for the fish soup the next time. The waitress pointed out we could ask for seconds and that this was included in the price. Also included is tap water, as is generally the case in Sweden.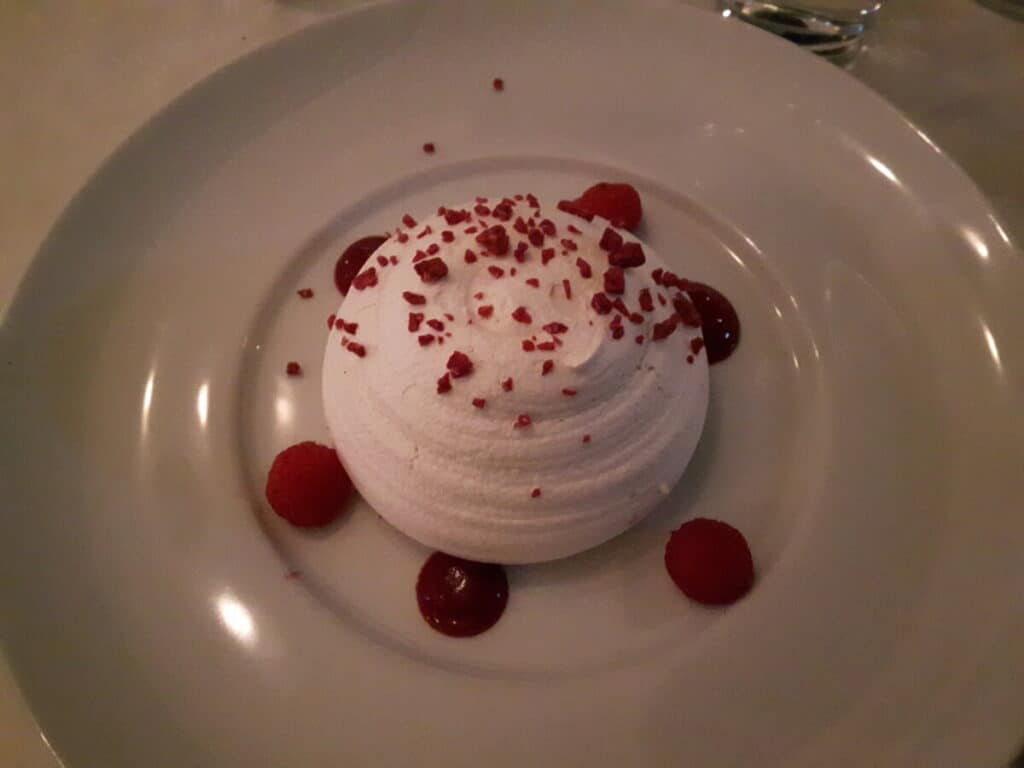 As dessert we both chose for a Pavlova. The Pavlova was served with fresh raspberries, passion fruit and some whipped cream. We felt like we were in dessert heaven!
Practical information
How do you reach Grodan?
Restaurant Grodan is located in Östermalm, the more upscale area of ​​Stockholm. Grodan is a few hundred meters from Stureplan. Nearest metro stop is Östermalmstorg.
Address: Grev Turegatan 16, Stockholm
Opening hours
Grodan opens every day at 12 noon. Check the recent opening hours on their website. Reservations are recommended by the way!
Nearby
Villa Dagmar
Nyko Kitchen
Nybrogatan 38
Dramaten
Pin for later
Save this article to Pinterest for easy reference later!