What do you do if you have been walking around in the city for half a day and had are feeling hungry? If you are at Gamla Stan in Stockholm, just go to a cafe for fika!
In the Stora Nygatan in Gamla Stan I had already passed past Cafe Kladdkakan a couple of times. You need to know that kladdkaka is one of my favorite pastries. In addition, I had heard a lot of good things about Café Kladdkakan and so the place was on my to visit list.
Homemade lemonade
No wonder mum and I would ended up at Cafe Kladdkakan. My mum ordered a piece of princess pie and I was tempted by the Bounty pie. I tasted the homemade lemonade and really liked it. With home-made lemonade you need some luck. I like lemonade to be very sweet, but sometimes they add so many ice cubes that the sweet taste disappears. Fortunately, that was not the case here.
We were lucky with the nice weather and decided to sit on the terrace. In addition to fika, Café Kladdkakan also serves lunch and light dinners. Café Kladdkakan is located in one of Stockholm's most touristy streets. Still, Stockholmers too find the way to Café Kladdkakan and that's often a good sign.
Practical information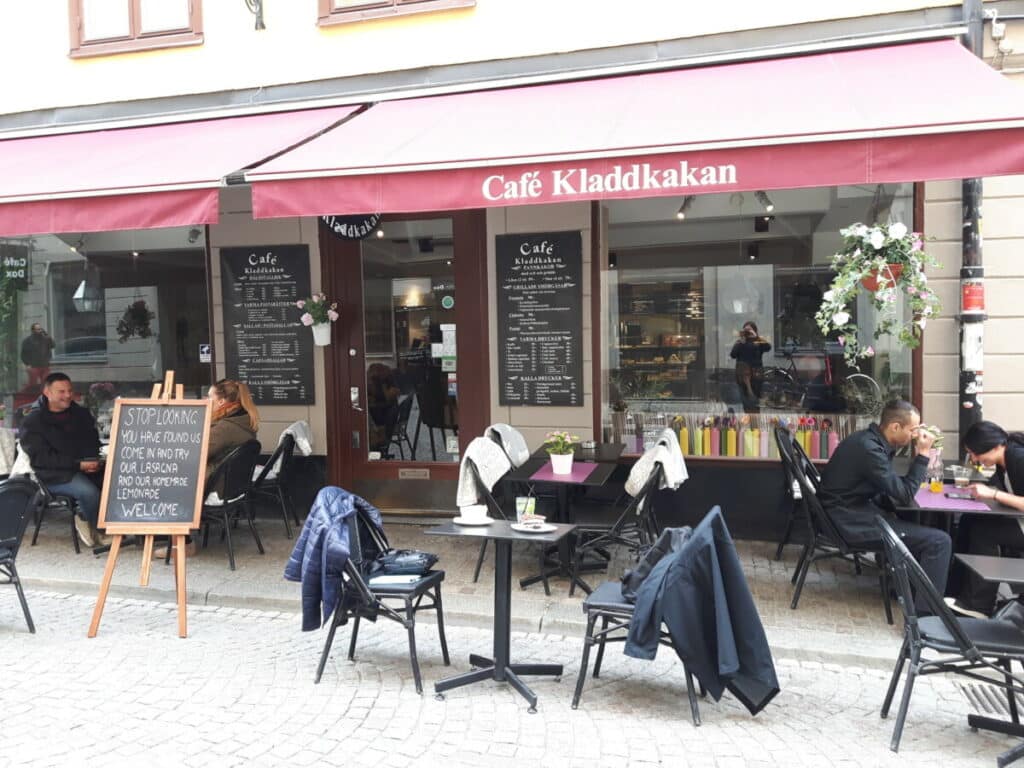 How do you reach Café Kladdkakan?
If you walk from Norrmalm to Gamla Stan via Vasabron and Riddarhusgränd, you walk straight into Stora Nygatan (literally: the Big New Street). Café Kladdkakan is a little further on your right.
If you come via Södermalm and Slussen, take Kornhamnstorg and go straight to Stora Nygatan.
If you choose public transport, the stop 'Gamla Stan' is the nearest stop.
Address: Stora Nygatan 32, Gamla Stan (Stockholm)
Opening hours
Café Kladdkakan is open on weekdays from 8 am to 5 pm. On weekends they are open from 10 a.m. to 5 p.m.
Nearby
StikkiNikki (according to some the best ice cream in Stockholm)
Café Kronan
Where do you like to stop for fika?
Pin for later
Save this article to Pinterest for easy reference later!