My plan was to spend most of June (just like it was my plan last year) in Sweden. I wanted to be there on the National Day, enjoy the Swedish summer and celebrate midsommar in the archipelago near Stockholm. We all know why I didn't make it to Sweden… Let's hope for next year (please go away, corona!) and this year I'll just celebrate midsummer at home once again. Below you will find tips for organizing a Swedish midsummer party at home!
The longest day of the year has been celebrated since the sixteenth century and is just as important in Sweden as Christmas. There are a few things to organize if you want to throw a Swedish midsummer party. Invitations, picking recipes with typical midsummer dishes, getting decorations at home, figuring out how you can set up a midsommarstång (maypole) at home,… It will be a party you will never forget! And who knows, you might convince your guests to celebrate midsummer together again next time, but in Sweden!
The invitations
The Midsummer Festival is celebrated on the Friday evening that falls between 19 and 25 June. This year, Friday 25 June 2021 will be on the invitations! You can also organize a midsummer party at another time.
Forget the weather forecast. Everyone dreams of a sunny evening, but the reality is often that it is cold and rainy. The Swedes sometimes laugh that it is equally warm at Christmas as on midsummer. The years that the sun is present only become more memorable because of it.
On my invitation I put: There is no bad weather, only bad clothes. So your guests immediately know that they should also provide a thick sweater and/or a raincoat. And above all: that they should not let the weather determine their mood, haha. You can also work with a dress code. In Sweden, many people wear the national or local costume on this day. You could also just ask your guests to come in blue/yellow clothes.
The decoration
In terms of decoration for the midsummer party, you can let yourself go. Lanterns, Swedish flags, natural materials such as branches, flowers,… Everything is possible. Also keep some blankets on hand for when it gets colder. If you want to organize a Swedish midsummer party, try to use as many reusable materials as possible. Short of glasses, plates or cutlery? Visit the local thrift store and pick out a variety of wonderfully old-fashioned pieces. I also like to put some citronella candles (bye bye mosquitoes !) on the table. And I dream of a beautiful firebowl with a Swedish Torch!
The showpiece of the decoration is the midsommarstång or maypole. This stick is completely decorated and straightened at the start of the festivities. At my midsummer party, a decorated pool noodle will serve as maypole. An old brush stick can also serve. A little creativity and imagination can't hurt organizing a midsummer party, haha.
Naturally, the flower crowns should not be missing either. If you live in a rural area, you can pick wild flowers. No flower-rich meadows nearby? Then order some flowers from the local florist. The tutorial for making your own flower crown can be found here. If you think making a flower crown yourself is too laborious, you can get one in fabrics.
Also think practical: what do you do when it rains on midsommarafton (the eve of midsummer)? Can you quickly set up a tent or other weather protection? Can the party move indoors?
Midsummer food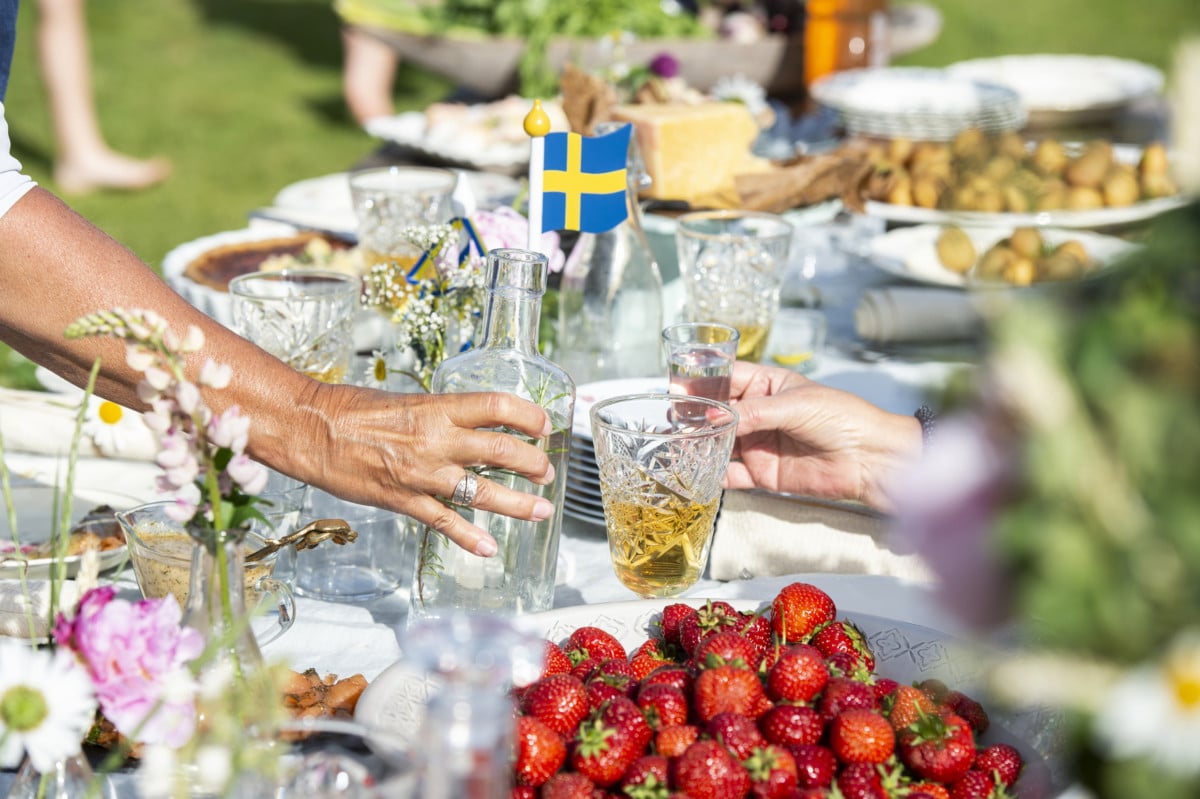 Typical midsummer dishes should not be missed. My favorite is the gravad lax. You can make these yourself or get them in the store. Herring, new potatoes with dill and even Swedish meatballs are also part of the buffet. I also serve Hasselback potatis and Janssons frestelse. In fact, you can just put all the dishes you like on the table in buffet form.
Tip: visit the Foodmarket of Ikea. There you will find a lot of ingredients for the smörgåsbord or the traditional Swedish feast.
The midsummer pie with strawberries is just about the most important part of the feast. Swedes like to eat a lot of strawberries. This year I opt for a midsummer cake with meringue.
Have you heard of Aquavit ? Like vodka, this drink is made from potatoes. These snaps are eagerly drunk with midsummer. If you want the Swedish way, practice the lyrics of the drinking song Helan går (freely translated: ad fundum). You sing it as a toast.
Organize a midsummer party: animation
You can make your flower crown in advance and set up the maypole or you can do this together with your guests. Fun guaranteed and it helps to get your guests in a Swedish mood.
In Sweden, young and old alike sing and dance around the maypole. I can imagine your friends and family here might need some aquavit before joining in. If they also participate without snaps, then you really have the right friends, haha. The lyrics can be found here.
Entertain your guests with games from the good old days such as a sack race, tug-of-war, petanque (boule bars are very popular in Sweden). Or play typical Swedish games like kubb.
To conclude: pick 7 different flowers and, according to ancient tradition, place them under your pillow before going to sleep. Bet that in your dream you will see your true love?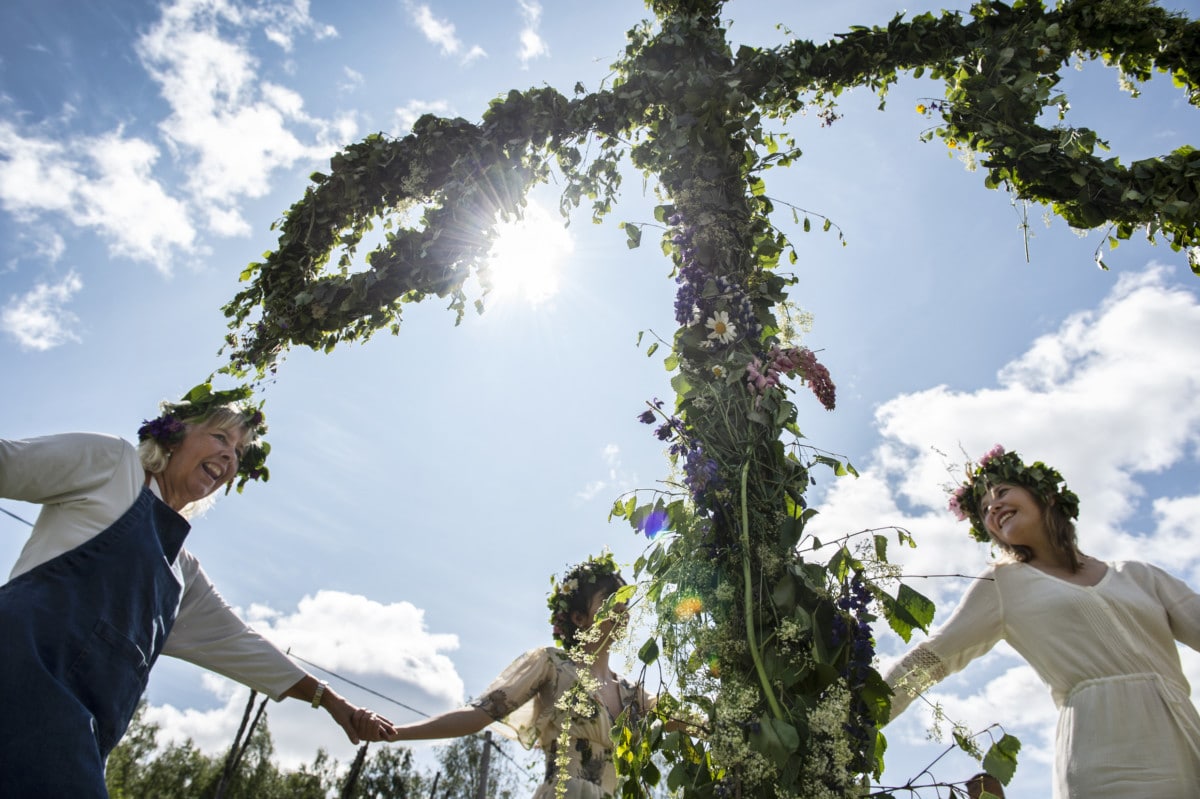 Read more on midsummer
Error: View eb2bb2bwkg may not exist
Pin for later