Although I am definitely not a churchgoer, I usually go to the local church during a city trip. In Brussels, London and Stockholm, such a visit to the cathedral has an extra dimension. You can often recognize the interior from the photos or TV images of royal weddings. In 2009, Crown Princess Victoria and Prince Daniel married in Stockholm's Cathedral, Storkyrkan. Her parents, King Carl XVI Gustaf and Queen Silvia, also chose Storkyrkan for the ceremony. Storkyrkan is located near the royal palace on Gamla Stan (Stockholm's old town).
Stockholm Cathedral
In the center of Gamla Stan (the old town) you will find the Stockholm Cathedral. Storkyrkan (literally: the big church) is not the largest church in Stockholm. That honor goes to the nearby Riddarkyrkan. Storkyrkan (Stockholm Cathedral) is the oldest church. According to tradition, Birger Jarl who founded Stockholm ordered a church to be built on the highest point of Stadsholmen (Gamla Stan). The church has probably been there since the 13th century, but has been expanded, renovated or adapted several times over the years.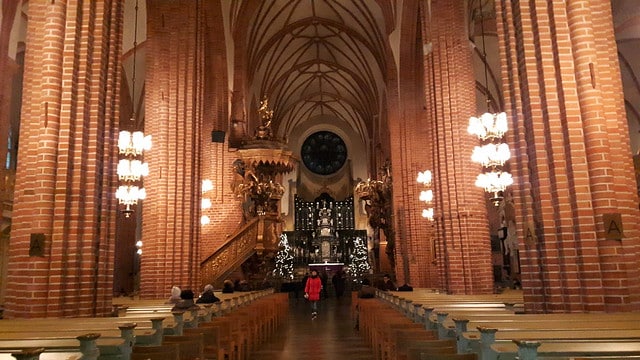 Visit Stockholm Cathedral
For a small entrance fee you can visit the cathedral (not during the masses, of course). At the entrance you will find leaflets explaining the sights in the cathedral. You can also regularly attend special celebrations and concerts in Storkyrkan. There are always special concerts around Sankta Lucia.
Good to know: entrance to Storkyrkan is included in Go City Stockholm All Inclusive Pass.
Nearby
Pin for later
Save this article to Pinterest for easy reference later!