Swedes are, just like people in Finland, really fond of their sauna. Actually, I should say: bastu because the Swedes have their own word for a sauna. Near Västra Hamnen in Malmö you find Ribersborgs Park where you can go hiking for hours, swim in the sea, do water sports, … and even relax in the bastu at Ribersborgs Kallbadhuset!
Sauna with ocean views
Ribersborgs Kallbadhuset, called Kallis by the locals, is uniquely located at the end of one of the piers. There are 5 bastu in this complex: two for the ladies (a regular one and a quiet one), two for men and one mixed bastu with high humidity. All bastus I visited had a sea view. Some had a view on the Öresundbridge as well.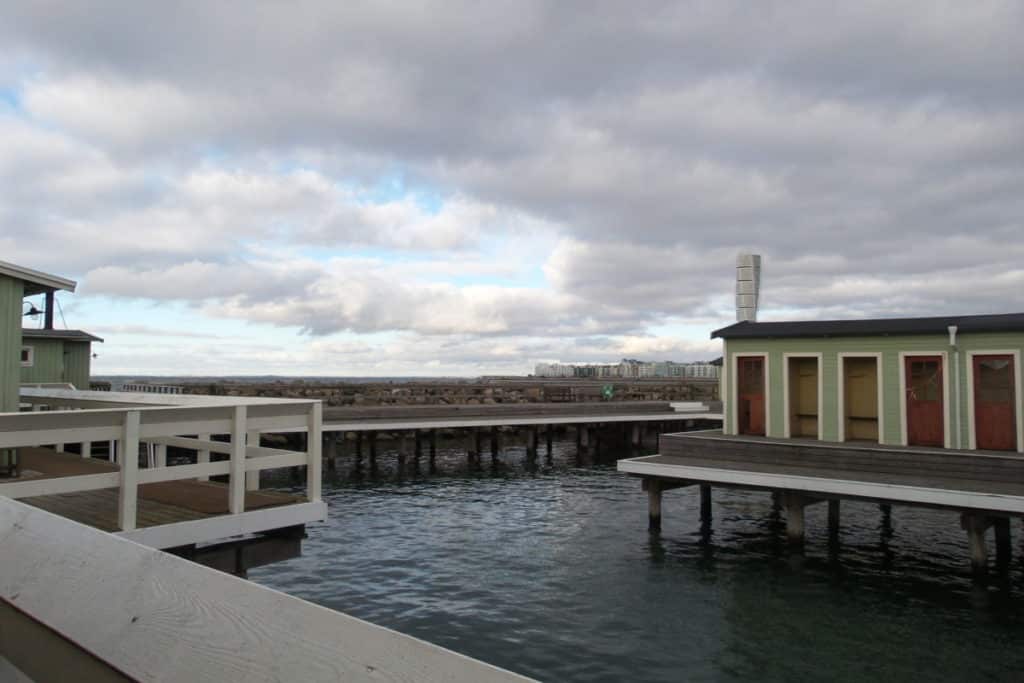 Swim in the sea
Between sauna sessions you can take a swim in the sea. There are stairs on the 'inside' so you swim in a protected part of the sea, and stairs on the outside so you can go swimming in the sea.
You go naked in the bastu, no bathing suits allowed. Be sure to bring at least two towels. A towel to sit on in the bastu is obligatory and you will also want to have a towel to dry off after showering. You should also bring your own shower gel and shampoo.
The restaurant of Ribersborg Kallbadhuset is open for those who are not using the sauna complex as well. You can go there for lunch, dinner or fika.
More information can be found on their website.
Practical information
How to reach Ribersborgs Kallbadhus?
Ribersborgs Kallbadhuset is half an hour's walk from Malmö Central Station. Bus 7 takes you (every 10 minutes) from Centralen to Malmö Ribersborg. From here it is a 5 minute walk towards the sea. If you come by car, you find a big parking at Ribersborg Strand.
Adress: Limhamnsvägen, Brygga 1, Malmö
Opening hours
The sauna is open every day from 9 am. From September 1 to April 30 it is open on Wednesdays until 8 pm, during the weekend until 6 pm. The other days you can go there until 7 pm. From May 1 to August 31, it is open until 9 p.m. on weekdays, and until 6 p.m. on weekends and public holidays. Closed on midsummer evening. Outside of these times you can rent privately.
Entrance fee
Access to Kallbadhus is 70 kronor. You can pay on the side of the bar in the restaurant. Here you can also book additional beauty treatments or massages if you want to. After paying, you walk through the back, to the changing rooms. You can store your clothes and other belongings in lockers which you can lock with a small padlock. This can be brought from home or you can buy one there for 40 kronor.
In the neighbourhood
Turning Torso
Västra Hamnen
Malmö Stadsbiblioteket
Did you know Ribersborgs Kallbadhus is a crucial location in the first season of The Bridge?
Hotels in Malmö
Pin for later