A visit to a library might not be the first thing that would come to your mind if you are on a city trip but it is often worth visiting. The City Library of Malmo (Stadsbiblioteket) is an architectural gem. They have an extensive book collection and a cozy cafeteria/restaurant. The main reason for my visit was the beautiful view of the garden and over the city.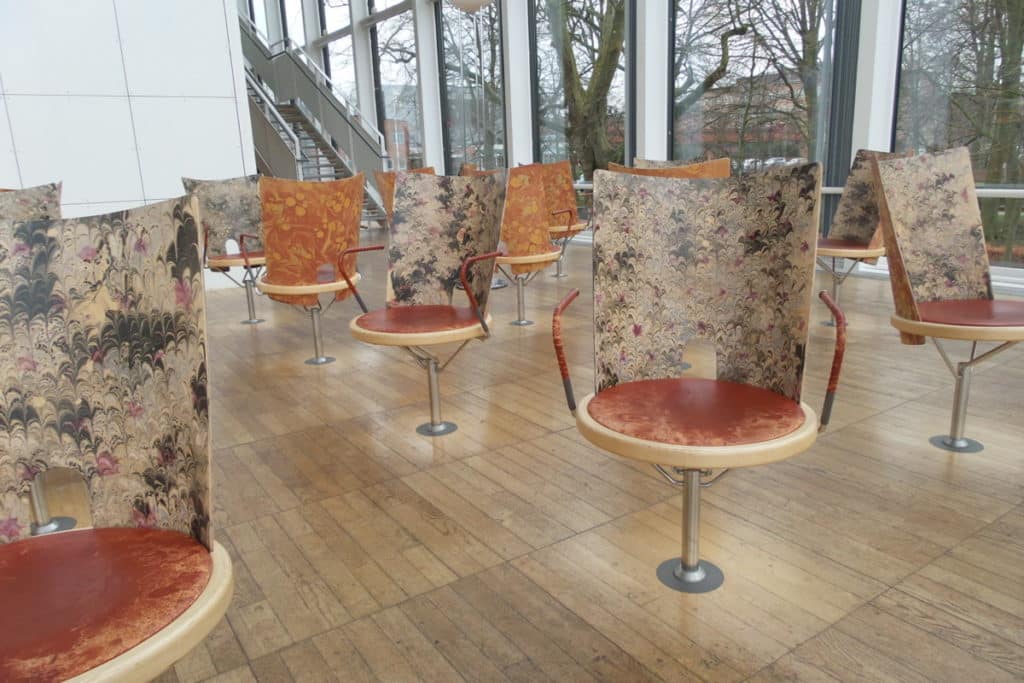 History City Library Malmö
The castle on the eastern side was built in 1901 and was used as a museum. In 1946 the library moved there. In the middle part you have a cylinder that serves as entrance hall and connects the two parts of the library. The library went though a thorough renovation during the 90's. Architect Henning Larsen is the man behind the "Calendar of Light ', the large window that really lightens up the library. The library opened, in its current form, in 1999.
More than books
Of course I browsed through the aisles with Swedish books but even if you don't speak Swedish, you will find something to read here. Malmö City Library has an extensive collection of foreign language books: obviously much in English but also in many other languages. I even found a full bookshelf with Dutch books. Very nice to sit down in the chairs with a book to read.
The City Library of Malmo has a full program. On one of the floors there even is an area especially for children.
Kok & Bok
In this restaurant in the City Library you can enjoy a light lunch, a snack or have fika. Everything is made entirely on site. They deliberately choose quality products. The daily menu (dagens lunch) is definitely recommended. For just 95 kronor you have a main course, salad bar and coffee or tea. They have a vegetarian alternative as well. The menu changes every week. The daily special is served every weekday between 11am and 14pm. There are other dishes on the menu as well and there are some special children's portions too.
Practical information
If you are looking for a copy center in Malmö, in need of some Internet, want to read or lend a (foreign language) book or if are you just curious, a visit always is a good idea. The City Library of Malmo has extended opening hours (also open on Sundays, check their website (in Swedish) for up-to-date opening hours). Every year they have almost one million visitors!
Tip: looking for a shelter on rainy days? The City Library of Malmö is so bright that you just forget about the rain!
How to reach Stadsbiblioteket
Stadsbiblioteket is located close to Malmöhus Slott. From the central station, it is a 1,5 km walk. Nearest bus stop: Malmö Stadsbiblioteket.
Adress: Kung Oscars väg 11, Malmö
In the neighbourhood
Slottsparken
Konditori Hollandia
Pin for later