After Stockholm, Malmö is the second place in Sweden where I don't feel like a tourist anymore but dare to say that I know the city so well that I start to detect the 'local' hotspots. MiaMarias is one of them. I was there last summer and I would love to return!
Summer terrace
I discovered this lunch spot by coincident. MiaMarias is a bit tucked away near Högskolan and SVT. The terrace looked cozy and there were a lot of people so I decided to give it a try. Their menu is quite limited but offers something for everyone. There was a dish with meat, a dish with fish and a vegetarian dish to choose from. There were also quite a few desserts. I went for the fish.
You order at the bar and pay immediately. In case you were wondering: you can pay by card (like almost everywhere in Sweden). Then you can go to the salad bar, take your cutlery and napkin and serve yourself with a glass and/or a carafe of water. They bring your main course to your table. I liked the salad bar. It was surprisingly good. The cod was tasty but not the best I ever had, to be honest.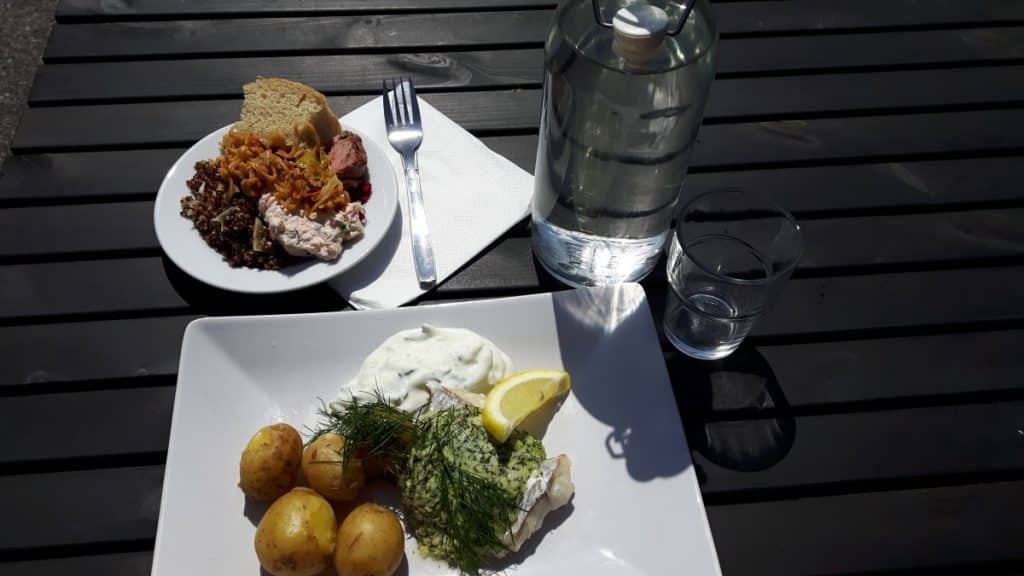 Lunch at MiaMarias
MiaMarias offers lunch, daily between 11am and 14pm. MiaMarias gets good comments on Tripadvisor. I think it's a hotspot mainly known by locals. The menu is only in Swedish, but Jenny and Johanna are happy to give you some explanation for the dishes. The terrace is really a must in good summer weather and inside it's cozy too. MiaMarias is also well known for catering. They regularly do the catering for film crews and were even involved in the filming of The Bridge!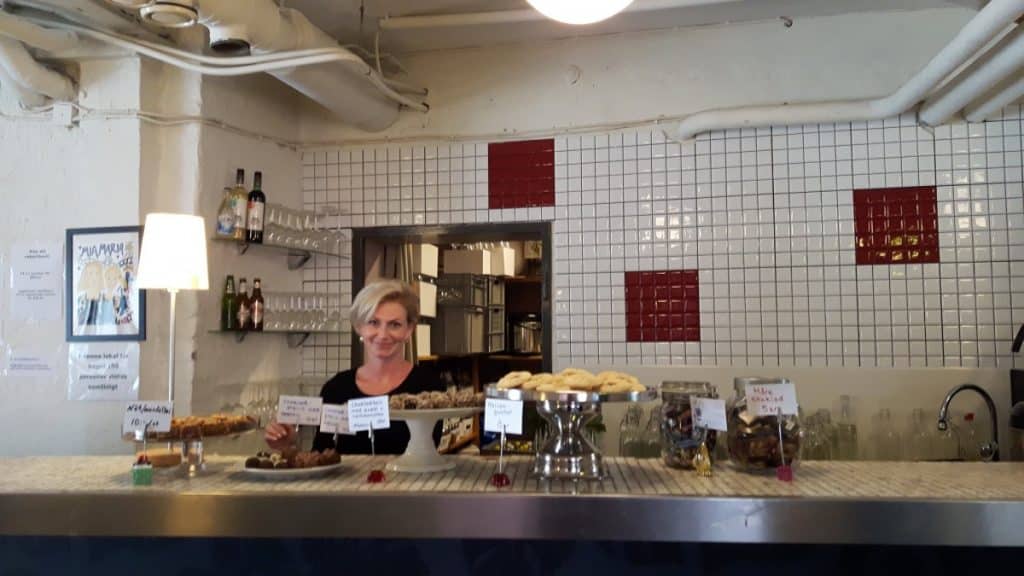 Now let's talk desserts… They all looked so delicious and it was hard to control myself but I haven't tried them yet. Gives me a good reason to go back, next time I am in Malmö. Let me know if you have tasted the desserts of MiaMarias. Wondering if they are as good as they look!
Practical
How do you reach Mia Marias?
Mia Marias is tucked away between Högskolan and SVT, within walking distance of Malmö Central Station.
Address: Isbergs Gata 7, Malmö
Opening hours
Mia Marias is open from Monday to Friday, from 11am to 1.30pm. They can also open at other times on request (for events, for example).
Nearby