With Queen Astrid, the grandmother of King Filip, there is a link between the Belgian and the Swedish royal family . The Swedish royal family is also closely related to the Norwegian Royal Family.
The royal family of Sweden is the Bernadotte dynasty. They are very loved in Sweden. They have a ceremonial function and are committed to many charities.
King Carl Gustaf
The most important figure of the royal family of Sweden is of course King Carl Gustaf. The official title of King Carl XVI Gustaf is H. M. Konung Carl XVI Gustaf. He is celebrating his birthday on April 30 (° 1946). At the age of 27 he succeeded his grandfather as king of Sweden. On 19 June 1976 he married the German-Brazilian Silvia Sommarlath. They met during the 1972 Olympic Games in Germany where Silvia worked as a hostess. They have 3 children: Victoria, Carl-Philip and Madeleine. Their residence (where Prince Carl-Philip and his family also live) is Drottningholm Slott. They work at Kungliga Slottet in the centre of Stockholm.
The king is very environmentally conscious. A few years ago he argued in favor of not installing a bath in new homes because a shower uses much less water than a bath.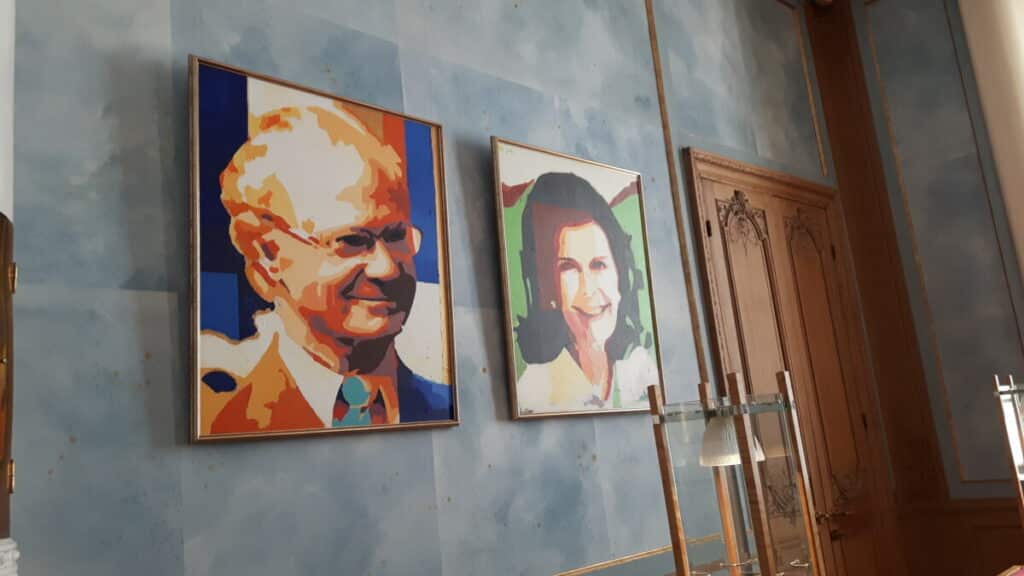 Crown Princess Victoria
The heir to the throne of the Swedish royal family is Crown Princess Victoria. H.K.H. Kronprinsessan Victoria as her official title is, was born on July 14, 1977. Until 1979 the succession to the throne was arranged in such a way that this could only be done in a male line. After her birth, a law amendment came so Victoria became the crown princess. In 2010 she married her personal trainer Daniel Westling. They have 2 children: Estelle (° 2012) and Oscar (° 2016).
Prince Carl-Philip
Prince Carl-Philip (° 1979) is married to Sofia. They have 3 children: Alexander (° 2016), Gabriel (° 2017) and Julian (°2021). Carl-Philip increasingly takes on official duties. Together with his wife, they are committed to charities, especially children.
Spicy detail: Sofia was known in Sweden for her participation in the reality series Paradise Hotel.
Princess Madeleine
Princess Madeleine (° 1982) is a bit of a rebellious princess. She has been living abroad for years (after London, they have now moved to LA but will move back to Sweden in 2024) and that is not always appreciated in her home country. She married businessman Christopher O'Neill and together they have 3 children: Leonore (° 2014), Nicolas (° 2015) and Adrienne (° 2018).
Vocabulary Swedish Royal Family
Kungafamiljen
Kungen
Drottningen
Kronprinsessan
Hans Majestät
Hennes Majestät
Hans kungliga höghet
Hennes kungliga höghet