Has ice skating in Sweden been on your list? In Tavelsjön you can go ice skating all winter and even participate in a race, Tavelsjörännet!
In February 2020, I was invited by the Ghent skating club LBSG, Björk & Boström Sportresor and Visit Umeå to discover Umeå and the surrounding area. The highlight of this press trip was Tavelsjörännet, a skating race of about 104 km on the natural ice rink of the lake Tavelsjö. Fortunately you could also skate shorter distances and that's what I would do!
The natural skating rink of Tavelsjö
The natural ice rink of Tavelsjö would not exist without the local sports association Tavelsjö AIK. They voluntarily ensure that the track is perfectly swept every time. This Facebook group is also very interesting, you can find more information about the current state of the ice. Be sure to check the group before you go skating at Tavelsjön!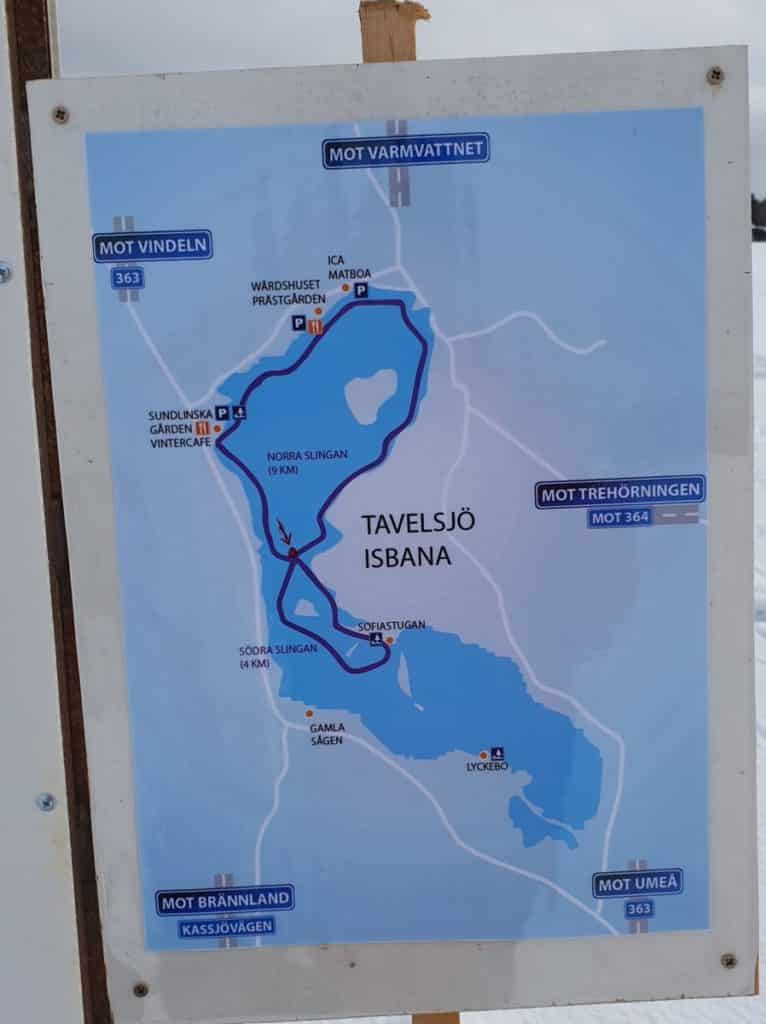 In 2020 there was a 13 km long track, in an eight shape so that you could also return halfway. Because Tavelsjö is located quite north, the place is ice sure from December to March.
Skating on natural ice in Tavelsjön
Weeks in advance I was busy figuring out which clothes to bring. It can be very cold there, but when you skate, you get warm quickly. In the end I chose clothes that I would also wear for cross-country skiing and brought an extra warm jacket with me. I also bought sturdy Lundhags to tie the skates. Incredibly Exciting!
I can skate and do this regularly on artificial ice, but the times that I could really skate on natural ice can be counted on one hand. A few times in near my home town, once in the Lakeland of Finland and once in Hellasgården. That must have been about it.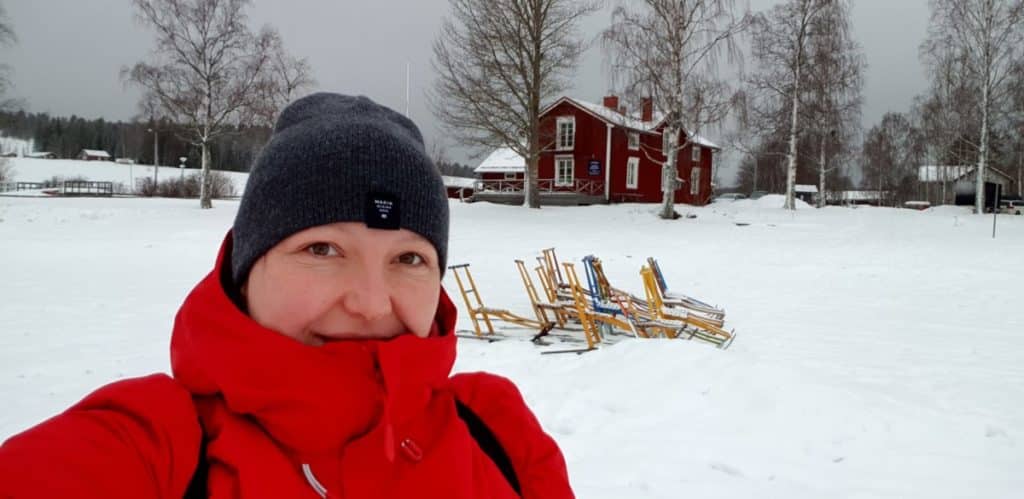 Skating on natural ice can hardly be compared to turning rounds in an indoor rink. Firstly, you can fully enjoy the nature around you. Wonderful! Tavelsjö is really surrounded by nature. Except for the typical sound of your skates, you hear… nothing! Furthermore, it is also a bit more adventurous: you have to be alert for cracks in the ice, ice floes, … The Swedes grow up with the ice and learn to 'read' the ice.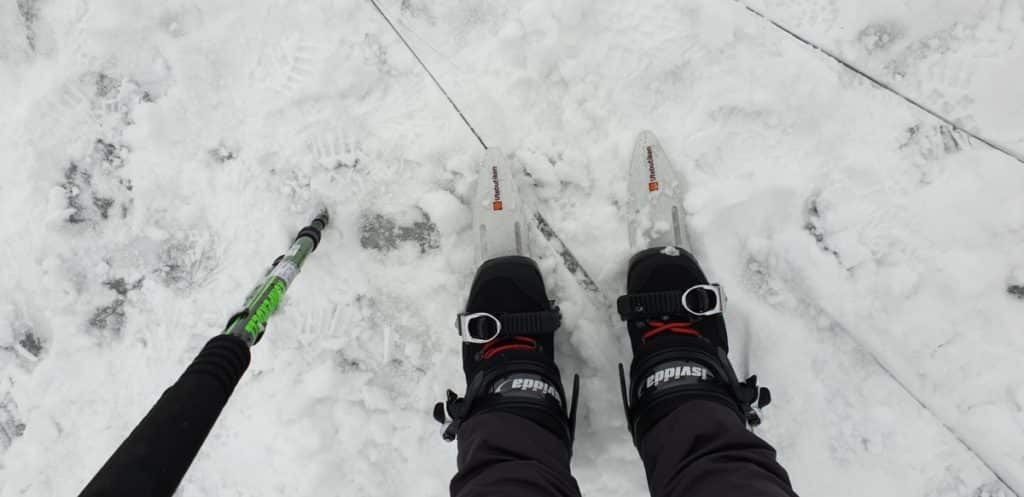 When skating on natural ice you actually have to push on your heels so that your skates slide smoothly over the small cracks. In theory 😉.
I tied on the skates and wobbled to the rink. Fortunately we had sticks with us to help with the balance. Hesitantly I took my first steps. My heart bounced and I was so nervous. Fortunately, coach Gert was patient and ready with advice and encouragement.
Tavelsjörännet 2020
I was going to participate in the 13 km. The longest distance I would have ever skated. Those 2 crazy Belgians (there was also a journalist from Het Nieuwsblad with me too) who would skate on natural ice for the first time and immediately participated in this race were the news of the town.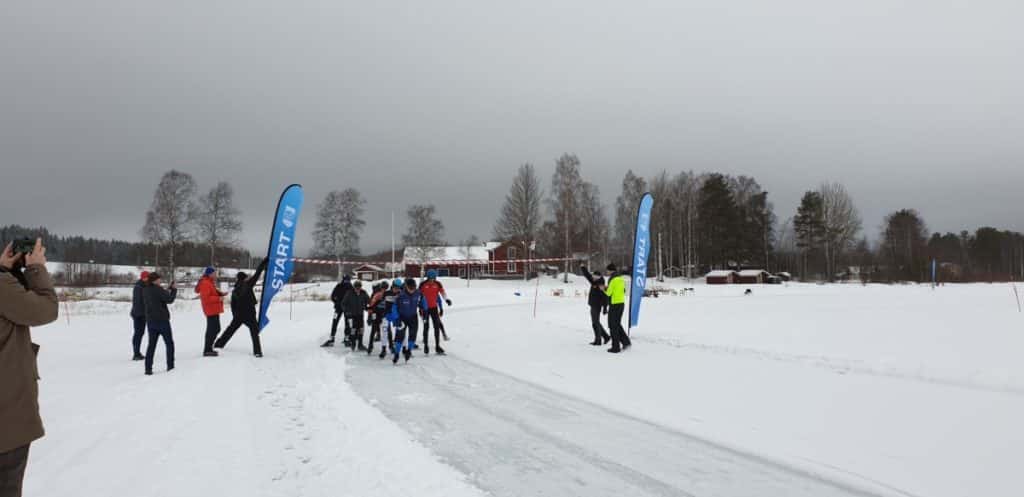 First we watched the start of the Swedish Master championship and the Belgians and Dutch from "our group" who would skate the marathon. And then it was up to me… Hihi, I was clearly not trained but determined to try anyway. I concentrated on the technique, tried not to trip over my own skates and alternated the "normal" skating with pushing the sticks to move forward.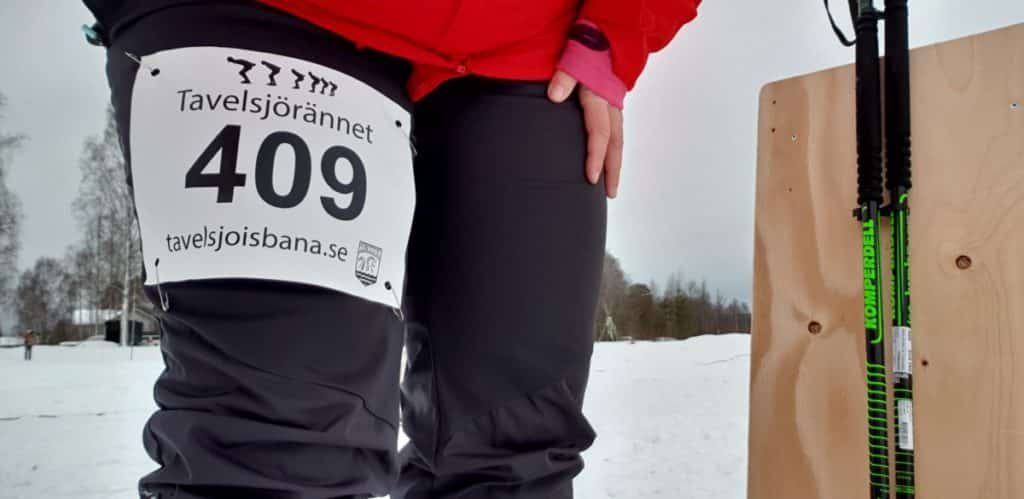 It will not surprise you that the marathon skaters passed me several times, haha. I had some doubts when reaching the turning point of the loop. I started to get tired and feared that 13 km was just too high. Maybe it was enough and I should return? But with the encouragement from my fellow skaters (who were kind enough to adopt my slow pace), I kept going.
And then kilometer 8 came and I suddenly lay down on the ice. The pain in my knee and the fatigue made me give up. Yes, afterwards I was angry with myself. I should have just rested and continued but I didn't want to hold up my fellow skaters any longer and walked back to the starting point. If only I had persevered, I would even have achieved a podium place in my category, haha! Yet it was a beautiful experience that I would do again immediately. As a beginner I might have opted for a tour with fika etc. in hindsight, but experiencing the race was also very special. Especially when I heard that there were a few real winners among the skaters of our group!
Sundligska Gården
Next to the lake you find Sundligska Gården. This is the gathering place for all skating fanatics. You can rent equipment, use a spark, change clothes and warm up after skating. And did I mention the good food?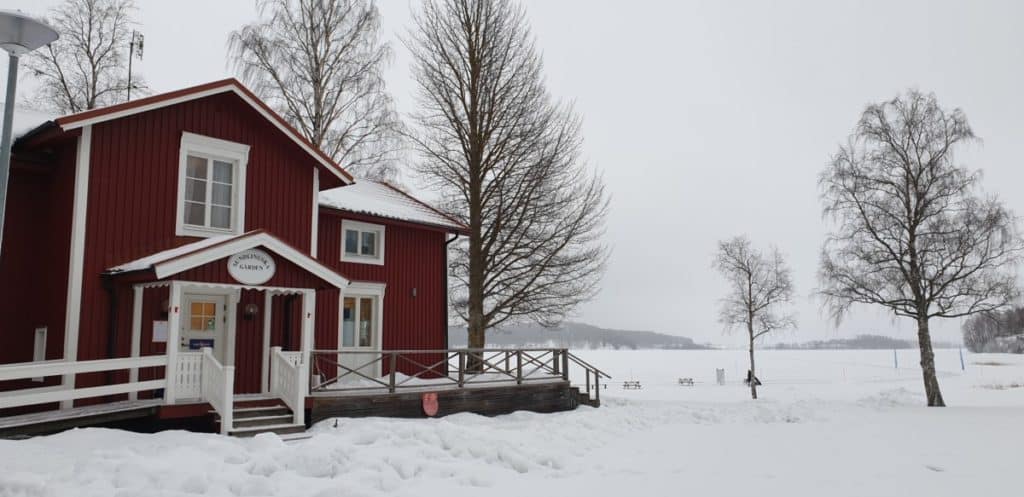 The couple who keep this place open lived in London for 15 years and then decided to return to her hometown in Sweden. They are famous for their sourdough pizzas and I also ate a delicious lentil stew there. In the summer months you can rent kayaks and mountain bikes.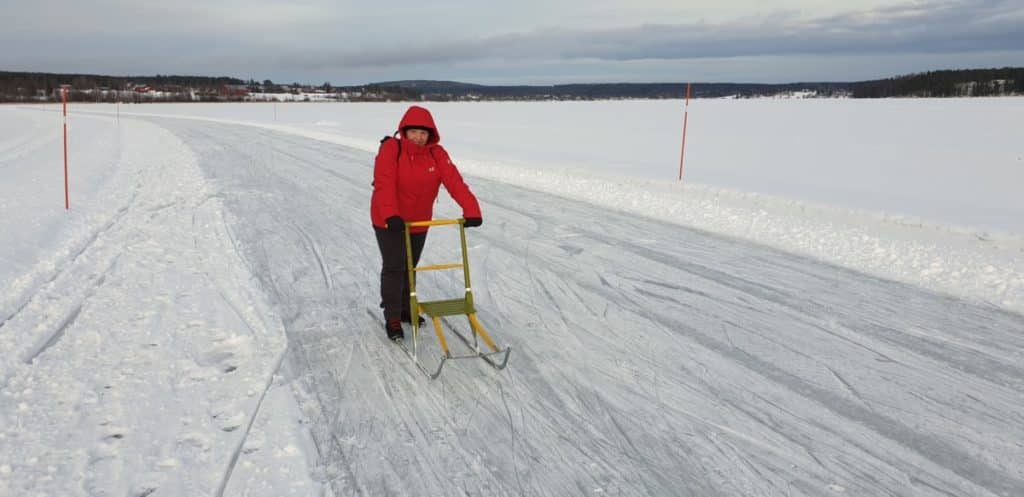 Practical information skating trip Tavelsjö
The Swedish travel organization Björk & Boström also organizes this skating trip for international travelers. Here you will find the info for 2020. As soon as the info for 2021 is available, I will share it here.
Only about 400 people live in Tavelsjö itself. It is therefore best to spend the night in the pleasant town of Umeå, about 25 km away. There is a bus every day that takes you to the lake.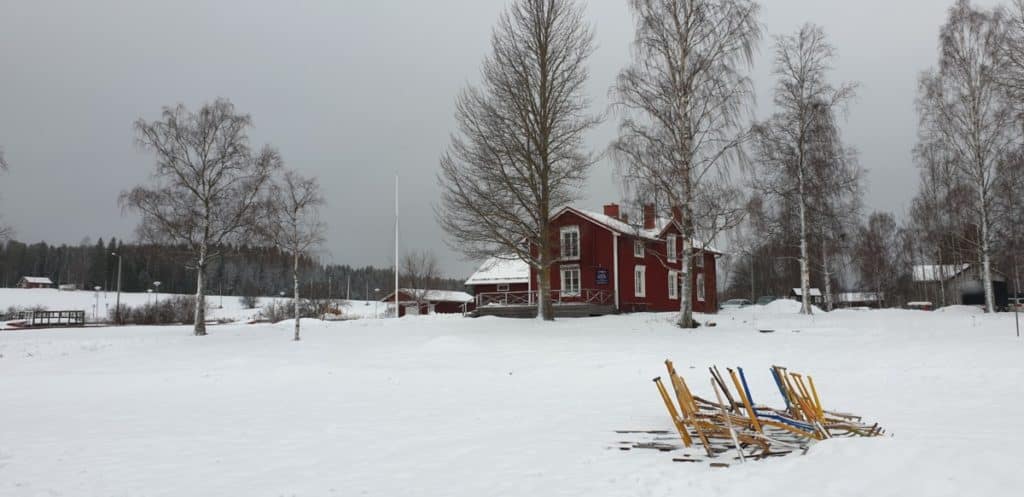 If the weather isn't perfect for skating or you want to do something different, then you can visit Bildmuseet, Guitars – The Museum or another museum. Go shopping, walking or just enjoy the good food. Just search for Umeå and you will get a lot of tips!
P.S. By the way, keep an eye on the predictions for the Northern Lights while you're here! We just had no luck last year. The days before and after our stay I saw pictures of the northern lights popping up on social media, but we only had cloudy nights.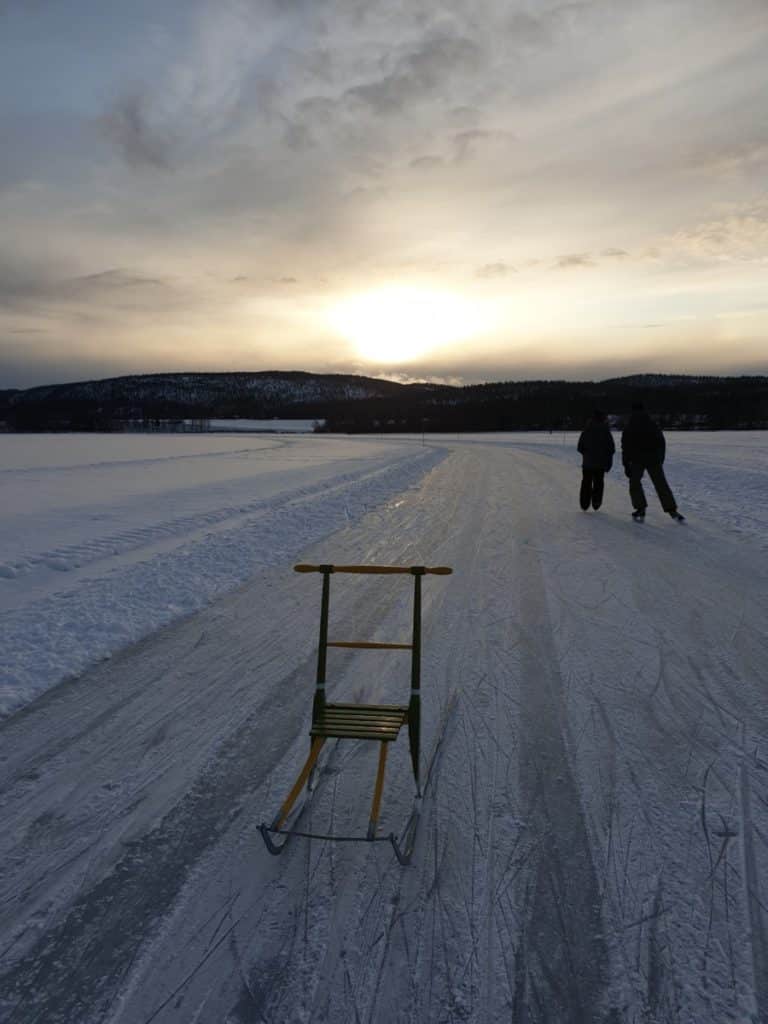 Soon more info about:
Skating on natural ice
How to travel to Umeå
Which sights in Umea you should not miss
What winter activities you can do near Umeå
Pin for later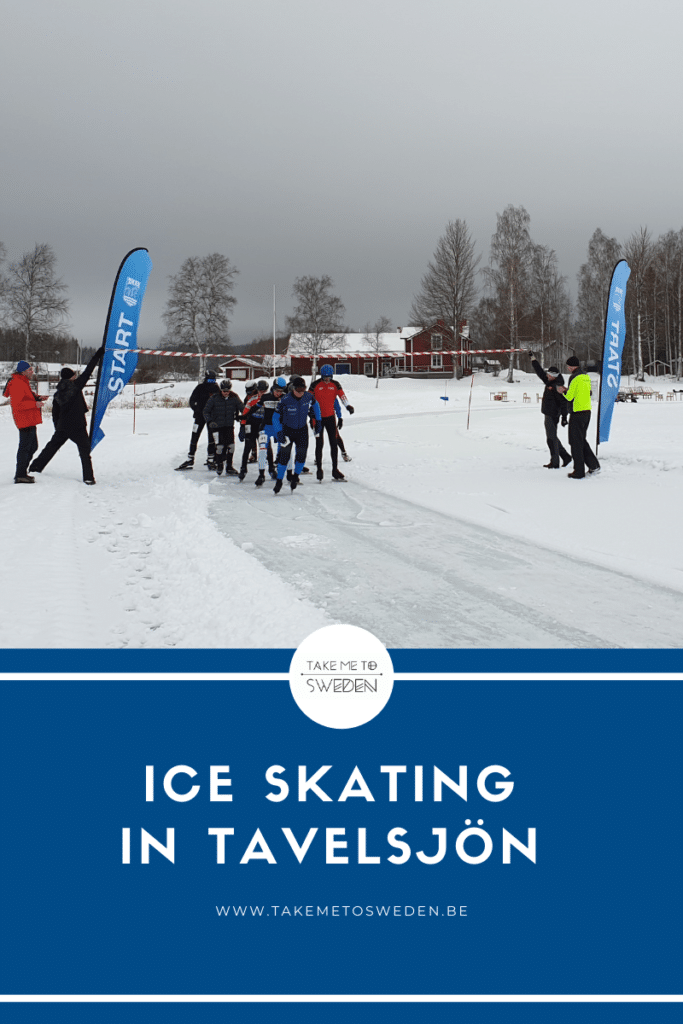 Special thanks to Visit Umeå