Can you pay with €'s in Sweden? Is Sweden really that expensive? These are just a few questions that come to mind when it comes to Sweden and money. In this article you can read all about paying in Sweden. By the way, did you know the song 'It's all about the money' is from the Swedish pop singer Meja?
Card payments only
Paying in Sweden is mainly done with the card. I only once used Swedish kronor because the restaurant had problems with the bank terminal. In many cases you can even pay your toilet visit by card. Most credit cards are accepted in Sweden.
Check with your bank if your (master) card and your visa also work abroad. If you really want cash in your pocket, you can pin on arrival. But once again: you basically don't need cash in Sweden!
Many traders choose to be 'kontantfri'. This means that they no longer accept cash payments but you can only pay with the card or via swish. They often do this because it is easier but also because it is a lot safer (no thefts, no/less money transports). Sweden is a leader in digital payment. They want to be a cashless society within a few years.
Swedish krona
Sweden does not participate in the euro. They also have no plans to join the euro at the moment, although they are actually obliged to do so by the Accession Treaty. However, you will see the prices mentioned in euros, especially in certain touristic spots. The Swedish currency is the Swedish Krona (kronor in plural). To convert Swedish krona into euros, I usually divide by 10 and then round up. Sometimes you can even round down, depending on the exchange rate.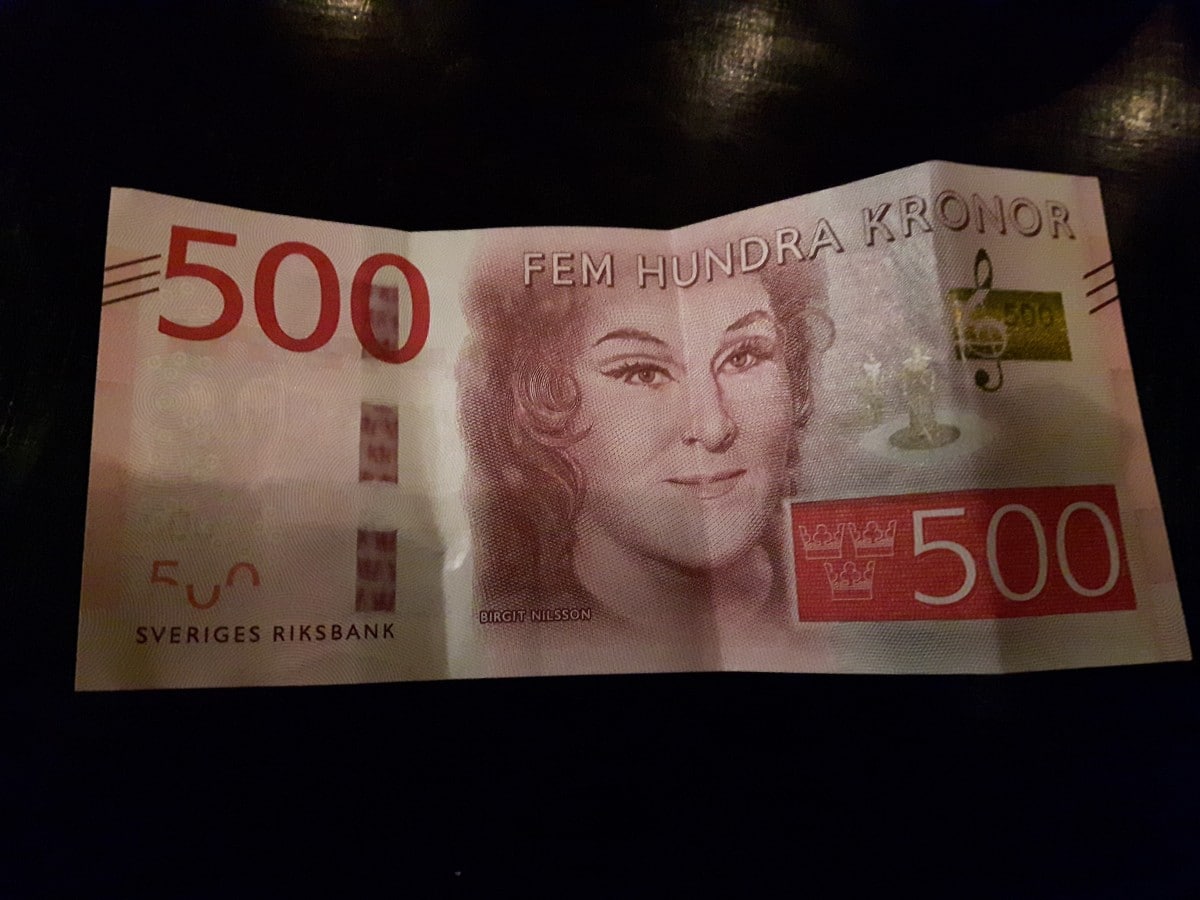 There are coins of 1, 2, 5 and 10 kronor. There are banknotes of 20, 50, 100, 500 and 1000 kronor. Just as with the euro, there is also a subdivision into hundredths. We speak of öre instead of cents. These small coins were taken out of circulation.
New notes and coins appeared on the market in 2015 and 2016. The old ones are no longer valid from 30 June 2016 and 2017. You can still exchange the notes at Sveriges Riksbank.
Swish
In Sweden it is common for everyone to go get their own beer at the bar. The bill at the restaurant is also usually shared. To transfer money between friends and family, they have a handy app: Swish. They use it as a verb as well: att swisha. Unfortunately, as a foreigner, you cannot use the app. You can only link the app to your (Swedish) bank account. With Swish you can even pay when lighting a candle at church!