At about 45 minutes from Stockholm you'll find the picturesque town Mariefred. The main attraction in Mariefred is Gripsholms Slott. Across the road from the Gripsholm castle you'll find a lovely guest house: Gripsholms Värdshus. The oldest 'Inn' of Sweden has been open since 1609. Today, the family Åström is running the inn. In the summer months you can enjoy the view of Lake Mälaren and the castle view from the terrace.
An inn with a history
Karl IX, the Duke of Sörmland, called for major renovations to Gripsholms Slottet. This caused the nearby village to grow rapidly. In 1605 the hamlet received city rights and the town was named after the Carthusian monastery Pax Mariae, Mary's peace, that once stood there.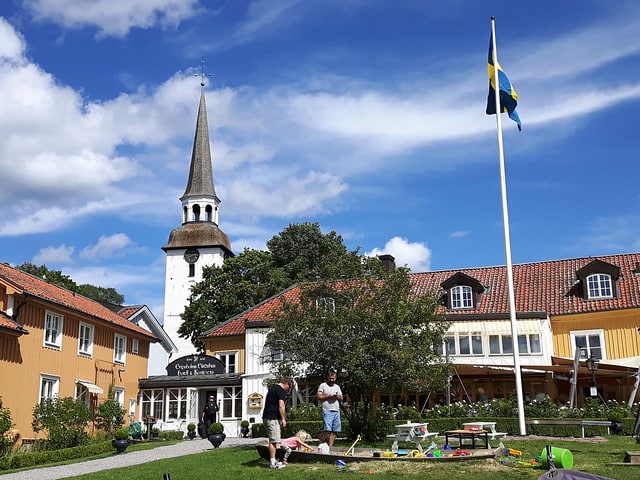 A few years later the German Jocim Smock got the rights in order to start an inn. One of the rooms still bears the name of this first lodge manager. In 1987 the inn was undergoing major renovations. It was then that they discovered that the inn is built on the foundations of the old Carthusian monastery from the 14th century. Previously, they had always thought that the nearby church was built on the foundations of that old monastery. A number of objects found in the excavations, are now to be found in the interior of Gripsholms Värdshus.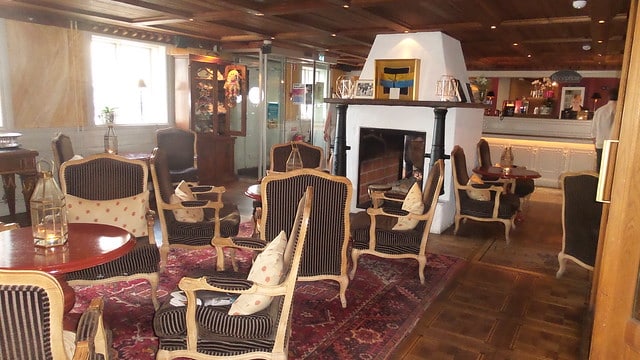 Gripsholms Värdshus
Obviously Gripsholms Värdshus has repeatedly been completely renovated since 1609. The main building dates from 1750. In 1987 about 12 meters of building was added. However, the hotel still feels very authentic. There are 46 rooms, including a royal suite. The spacious rooms are beautifully furnished in a romantic country style. Here you won't find an ultramodern shower but you get an antique pink bath and even a bidet! Besides the usual toiletries there was also a range of "female products" available. Gripsholms Värdshus clearly takes care of the details.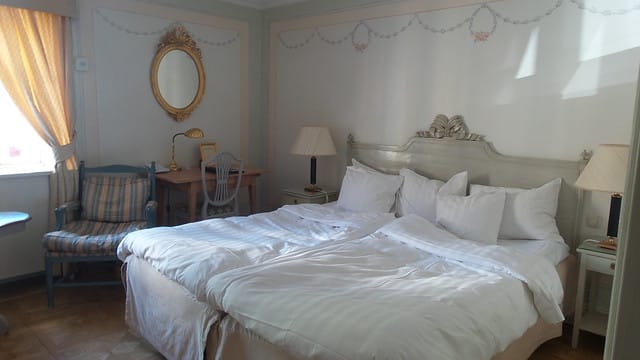 There is also a wellness center with spa and saunas but unfortunately I did not use them. I did tested the restaurant and breakfast. The chef cooks with local products and gives it an international touch. The breakfast buffet is very extensive. I remembered above all that you can bake your own waffles!
Yet there were also some downsides. There was no elevator to the floor where our rooms were and the wifi did not work properly. But sometimes no wifi can be a breath of fresh air! I could spend all day watching the boats, the lake and the castle from the summer terrace.
Pin for later
Thanks to Visit Sörmland.
Affiliates