When I traveled with the Inlandsbanan to Swedish Lapland in the summer of 2017, I switched between wild camping and hotel nights. In Gällivare I spent one night in Grand Hotel Lapland. This hotel is located near Gällivare station. The hotel has wellness facilities with a view of the Dundret Mountains.
I stayed there in the summer and enjoyed a green and (sometimes also) sunny Lapland. Gällivare is also a popular place in winter. There was still snow on top of nearby Dundret during the summer. During the winter months, the area around Dundret turns into a popular ski area where you can also do night skiing. If skiing north of the Arctic Circle is on your bucket list, then you have to go here!
More about skiing in Sweden can be found here.
Hotel meets local
In a small town in Lapland there are not many facilities. It is therefore a good idea to integrate a number of facilities in the hotel that the local residents eagerly use. There is also a bowling alley in the hotel. The hotel offers special rates for their guests.
The local knitting club regularly meets in the hotel's café/restaurant. I loved eavesdropping while eating my quiche at the other table.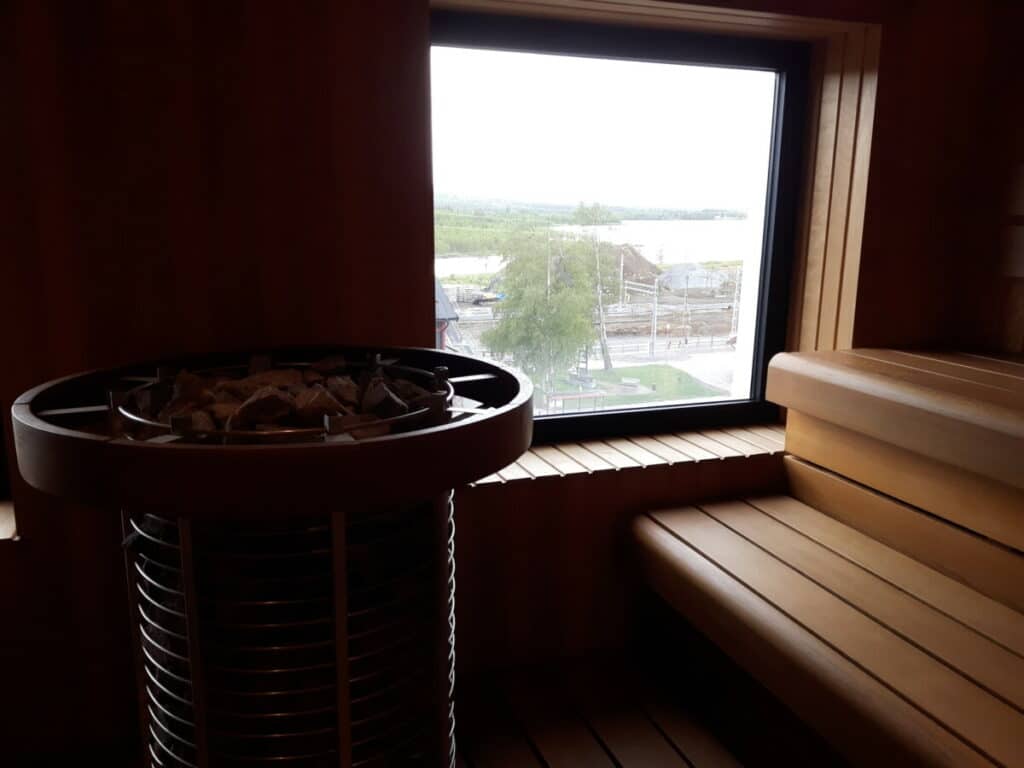 The rooftop of Grand Hotel Lapland offers fantastic views of Dundret. During the summer months you can enjoy the rooftop terrace, a heated and covered swimming pool and an outdoor jacuzzi. Inside there is also a sauna (separate for women and men, there is also a mixed sauna) with a relaxation area and a spacious gym.
During the summer months it gets barely dark (to not dark at all during some weeks around 21 June) in Gällivare. The rooftop is a great place to spot the midnight sun. Unfortunately it was cloudy when I was there. I suspect that Gällivare is too lit to spot the northern lights in the winter months, but if you take a walk outside the town you might have a better chance.
Tip: Gällivare is only 80 km from Kiruna, the mining village that will be moved about 4 km in the coming years. The world famous ice hotel is also nearby.
Practical information
How to get to Grand Hotel Lapland?
The hotel is located close to Gällivare station. If you come by train, you can't miss it. If you come by car, you can park on the hotel site.
Address: Lasarettsgatan 1, Gällivare
Book your room
Want to stay at this hotel? Book your room at Grand Hotel Lapland now!
Other hotels nearby
Nearby
Gällivare Museum
Dundret
Vassaraträsket
Pin for later
Save this article to Pinterest for easy reference later!