Let's go back in time. To June 2017. When I traveled through Lapland and also stayed in Mora and Stockholm for a while. It was mainly the way of traveling that added to the experience: I traveled with Inlandsbanan, a special railway that runs from Mora (Dalarna) all the way to Gällivare (Swedish Lapland). The train runs only once a day (1 train from Inlandsbanan runs from Mora to Östersund, another runs from Östersund to Gällivare). You can get on and off where you want and continue your travels the day after or even a few days later. You can also stay on the train for the entire course. The train stops anyway at the sights along the railway and around lunch, dinner and fika time there is also a stop at local restaurants (without obligation). Slow travel! The train can only ride at a maximum speed of 80 km/h. Today you get the first part of my travel experiene with Inlandsbanan: from the departure in Stockholm (Inlandsbanan departs in Mora) to the first evening in Östersund.
The exciting departure
I almost didn't make it to Mora. I traveled by regular train from Stockholm to Mora. The train left Stockholm on time, but in Uppsala it stopped due to a technical defect. I had calculated extra time but I saw that shrinking rapidly…
Train delays in Sweden are nothing like the delays in Belgium. We immediately received a full explanation of why we were standing still. Really, that's great as a passenger to know the reason. In addition, we were given a drink and snack as an apology for the inconvenience. In Rättvik, the train conductor suddenly announced that the train wouldn't go any further and that a bus would bring us to Mora. That would mean I'd miss the departure of Inlandsbanan. Sure, there were other options to get from Mora to Östersund that evening, but I had consciously chosen Inlandsbanan. I wasn't the only one with this plan. 2 English ladies also wanted to go to Mora for the Inlandsbanan.
I tried my best Swedish to negotiate with the train crew. They understood my frustration but couldn't do anything. A taxi was arranged for other people and I asked the taxi driver where he was going. It turned out to be a bit past Mora and we were allowed to board too!
The station of Mora
In Mora there are 2 stations. It wasn(t really clear where the Inlandsbanan would leave. The taxi driver drove to the farthest station (Mora Strand) but Inlandsbanan was just leaving… Fortunately a passer-by knew that there was a second departure point (Mora Station). The driver drove as fast as he could. Another passenger encouraged us to run to the platform to stop the train while he was bringing our luggage. Unbelievable how compassionate everyone was! Hallelujah, we made it and our trip really could get started!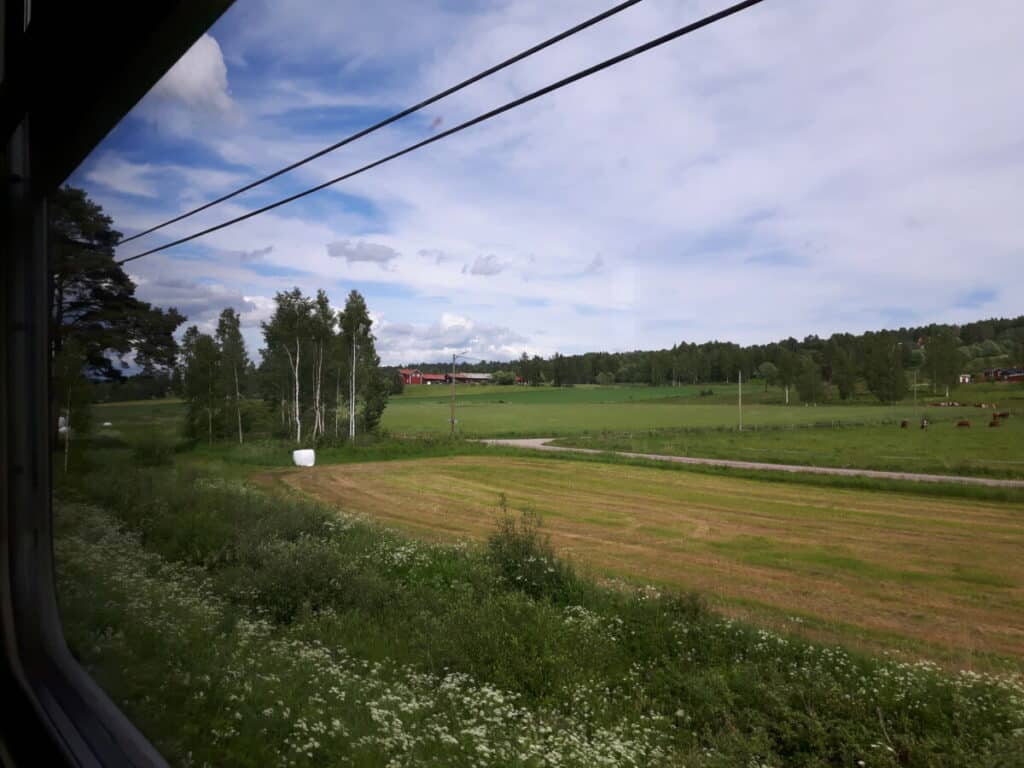 Maybe you should consider travelling to Mora a day earlier. Mora too has a lot to offer with Lake Siljan and both the finish and the museum of the Vasaloppet and plenty of wonderful nature.
Onboard Inlandsbanan
Inlandsbanan consists of old red wagons. Our train had barely 2 wagons. There are toilets on board, there is a bar where you can order small snacks, drinks and fika and there is a place where you can leave your luggage. On each table you will find a road map and some folders. The menus of the places where the train will stop are also available. This way you can place your order and your food will be ready by the time you arrive at the restaurant. Smart!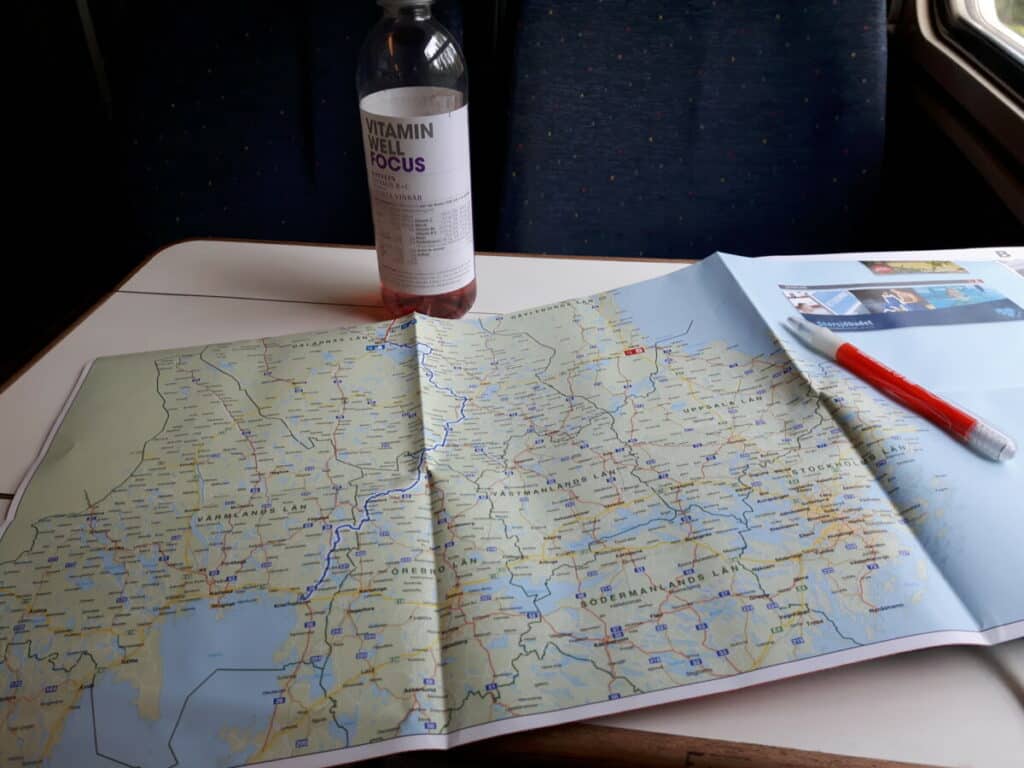 Tip: in high season (the Swedish summer holiday runs from mid-June to early August) it is best to reserve a seat if you want to be sure that you can take the train. On certain days tour operators organize group trips (especially northwards and between Östersund and Gällivare) and it can be very busy on board. You can find the seat distribution on the website.
Don't choose a place at the beginning or end of the train because your view ahead may be limited. It is also best to choose a place where you can see from both sides. So, for example, not at the toilet or the bar area. If you are lucky, there are still places available on board and you can move to a place with a better view.
Storstupet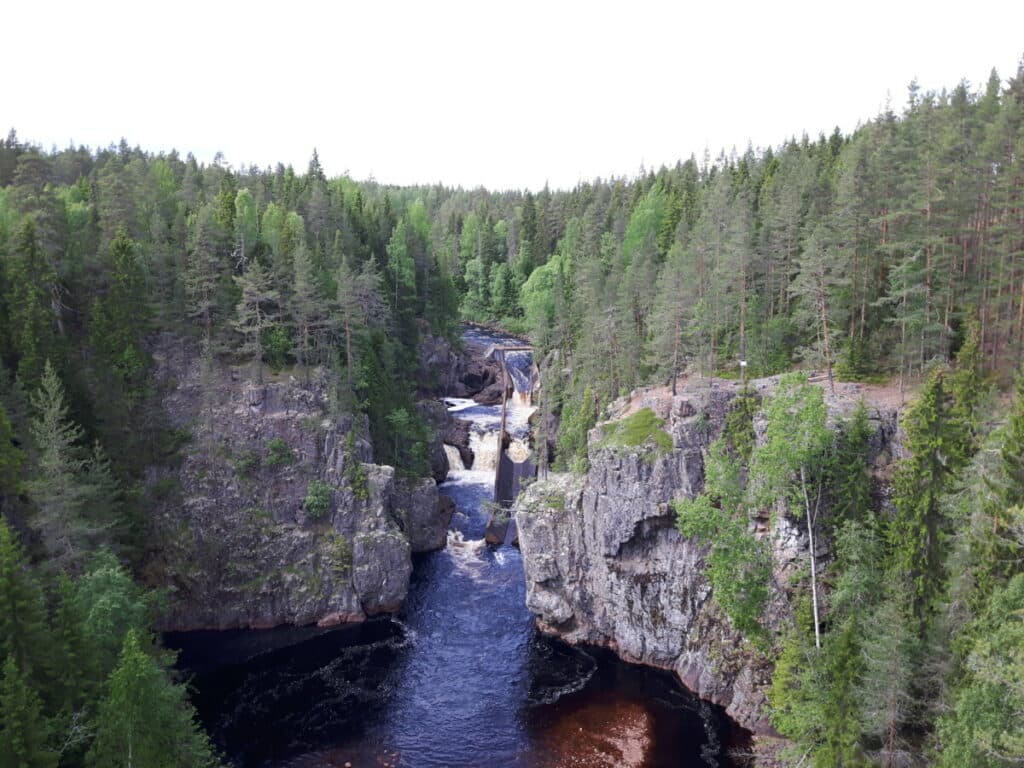 The waterfall at Storstupet is best seen on the left side of the train. Storstupet is a canyon of the river Ämån. The train travels over the 60 meter high bridge that was built in 1903. The train slows down so that everyone has a chance to see the waterfall and take pictures.
On board you will receive explanations of the most important sights. Our guide Wilda first did the explanation in Swedish and then translated into English. Perfect for those learning Swedish! This way you could first listen to the Swedish and then, with the English, check whether you had understood it correctly.
Sveg
The train also stopped in Sveg. This way everyone could stretch their legs and get some fresh air. It was also an ideal moment for a photo shoot by train.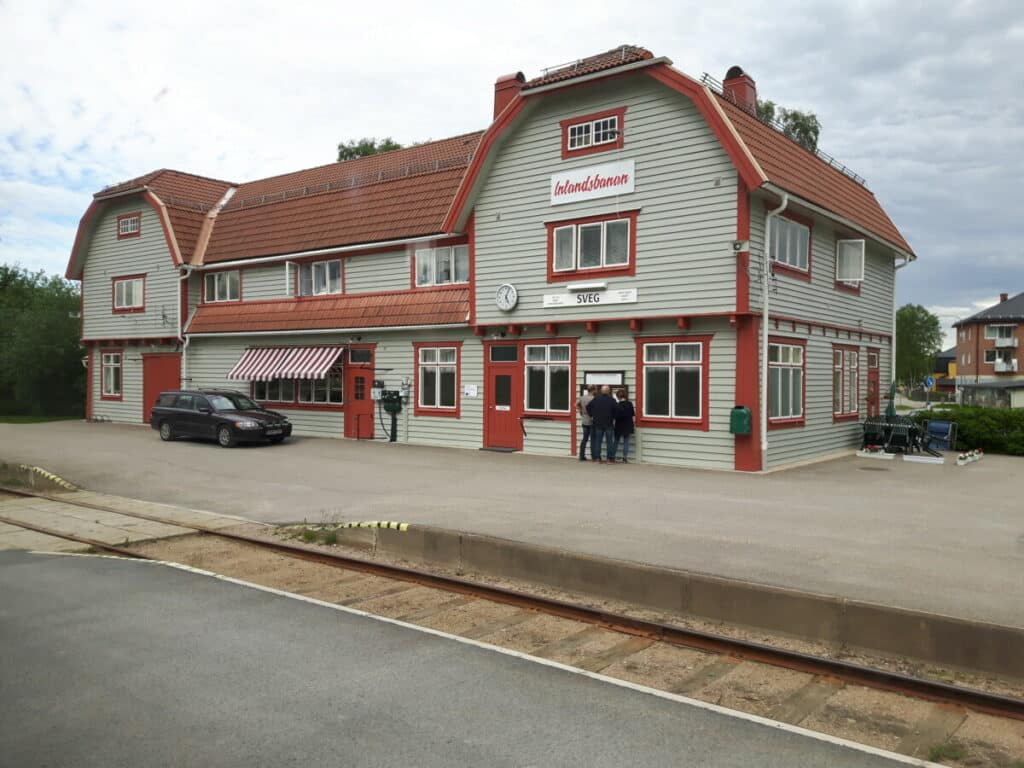 Sveg is known for rock music, influenced by Elvis Presley, who could be heard on the radio in the 50s and 60s. One of the famous singers from Sveg is Torgny "Kingen" Karlsson.
About Inlandsbanan
Inlandsbanan was mostly used for freight transport. The railway was completed in 1936 and was officially inaugurated a year later. Inlandsbanan was built in several stages. It was a real struggle to get the rails in place. The rails were carried on the shoulders! They only used machines for the last kilometers of the route. It eventually took 30 years until the last stretch to Gällivare was completed. Because of the Second World War there was also less money for its construction.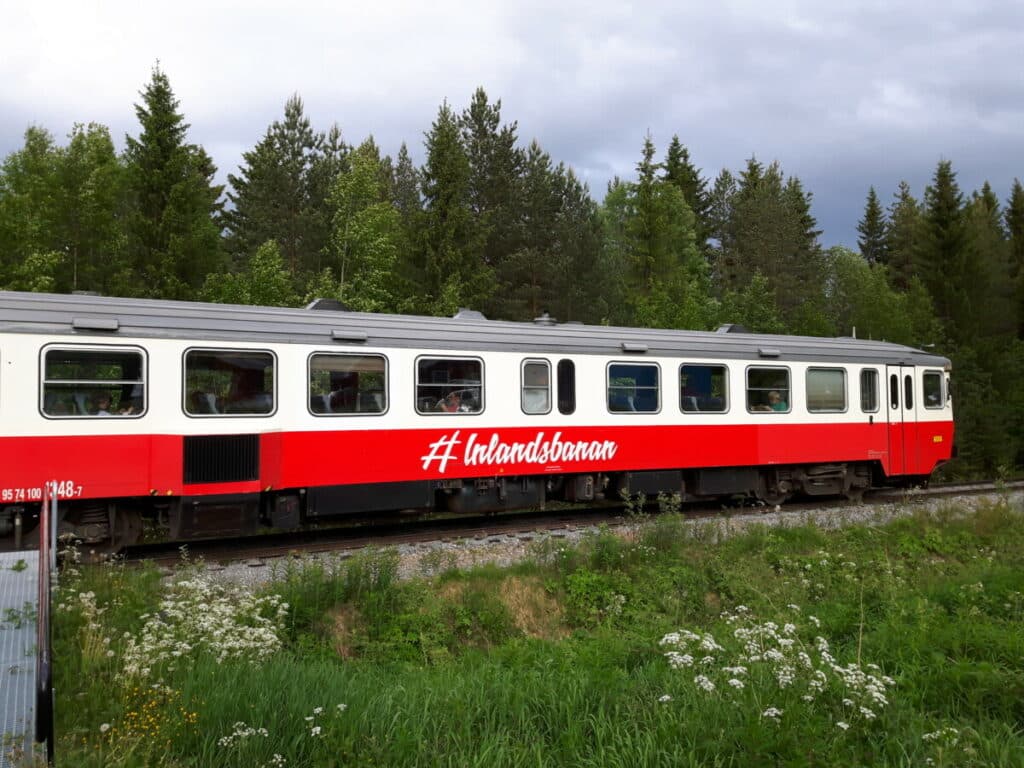 The Inlandsbanan had almost never been there. In Sörtjärn, a small hamlet with only 15 houses and only 5 people living there, Margaretha Mohlne ran the Vandrarshem. She fought for a long time so that the train would also stop in Sjötjärn. In the 1970s there was a lot of protest about the construction of the Inlandsbanan. The car seemed to beat the train. Interest in Inlandsbanan seemed to disappear. Margaretha protested and gathered 30,000 names on a petition to keep Inlandsbanan. The Swedish government handed the operation of the Inlandsbanan to Inlandsbanan AB, an organization of 15 municipalities along the railway, and the railway was preserved. For now.
Åsarna
Close to Åsarna is the Locknesjön. When the light shines on this lake, it has a green-blue glow. This lake was created after a meteorite impact about 450 million years ago. In Åsarna they found fragments of the meteorite. If you want to learn more about this, you can visit the meteorite center.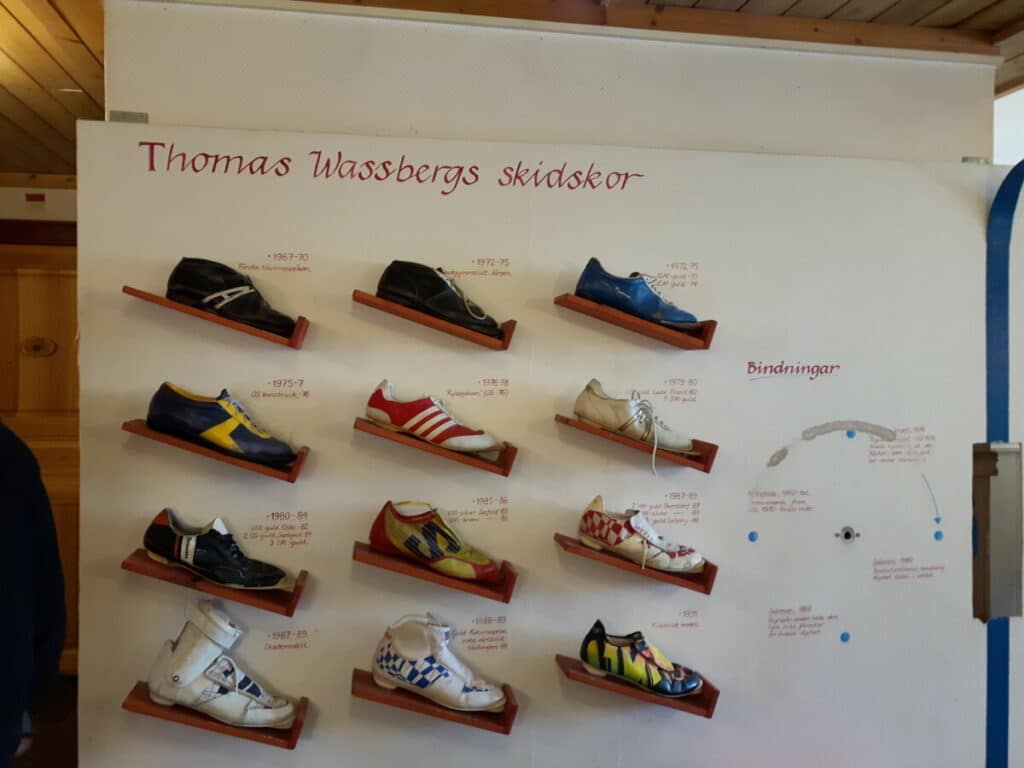 In Åsarna the train stops for about 40 minutes. Plenty of time to eat something, visit a small museum and take a walk in nature. In the ski center/museum you can visit a small exhibition about the great Swedish cross-country skier Thomas Wassberg.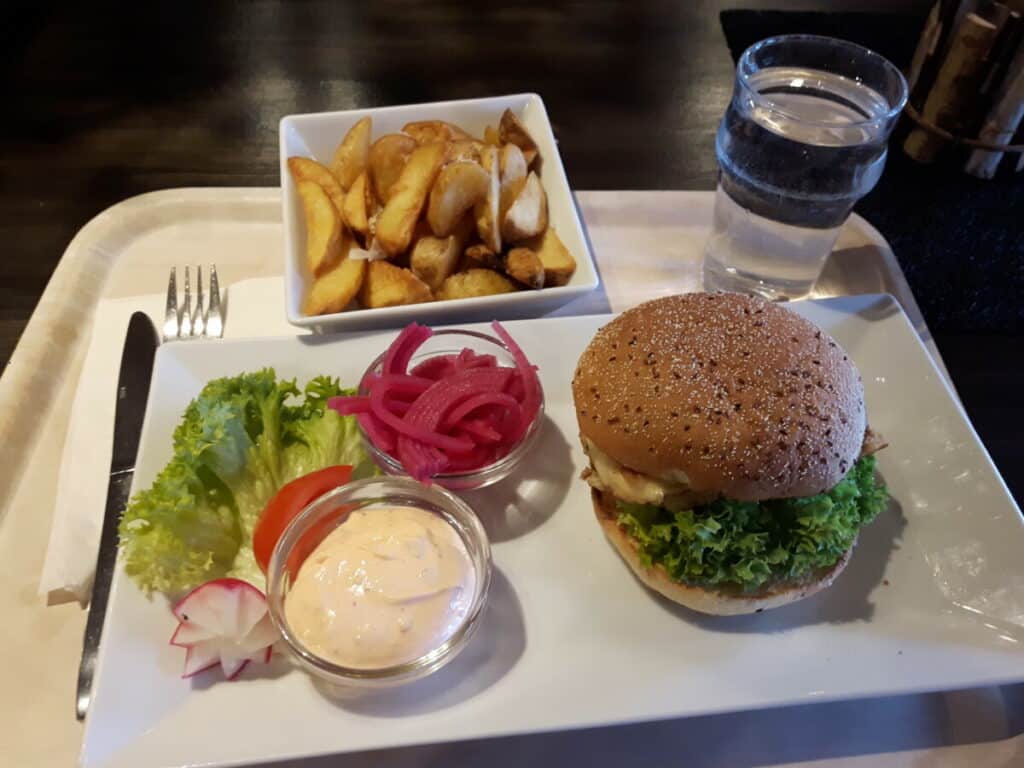 After dinner (I chose the salmon burger) I walked a little further to the lake Hålen. The silence was unbelievable! We didn't dare to walk very far. Not only not to get lost but also not to miss the departure of Inlandsbanan. My luggage (and thus the tent and camping equipment) was still on the train!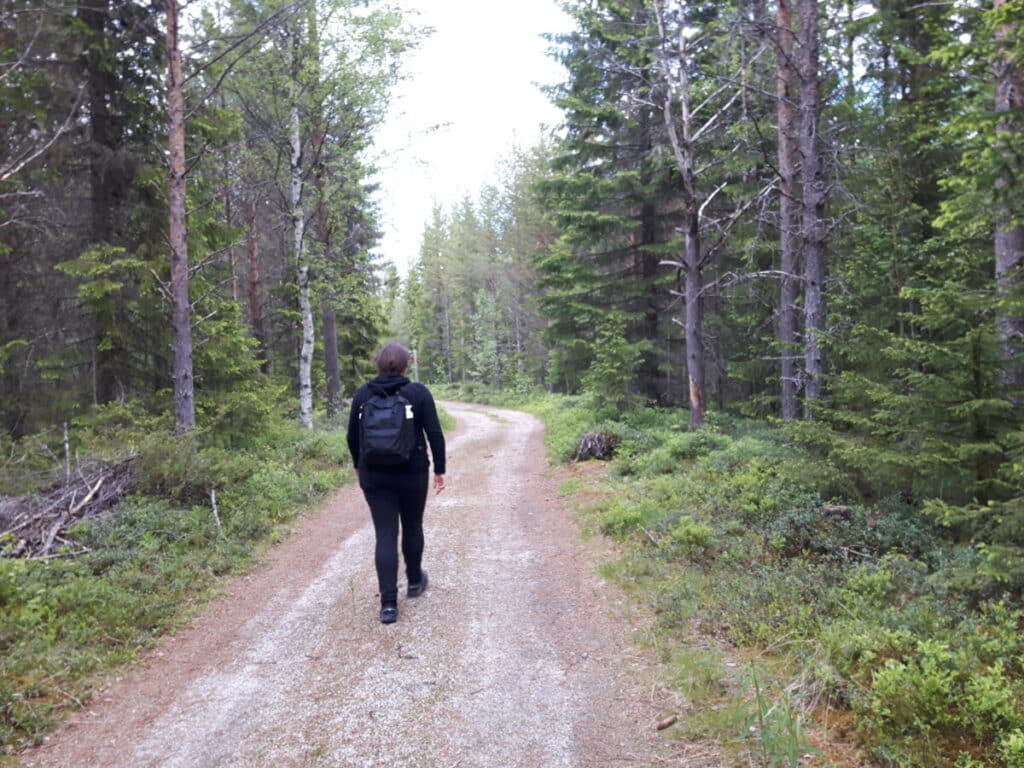 About reindeer
Tip: here you learn the difference between reindeer and moose. (article coming soon)
The train passes almost continuously through forests. A lot of forests, but only a few pieces are still wild forest. Most of it has been planted. In some old forests we can also encounter reindeer in winter. These reindeer appear to be quite picky in terms of habitat. For a long time it was thought that the reindeer caused a lot of damage, but research has shown that they only eat a little everywhere and then move on. They dig in the ground with their horns to look for food. There are no more wild reindeer in Sweden. They all have an owner. There are about 4500 reindeer owners. They have from 1 to thousands of reindeer.
By the way, did you know that a tame reindeer is smaller? Because large animals brought in more money, the larger reindeer were increasingly slaughtered. As a result, after many generations, the species has finally become smaller. Sometimes reindeer can't get through and they have to be transported by truck from the winter to the summer place.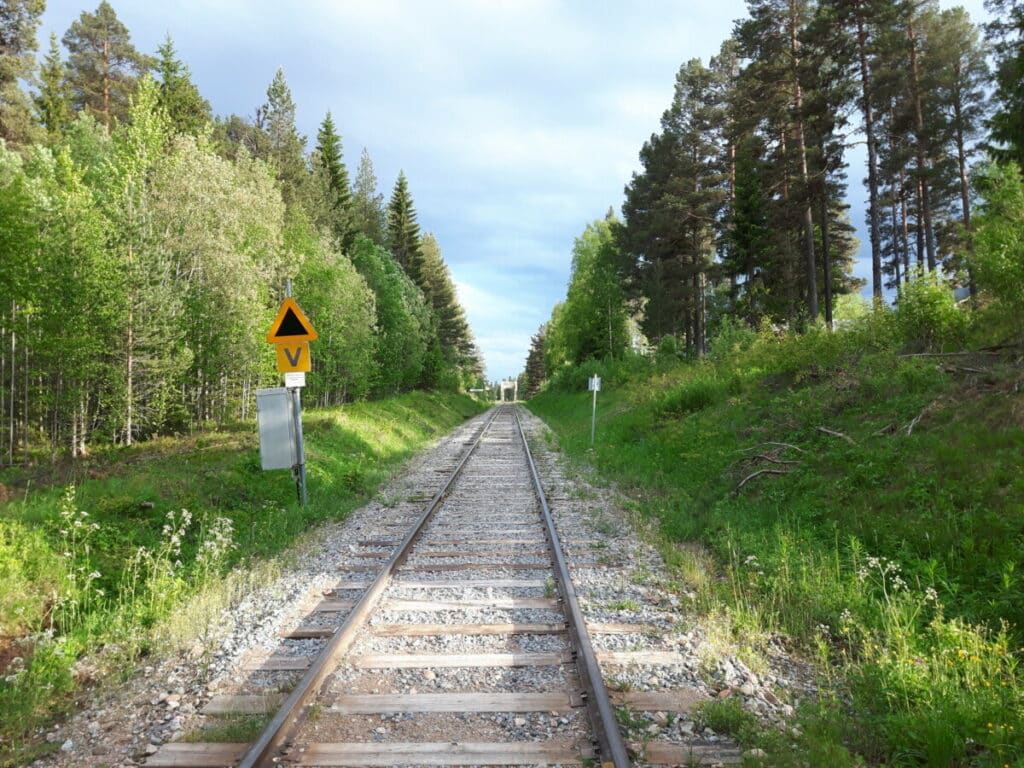 Östersund
The last part of the Mora-Östersund section Inlandsbanan follows Storsjön, 'the large lake', all the way to the north, near Östersund. By analogy with the Loch Ness monster, a friendly monster would also have been seen here.
For most train conductors, this is the most beautiful moment: when they enter Östersund in the evening sun. It was already after nine o'clock in the evening when we arrived in Östersund, the final stop for today. After checking in at the hotel, I walked to Lake Storsjön. That is the advantage of traveling to Sweden in June: it hardly gets dark there, and certainly not when you go a little further north.
Be sure to also read part 2 (from Östersund to Gällivare) and part 3 (the whole train ride south) of my journey with Inlandsbanan.
Pin for later
Save this article to Pinterest for easy reference later!